In SAP Business One version 10 you'll be happy to know contains great flexibility – or as SAP puts it 'platform extensibility.' Learn more.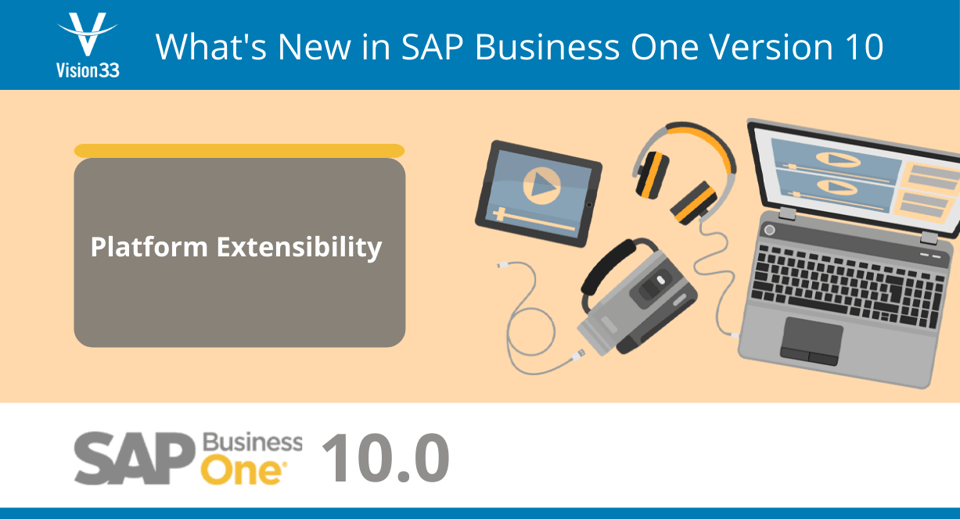 Flexibility is critical as businesses emerge from the global pandemic. How quickly your business interfaces with new enterprise technology and responds to data-driven reporting will affect how well you can take advantage of new market opportunities. If you're planning to migrate your business management solution to an enterprise resource planning (ERP) solution like SAP Business One, you'll be happy to know that the latest version, version 10, contains great flexibility – or, officially, 'platform extensibility.'
What is Platform Extensibility?
SAP Business One version 10's enhanced platform extensibility means the solution is more customizable and more easily connects to other applications across your organization.
Service Layer Enabled for Microsoft SQL Server
As of version 10 patch level 2, the SAP Business One service layer is available for Microsoft SQL (previously available for HANA). To understand its importance, consider how critical it is to integrate SAP Business One with mission-critical applications throughout your organization. The data interface API (DIAPI) – part of the software development kit (SDK) that reads, writes, updates, and removes data objects on a database level – has a single-threaded mechanism to support data-level integration.
The challenge for the single-threaded DIAPI is that it's sometimes overwhelmed when data transfer increases as a business adopts more applications that pass data to and from SAP Business One's database.
If you routinely import hundreds or thousands of documents, SAP Business One on Microsoft SQL might struggle to keep up, but HANA users wouldn't experience the same problem. The same integrations in HANA can use the service layer, which, unlike the DIAPI, is multi-threaded. This allows more data to be moved in and out of SAP Business One.
Service Layer Configuration UI
Another extensibility enhancement in SAP Business One version 10 is the service layer configuration UI, making it easier to configure the software to work on SAP HANA or Microsoft SQL.
Formatted Search Supports Multiple Triggers
Additionally, user-defined values support multiple triggers versus one true or false condition. You can set up multiple true or false conditions and specify to meet one, all, or none of them. This offers greater flexibility when implementing formatted searches.
Learn More about Platform Extensibility in SAP Business One Version 10
There's even more platform extensibility in SAP Business One version 10, including:
Extended UDF support to additional objects

Microsoft Office 365 integration

Document information extraction

64-bit support only

GateKeeper (browser access) service
For more about the improved platform extensibility in SAP Business One version 10, watch Vision33's TOTAL Care web chat, where host Carl Lewis outlines the critical business benefits of the enhancements. This resource is hosted in our Vision33 Resource Library. Gain free access to this resource by signing up. You will also have access to Vision33's extensive enterprise technology library of training materials for SAP Business One. Inside you'll find ERP tips and tricks, video demonstrations, product brochures, and many more enterprise technology resources. Select from ERP functional areas to expand your knowledge of specific solutions like SAP Business One as you grow your business. Signup today.