Global SAP Gold Partner Acquires SAP Business ByDesign Partner Orchard House Solutions in the UK. Learn more about the exciting acquisition.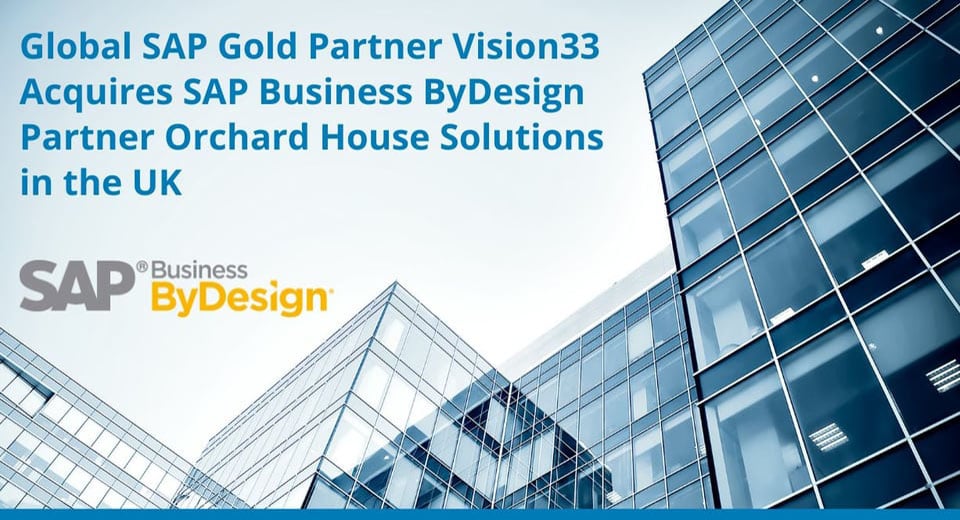 London, England — September 8, 2022 - Vision33, a global leader in SAP solutions for growing businesses, announced an agreement to acquire Orchard House Solutions, a well-established, award-winning reseller and implementation gold partner for SAP Business ByDesign. Orchard House Solutions has received numerous awards, including SAP awards for the fastest-growing SAP Business ByDesign partner in the UK and Ireland in 2020 and 2021 and partner of the year for most new customer names for SAP Business ByDesign in the UK and Ireland for 2021.
Operating in the UK and North America, Vision33 has a 20-year history of enabling companies through automation and integration technology. With a portfolio of ERP solutions and proprietary software, including The Saltbox Platform, an integration platform as a service solution for ERP, Vision33 is excited to grow its existing SAP Business ByDesign practice and expand its offerings to include two human capital solutions: BambooHR and SAP SuccessFactors.
Tony Whalen, president of Vision33 UK, says, "Vision33 is thrilled about the Orchard House Solutions acquisition. It will allow us to give SAP Business ByDesign customers a larger global consulting team with deep product expertise, scalability, and domain-specific knowledge. We can also expand the reach of our industry-leading TOTAL Care support program and integration solutions to provide better customer value globally."
"We're proud to join the Vision33 team, which has had worldwide success with SAP Business One and its innovation solutions," states Greg Durrans, CEO at Orchard House Solutions. "Together, as Vision33, we have a shared focus on customer success and look forward to offering even greater value to our UK customers with additional products, expertise, and value-add programs like TOTAL Care support."
Media Contact
Sarah Coish, sarah.coish@vision33.com
About Vision33
Vision33 (www.vision33.com and www.vision33.co.uk) helps growing companies deliver on the promise of technology through enterprise resource planning (ERP) solutions SAP Business ByDesign, SAP Business One, and Sage Intacct, automation, integration, and proprietary solutions iDocuments, Portals, and The Saltbox Platform. Vision33 has the people, processes, and technology to help businesses solve everyday challenges and seize new opportunities for growth and transformation.