Local implementation, training and technical support services for SAP Business One now available in Ontario to enable growth for small and midsized companies. Read the full press release.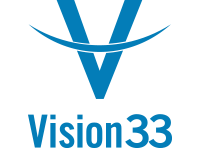 Local implementation, training and technical support services for SAP Business One now available in Ontario to enable growth for small and midsized companies
TORONTO, ON — November 27, 2015 — Vision33, four-time recipient of the SAP® North American Partner Excellence Award for SAP Business One®, recently announced the official opening of its new office in Mississauga, Ontario and its new memberships with the Mississauga and Burlington Chambers of Commerce.
Vision33 specializes solely in the provision and implementation of business management enterprise resource planning (ERP) application: SAP Business One®. The core features of the software solution are designed for companies ready to scale and offers direct and rapid access to manage financials, sales, customer data and inventory from one centralized database for all staff. Ontario now has a local access point to the largest team of SAP Business One certified consultants in North America.
Vice president of Vision33 Canada, Stephen Loyd, leads the team. "We've been eager to establish a home base in the Greater Toronto area, as we believe small and midsized businesses needing implementation and ongoing support for SAP Business One have been underserved until this point. Our aim is to ensure that people know SAP is not just for big enterprises. The same value and innovation is available for smaller businesses needing an efficient system and data insights to help their companies thrive."
Vision33 has offices throughout North America and continues to grow after more than 10 years in operation. "Setting up a new office in Mississauga enables us to be closest to the customers that find the most value in SAP Business One - the manufacturers, retailers, distributors and project-focused companies that are the heart of Ontario's production zone", says Rob McKeon, general manager for Vision33 Ontario. "Our choice to laser-focus our product offering means we can provide the best business and technical expertise right here in Ontario. We want to provide Canadian businesses with technology they can rely on and grow with despite a changing market."
With the ability for industry-specific functionality, SAP Business One can cater to the unique requirements of many industries, including:
- Manufacturing (Durable Goods, Food, Produce, Electronics, Job Shop)
- Wholesale Distribution (full supply chain and inventory management)
- Retail (e-commerce, POS, mobile, loyalty programs, CRM)
- Produce and Food (batch and Lot tracking, production, manufacturing, distribution)
Additionally, Vision33 recently became the exclusive provider of OrchestratedBEER on Demand to integrate an all-in-one software solution for craft breweries through SAP Business One.
To celebrate the new launch, Vision33 welcomes all Ontario companies to enter the $50,000 Business Accelerator Contest - a limited time offer to win a comprehensive technology, hosting and services package. To enter, visit www.vision33.com/growfast. Contest closes December 11th, 2015.
About Vision33
Vision33 Inc. (vision33.com), a leading business management software solutions provider, is focused on reselling and supporting the SAP Business One application. With its offices located throughout North America, Vision33 provides software and consulting services. Vision33 is a top global value-added reseller for SAP Business One, which is designed to help small to midsize businesses, as well as large enterprises with subsidiary operations, gain immediate benefits in better managing and growing their businesses.
Vision33 is a member of the Group zed family of companies. With roots to 1992, Group zed (www.gzed.com) is a privately owned and operated corporation, which provides its family of industry leading companies with the strategic vision and tools to deliver on the promise of technology to customers, setting them apart from other industry peers.
For more information, Press Only:
Sarah Coish, Marketing Manager
Vision33
sarah.coish@gzed.com
# # #
SAP®, SAP Business One® and other SAP products and services mentioned herein as well as their respective logos are trademarks or registered trademarks of SAP SE (or an SAP affiliate company) in Germany and other countries. See http://www.sap.com/corporate-en/legal/copyright/index.epx for additional trademark information and notices. All other product and service names mentioned are the trademarks of their respective companies.