Global technology company Vision33 acquires iDocuments products and staff from UK-based software publisher Synantix. Read more.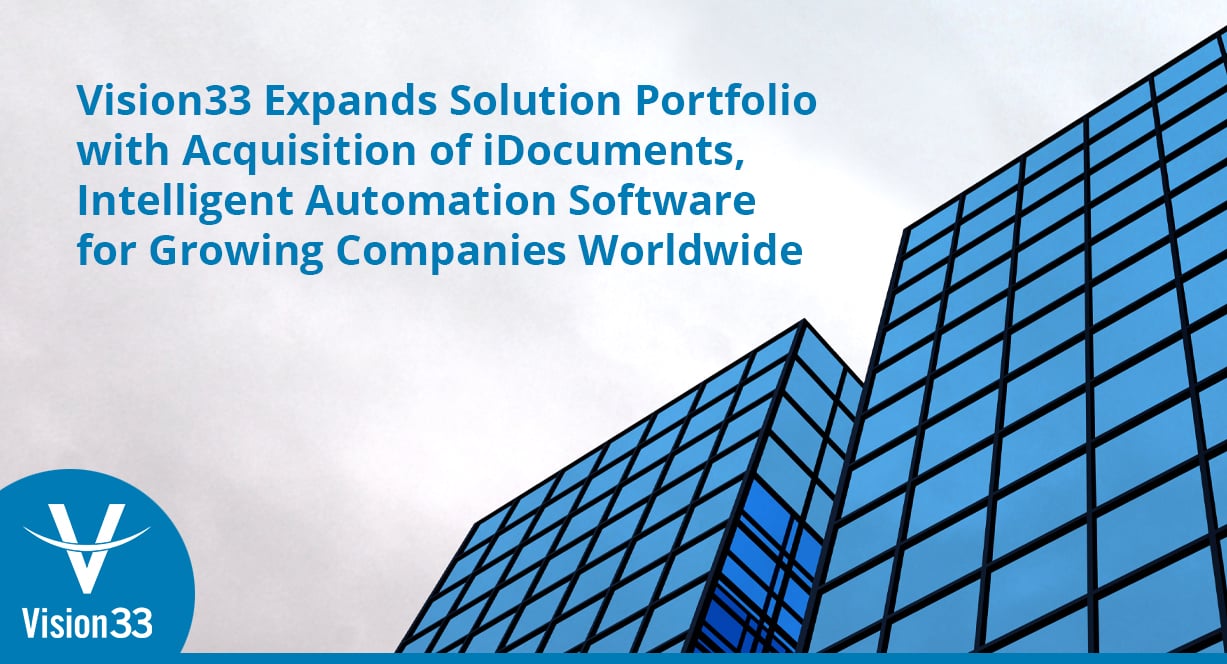 Global technology company Vision33 acquires iDocuments products and staff from UK-based software publisher Synantix.
London, UK – February 1, 2021 – Vision33 announces the acquisition of the iDocuments product suite and the contracts of all staff from UK-based company Synantix. iDocuments automation software enables businesses to reduce manual work and errors, lower costs, and improve control and visibility. The software integrates with all leading ERP and accounting systems, including SAP Business One, Sage, Infor SunSystems, Exchequer and Microsoft Dynamics. iDocuments is a web-based solution driven by AI data capture and includes workflow, mobile applications, and integration tools to help businesses streamline and simplify everyday business processes.
"The acquisition of iDocuments allows Vision33 to expand our offerings to growing SME customers with comprehensive solutions for business and sales process automation," says Dan Kraus, Vice President of Global Sales and Marketing, Vision33. "iDocuments and the experienced team of employees that supports it will complement our existing world-class development team and software support program. We're excited to build on iDocuments' success with our own strategic roadmap."
The iDocuments product suite includes Purchasing, AP Automation, Expense Automation and Management, and Sales Order Automation. Vision33 will continue to invest and grow iDocuments' customer base throughout the UK and plans to bring all the solutions to the global marketplace. The iDocuments product suite aligns well with Vision33's product portfolio for growing business customers, which includes Saltbox, an integration platform as a service, and Portal solutions for ERP customers.
"Process automation is a critical part of every digital transformation journey. When growing companies feel overwhelmed and don't know where to start, one of the first places to look is where you can leverage technology to automate processes or integrate systems," explains Kraus. "Whether it's an ERP system or an integration project to connect key apps, you need a solid foundation to build on."
Further details on each iDocuments solution:
iDocuments Purchasing:

A business-ready, fast-to-deploy solution that automates the purchase to pay process

,

helping you reduce errors, save time, and increase control and visibility.

iDocuments Expense Management:

An easy-to-use

,

web-based

,

mobile solution that enables

you to

create, submit, store, review

,

approve

,

and audit

expense claims

online. 

iDocuments Sales Order Automation:

A user-friendly solution that a

utomatically capture

s

emailed orders and process

es

them

without manual data entry

to s

ave time

,

reduce errors

, and give your sales team more time to

focus on customer service.
To learn more about iDocuments, please visit www.vision33.co.uk/idocuments to read more or speak to a Consultant.
About Vision33
Vision33 (www.vision33.com and www.vision33.co.uk) helps growing companies deliver on the promise of technology through enterprise resource planning (ERP) solutions, including SAP Business One and Sage Intacct, automation, and integration solutions. Vision33 has the people, processes, and technology to help businesses solve everyday challenges and seize new opportunities for growth and transformation. With proprietary solutions such as iDocuments and Saltbox, Vision33 helps businesses leverage the right transformative technology for their digital transformation journeys.
Press Contact:
Sarah Coish,
Director, Global Sales and Marketing
Vision33
Sarah.Coish@vision33.com
(709) 722-7213 Ext: 205
###
SAP, SAP Business One, and other SAP products and services mentioned, and their respective logos, are trademarks or registered trademarks of SAP SE (or an SAP-affiliate company) in Germany and other countries.
See http://www.sap.com/corporate-en/legal/copyright/index.epx for additional trademark information and notices. All other product and service names mentioned are the trademarks of their respective companies.