Vision33 was included on Bob Scott's top 100 VAR Stars list of mid-market financial software for the seventh consecutive year. Read the news release.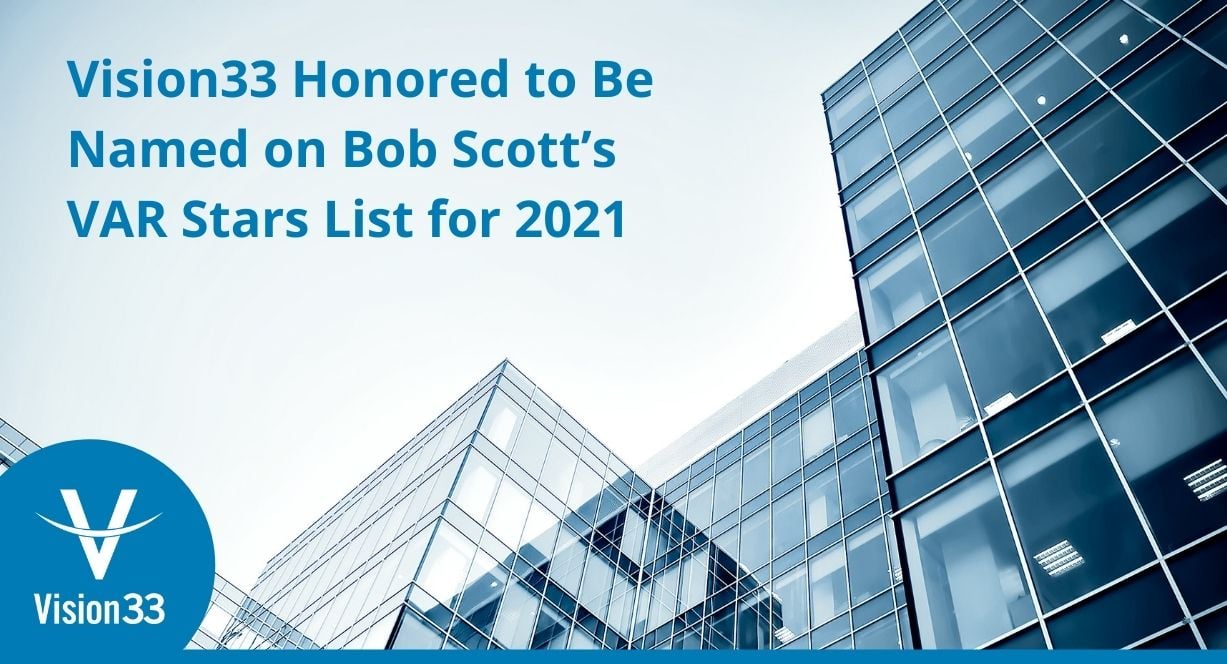 IRVINE, CA – January 12, 2022 Vision33 has been chosen for Bob Scott's VAR Stars 2021 list. The VAR Stars are 100 organizations honored as positive contributors to the development of the business software industry. Honorees are chosen based on growth, industry leadership and recognition, and innovation.
"We're thrilled to be recognized again on the VAR Stars 2021 list," says Dan Kraus, vice president of Global Sales and Marketing at Vision33. "Despite the continuing pandemic challenges, Vision33 is enjoying revenue growth, new customers, and new product releases. Over the past two years, we've added multiple new solutions that enable us to help even more growing businesses leverage transformative technology. Being chosen for Bob Scott's VAR Stars list confirms the strength of our technology portfolio."
Vision33's technology portfolio includes enterprise resource planning (ERP) solutions SAP Business One, SAP Business ByDesign, and Sage Intacct; public sector eGovernment products the Accela Civic Platform and the Amanda Platform; and Vision33 solutions The Saltbox Platform, Portals, and the iDocuments product suite.
About Vision33
Vision33 (www.vision33.com, www.vision33.ca, and www.vision33.co.uk) helps growing companies deliver on the promise of technology through enterprise resource planning (ERP) solutions, including SAP Business One, SAP Business ByDesign, and Sage Intacct, automation, integration, and proprietary solutions iDocuments, Portals, and The Saltbox Platform. Vision33 has the people, processes, and technology to help businesses solve everyday challenges and seize new opportunities for growth and transformation.
About Bob Scott
Bob Scott has been informing and entertaining the mid-market financial software community via his email newsletters for 21 years. He has published this information via the ERP Global Insights (formerly Bob Scott's Insights) newsletter and website since 2009. He has covered this market for over 29 years through print and electronic publications, first as technology editor of Accounting Today and then as the Editor of Accounting Technology from 1997 through 2009. He has covered the traditional tax and accounting profession during the same time and has continued to address that market as executive editor of the Progressive Accountant since 2009.
About PMG360, Inc.
PMG360 publishes Bob Scott's Insights and the Progressive Accountant. PMG360 is a leading online media company that provides B2B marketers and media planners unparalleled access to a highly qualified and engaged audience through their portfolio of lead generation programs, industry-specific websites, email newsletters, web seminars, live events, podcasts, content/reviews, custom publishing, and direct marketing databases focusing on nonprofit, healthcare, and accounting professionals.
# # #
SAP and SAP products/services and their logos are trademarks of SAP SE (or an SAP-affiliate company) in Germany and other countries. See www.sap.com/corporate-en/legal/copyright/index.epx for additional trademark information and notices. All other product and service names are the trademarks of their respective companies.