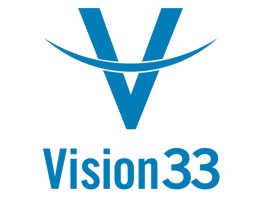 Vision33 (www.vision33.com) presents a webinar event on June 28th, 2017 with Dr. Joseph Gulfo, author of Innovation Breakdown and The Care Quotient: Transforming Business Through People.
Irvine, California – June 19th, 2017 – Vision33 (www.vision33.com) recently announced that it will host a medical device webinar featuring guest speaker Dr. Joseph Gulfo, MD, MBA. The renowned speaker, author, and industry expert, will discuss how to overcome challenges faced by medical device companies in scaling their operations and achieving efficiency and profitability. Registration for "Top Challenges Faced by Medical Device Companies When Scaling" is currently open. Interested registrants can register at no charge at: https://info.vision33.com/top-challenges-facing-medical-device-companies-when-scaling-webinar. The webinar is scheduled to take place on 10:00 AM PST, Wednesday, June 28th 2017. The first 25 registrants will also receive a copy of Dr. Joseph Gulfo's latest book "The Care Quotient: Transforming Business Through People". Space is limited, so participants are encouraged to register to reserve their seat today.
As a technology company and long-term SAP partner, Vision33 is committed to helping small to mid-sized businesses experience the transformation that the right software can have on their organization. Many of their customers are part of the growing medical device industry. "Vision33 offers medical device companies not only transformative business management solutions, but also the business process expertise needed to leverage technology to grow efficiently and meet strict industry regulation," says Alex Rooney, Vice President, Vision33 US region. "To that end, Vision33 is pleased to sponsor this webinar with Dr. Gulfo to address how implementing the right technology early on can prevent hurdles that impede growth and success."
Medical device companies face strict guidelines, compliance regulations, and have costly product research and development cycles. Whether the goal is to commercialize a medical device start-up or prepare a mature growth-focused company for an IPO, many organizations delay the timing of business management software adoption though the right technology can have a positive impact on a business profitability in the long term.
"Innovation in the medical device industry continues to grow," says Dr. Gulfo. "However, one of the biggest challenges facing these companies is having the right systems in place to be able to comply with FDA regulations and industry standards. Today, medical device companies need to plan for business growth before it happens if they're to get their breakthrough products to market quickly and profitably."
Dr. Joseph Gulfo, is a prolific speaker and an advocate for early adoption of transformative business technologies to position companies for growth. Dr. Gulfo is Executive Director of the Lewis Center for Healthcare Innovation and Technology at Fairleigh Dickinson University (FDU) where he leads the Initiative for Patient-Centered Innovation and serves as a Professor of Health Sciences.
To learn more about the upcoming medical device webinar agenda and to register, visit https://info.vision33.com/top-challenges-facing-medical-device-companies-when-scaling-webinar.
About Vision33
Vision33 Inc. (www.vision33.com), is a global leading reseller business management technology solutions and is focused on providing integrated solutions to SMEs and large enterprise subsidiaries in industries such as life sciences. With offices located worldwide, Vision33 delivers value by bringing the right balance of software, world-class consulting and support services to help customers better manage and grow their business while meeting strict regulatory requirements of domestic and international markets.
Vision33 is a member of the Group zed family of companies. With roots dating to 1992, Group zed (www.gzed.com) is a privately owned and operated corporation, which provides its family of industry leading companies with the strategic vision and tools to deliver on the promise of technology to customers, setting them apart from other industry peers.
About Dr. Joseph Gulfo
Joseph V. Gulfo, MD, MBA has more than 25 years of experience in the biopharmaceutical and medical device industries. He is passionate about removing obstacles to breakthrough innovation and products that can make a huge difference in the lives of patients and individuals. In 2012, he received the American Business Awards' Maverick of the Year Award and was an Ernst & Young Entrepreneur of the Year Finalist. Prior to this, he served as President & CEO of MELA Sciences (2004-2013) and was Chairman of the Board (2011-2013). His latest book, "The Care Quotient: Transforming Business Through People" is now available. For more information on Joseph Gulfo, visit www.josephgulfo.com.
# # #
For more information, contact Sarah Coish +1 (709) 722-7213 sarah.coish@gzed.com.