Global IT professional services consultancy, Vision33, named by Boyum IT Global Partner of the Year and North America Partner of The Year 2019. Read more.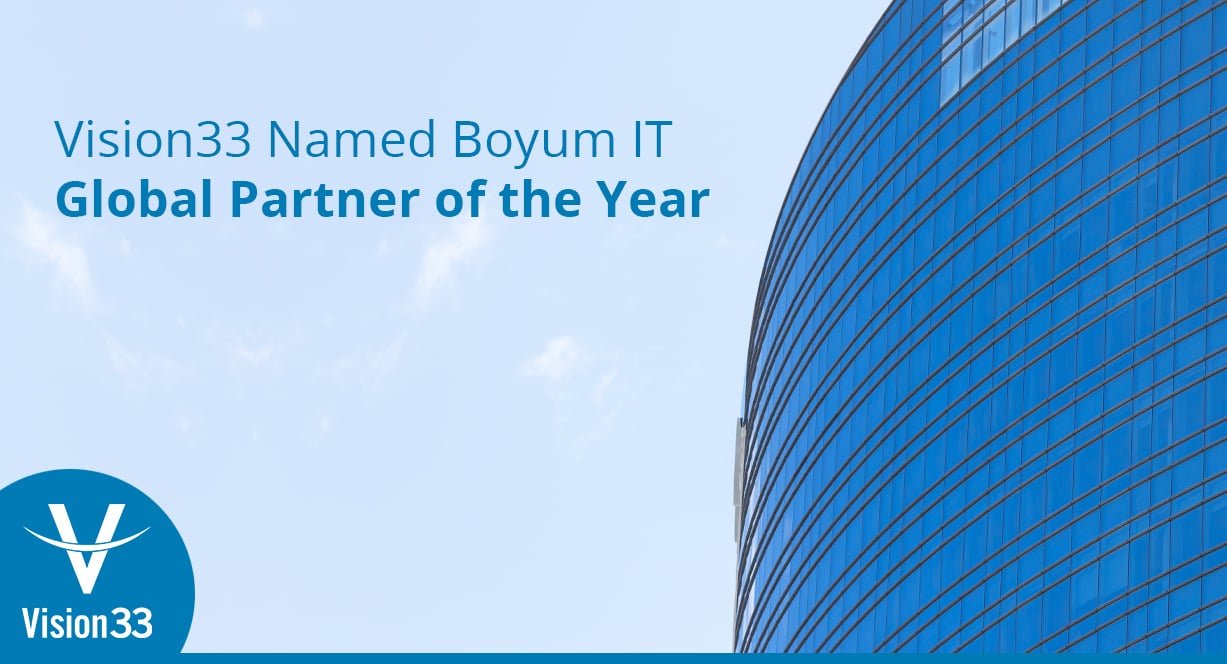 Global IT professional services consultancy, Vision33, named by Boyum IT, Global Partner of the Year and North America Partner of The Year 2019.
IRVINE, CA – October 14, 2020 – Vision33, global IT professional services consultancy, today announced that it has been named Boyum IT Global Partner of the Year 2019 and North America Partner of The Year 2019. Vision33's longstanding partnership with SAP-certified software solutions provider (SSP), Boyum IT, has resulted in hundreds of successful SAP Business One implementations across the globe with comprehensive manufacturing and warehouse management solutions.
"We're honored to be recognized for this shared success in delivering comprehensive business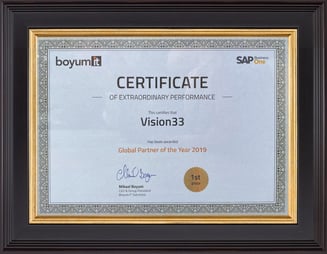 management solutions based upon SAP Business One and Boyum IT's award-winning industry solutions," says Dan Kraus, Vice President, Global Sales, and Marketing, Vision33. "Vison33's success lies in delivering world-class IT services that focus on our customers' needs and priorities for transformative technology and enterprise integration. Visualizing the modern enterprise as a well-integrated best-of-breed solution, Boyum IT is the right choice for industry software solutions seamlessly integrated with SAP Business One."
Boyum IT increases the flexibility of the SAP Business One solution with certified industry-specific software designed to enhance SAP Business One and provide a depth of industry functionality.
"SAP has a long history of building adaptable solutions to meet businesses' needs," adds Alex Rooney, Vice President, SAP Solutions US, Vision33. "For that reason, Boyum IT has been a strategic partner for ERP implementation projects where manufacturers or wholesale distributors require a comprehensive business management solution and a depth of sophisticated manufacturing or WMS processes."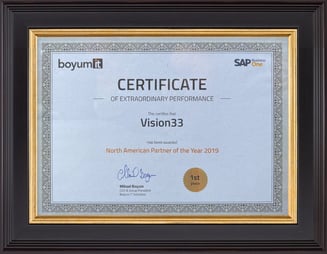 Boyum IT's is well-known globally by the SAP Business One community for its best-in-class industry solutions for SAP Business One, including Beas Manufacturing, Produmex WMS, B1 Usability Package, and B1 Print & Delivery.
"For more than ten years, Boyum IT Solutions have collaborated with Vision33 to bring usability, manufacturing, and warehouse management solutions for SAP Business One to customers worldwide," comments Mikael Boyum, CEO, and President, Boyum IT Group. "The Platinum Partnership reflects a true collaborative partnership with a shared strategic focus on optimizing business processes, increasing efficiency, and enabling sustainable growth for all of our customers. I am proud of this successful partnership between Boyum IT Solutions and Vision33, and together we will have another successful ten years ahead of us."
Vision33 extended the integration capability of SAP Business One with its Saltbox cloud iPaas (integration Platform as a Service) solution in 2019. Vision33 continues to partner with the leading SAP Business One industry solutions providers, like Boyum IT, to bring SAP Business One's users greater flexibility, meeting their industry needs through a single IT professional services provider.
"We are pleased to award Vision33 our global partner of the year award through sales, delivery, and support of the Boyum solutions," adds Mads Harding, Vice President, Channel Sales – General Manager Americas. "Vision33 has been a true ambassador of the Boyum IT products for more than a decade and together we have accelerated growth and delivered value and enabled customers to maximize their potential in 2020 and beyond."
For more information about Vision33's industry solutions, visit www.vision33.com.
About Vision33
Vision33 (www.vision33.com) is a global IT professional services consultancy that solves customer business challenges through the promise of technology and the value it delivers. They partner with organizations in both the public and private sectors to understand their vision and help them reach it with the right blend of strategy, consulting, and technology. Vision33's global team of results-driven resources provides a world-class experience through office locations in North America and Europe.
About Boyum IT
Boyum IT Solutions is a certified and multi-awarded SAP partner. They create award-winning add-ons that complement and enrich the functionality of SAP Business One, making it fit almost every small to medium business, regardless of what you do or how you work.
Global award-winning SAP Business One implementation, consultancy, and development house with more than 8,500 customers, 195,000 daily users in over 110 countries, around 130 employees, and more than 675 partners.
With the Boyum suite of horizontal modules for system customization, dynamic Outlook integration, and PCI compliant card payments, Beas Manufacturing – a comprehensive manufacturing solution for both process and discrete manufacturing, and Produmex - best of breed warehouse management and scanning solutions – there is something for everybody in their product portfolio. www.boyum-solutions.com.
MEDIA CONTACT:
Sarah Coish,
Director of Marketing
Vision33
Sarah.Coish@vision33.com
(709) 722-7213 Ext: 205
###
SAP, SAP Business One, and other SAP products and services mentioned, and their respective logos are trademarks or registered trademarks of SAP SE (or an SAP affiliate company) in Germany and other countries.
See http://www.sap.com/corporate-en/legal/copyright/index.epx for additional trademark information and notices. All other product and service names mentioned are the trademarks of their respective companies.