Accounting Today recognizes global professional IT Services consultancy, Vision33, among top value-added resellers, 9 years' running.Read the press release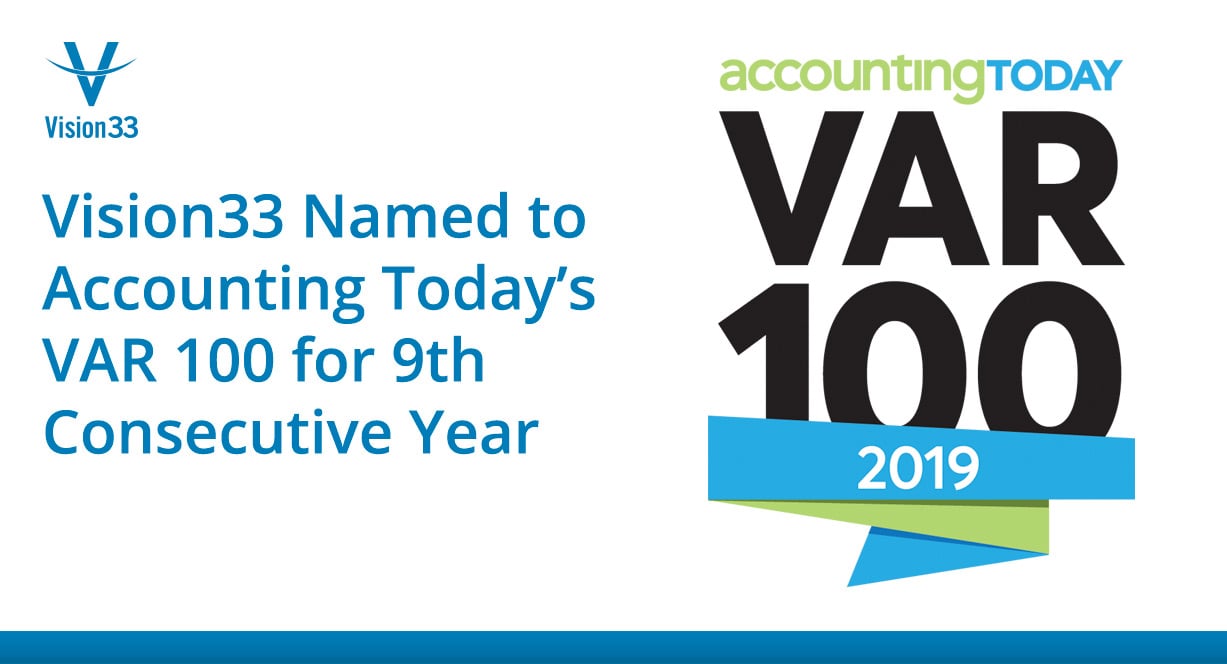 Accounting Today recognizes global IT professional services consultancy, Vision33, among top value-added resellers, 9 years' running.
Irvine, CA – July 25, 2019 – Vision33, a global IT professional services consultancy and SAP gold channel partner, has been recognized in the Accounting Today's Top VAR 2019 list. Each year, the publication ranks the top 100 accounting and enterprise resource planning (ERP) solution resellers in America based on sales revenue generated during the previous calendar year. These annual rankings have become an industry benchmark for successful value-added resellers (VARs).
"Vision33 is honored to receive recognition among the top 100 VARs in North America," says Dan Kraus, vice president, Vision33. "To be ranked on this prestigious list 9 years' running speaks to Vision33's impressive growth and a successful market strategy focused around customer service excellence. By offering transformative solutions including SAP Business One, the Civic Solution from Accela, and Amanda from CSDC Systems, plus a full complement of professional IT services, we deliver a seamless offering to our customers for all their enterprise needs."
The VAR 100 list was published in the July issue of Accounting Today and includes insight into the market, the direction of clients and customers, and technologies that are shaping their future. This year Accounting Today identified trends among recipients of the VAR 100, with an emphasis on greater acceptance of cloud among their customers.
"More and more we are seeing enterprises choose the Cloud because of the ease of deployment, lower infrastructure costs, data security, and global scalability," says Kraus. "Working closely with AWS Partner Network, Vision33 further differentiates itself from other VARs, as the only SAP Business One partner to have achieved the AWS SAP Competency."
Vision33 offers enterprises a turnkey cloud ERP solution, SAP Business One Cloud on Amazon Web Services (AWS). In line with the cloud trend, Vision33 is helping more and more businesses migrate from on-premises environments to Amazon Web Services (AWS).
To see this year's Accounting Today 2019 VAR 100 list in full, visit www.accountingtoday.com/data/top-value-added-resellers.
About Vision33
Vision33 Inc. (www.vision33.com) is a global IT professional services consultancy that solves customer business challenges through the promise of technology and the value it delivers. We partner with growing and large organizations in both the public and private sectors to understand their vision and help them reach it with the right blend of strategy, consulting, and technology. Vision33's global team of results-driven resources provides world-class experience through our office locations in North America and Europe.
About Accounting Today
Accounting Today is the leading information resource for public accountants – serving the community of professionals who provide tax preparation, bookkeeping, auditing, financial planning, and business advisory and consulting services to individuals and small businesses.
###
SAP, SAP Business One and other SAP products and services mentioned herein as well as their respective logos are trademarks or registered trademarks of SAP SE (or an SAP affiliate company) in Germany and other countries.
See www.sap.com/corporate-en/legal/copyright/index.epx for additional trademark information and notices. All other product and service names mentioned are the trademarks of their respective companies.
Media Contact
sarah.coish@vision33.com

(709) 722-7213