Vision33, a global IT professional services consultancy, was selected as a member of the Bob Scott's VAR Stars for 2019. Read the press release.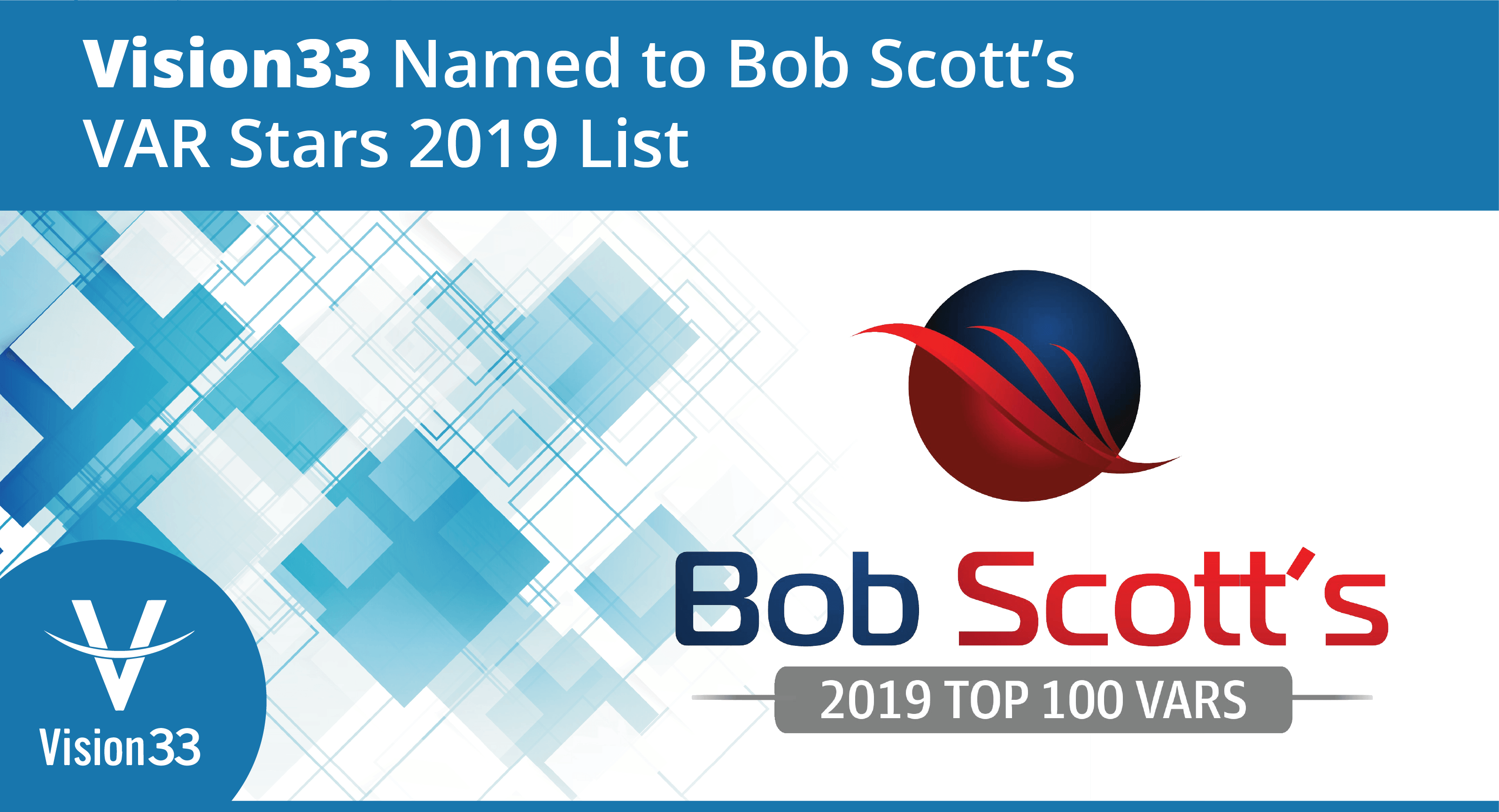 IRVINE, CA – January 15, 2020 – Vision33, a global IT professional services consultancy, was selected as a member of the Bob Scott's VAR Stars for 2019. The VAR Stars is a group of 100 organizations honored for their accomplishments in midmarket financial software. Vision33 offers growing and large enterprise subsidiaries transformative enterprise technology and professional services for ERP software from financial systems leader SAP. SAP Business One, available on-premises and in the cloud powered by Amazon Web Services (AWS), enables businesses to harness information to maximize efficiency, reach new customers, and drive profitable growth.
Receipt of the VAR Stars 2019 award follows Vision33's successful delivery of a comprehensive business management offering that includes the right balance of software, world-class consulting, and support services to help businesses better manage their organizations.
"Vision33 is thrilled to be recognized once more on the VAR Stars 2019 list," says Dan Kraus, Vice President of Global Sales and Marketing at Vision33. "Vision33 was among the first SAP channel partners to offer transformative SAP ERP solutions to the midmarket. Since then, we continue to see growing businesses leverage transformative SAP solutions throughout North America and Europe."
Members of the VAR Stars were selected based on factors such as growth, industry leadership and recognition, and innovation. Selection is not based on revenue and those firms chosen represent a wide range of sizes and many different software publishers of accounting software.
"Each year, 100 VAR Stars are picked from the best organizations that market financial software," says Bob Scott, Executive Editor of ERP Global Insights (formerly known as Bob Scott's Insights). "It is always an honor to recognize those who contribute to the development of our business."
About Vision33
Vision33 (www.vision33.com) is a global IT professional services consultancy that solves customer business challenges through the promise of technology and the value it delivers. They partner with organizations in both the public and private sectors to understand their vision and help them reach it with the right blend of strategy, consulting, and technology. Vision33's global team of results-driven resources provides world-class experience through office locations in North America and Europe.
About Bob Scott
Bob Scott has been informing and entertaining the mid-market financial software community via his email newsletters for 20 years. He has published this information via the ERP Global Insights (formerly Bob Scott's Insights) newsletter and website since 2009. He has covered this market for more than 27 years through print and electronic publications, first as technology editor of Accounting Today and then as the Editor of Accounting Technology from 1997 through 2009. He has covered the traditional tax and accounting profession at the same time and has continued to address that market as executive editor of the Progressive Accountant since 2009.
About PMG360, Inc.
PMG360 publishes Bob Scott's Insights and the Progressive Accountant. PMG360 (www.pmg360.com) is a leading online media company that provides business-to-business (B2B) marketers and media planners unparalleled access to a highly qualified and engaged audience through their portfolio of lead generation programs, industry-specific Web sites, email newsletters, Web seminars, live events, podcasts, content/reviews, custom publishing and direct marketing databases focusing on the nonprofit, healthcare and accounting professionals.
# # #
SAP, SAP Business One, and other SAP products/services mentioned and their logos are trademarks or registered trademarks of SAP SE (or an SAP affiliate company) in Germany and other countries.
See www.sap.com/corporate-en/legal/copyright/index.epx for additional trademark information and notices. All other product and service names mentioned are the trademarks of their respective companies.