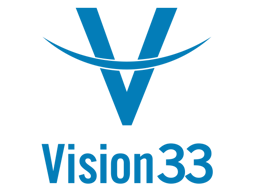 Number one global partner for SAP Business One, Vision33, ranks 400 on the CRN 2017 Solution Provider 500 list following year of growth.
Irvine, CA - June 12, 2017 – Vision33, the largest global partner for SAP Business One, today announced that CRN®, a brand of The Channel Company, has named Vision33 to its 2017 Solution Provider 500 list. Vision33 placed 400 on this year's list. The Solution Provider 500 is CRN's annual ranking of the largest technology integrators, solution providers, and IT consultants in North America by revenue.
The Solution Provider 500 is CRN's predominant channel partner award list, serving as the industry standard for recognition of the most successful solution provider companies in the channel since 1995. This year, for the first time since 2010, the complete list will be published on CRN.com, making it readily available to vendors seeking out top solution providers to partner with.
CRN has also released its 2017 Solution Provider 500: Newcomers list, recognizing 58 companies making their debut in the Solution Provider 500 ranking this year.
"We're honored to receive this prestigious award," says Alex Rooney, Vice President, Vision33, US region. "Our substantive growth this year follows a successful micro-vertical strategy exemplified by the introduction of e2o, an integrated project management and budgeting solution for engineer to order (ETO) companies."
"CRN's Solution Provider 500 list spotlights the North American IT channel partner organizations that have earned the highest revenue over the past year, providing a valuable resource to vendors looking for top solution providers to partner with," said Robert Faletra, CEO of The Channel Company. "The companies on this year's list represent an incredible, combined revenue of over $318 billion, a sum that attests to their success in staying ahead of rapidly changing market demands. We extend our sincerest congratulations to each of these top-performing solution providers and look forward to their future pursuits and successes."
"Vision33 is continually investing in new ways of leveraging transformative technology to anticipate the needs of the customer," adds Vision33's Rooney. "Whether it's offering the flexibility to deploy SAP Business One on the cloud; providing insight with SAP HANA, in-memory computing platform; or extending serviceability to subsidiaries in Europe, Vision33 simplifies ERP with a single vendor relationship to manage all of the cusotmer's ERP needs."
The complete 2017 Solution Provider 500 list is available at www.crn.com/sp500 and a sample from the list will be featured in the June issue of CRN Magazine. Follow The Channel Company: Twitter, LinkedIn and Facebook.
For more information about Vision33 visit www.vision33.com or if you'd like to learn more about e2o visit https://e2o.vision33.com/.
About Vision33
Vision33 Inc. (www.vision33.com), is a global leading reseller of SAP Business One and is focused on providing the SAP Business One application for growing businesses and subsidiaries of large enterprises. With offices located worldwide, Vision33 delivers value by bringing the right balance of software, world-class consulting and support services to help customers better manage and grow their business.
Vision33 is a member of the Group zed family of companies. With roots dating to 1992, Group zed (www.gzed.com) is a privately owned and operated corporation, which provides its family of industry leading companies with the strategic vision and tools to deliver on the promise of technology to customers, setting them apart from other industry peers.
About the Channel Company
The Channel Company enables breakthrough IT channel performance with our dominant media, engaging events, expert consulting and education, and innovative marketing services and platforms. As the channel catalyst, we connect and empower technology suppliers, solution providers and end users. Backed by more than 30 years of unequaled channel experience, we draw from our deep knowledge to envision innovative new solutions for ever-evolving challenges in the technology marketplace www.thechannelco.com.
# # #
SAP, SAP Business One and other SAP products and services mentioned herein as well as their respective logos are trademarks or registered trademarks of SAP SE (or an SAP affiliate company) in Germany and other countries. See http://www.sap.com/corporate-en/legal/copyright/index.epx for additional trademark information and notices.
All other product and service names mentioned are the trademarks of their respective companies.
For more information, contact Sarah Coish +1 (709) 722-7213 sarah.coish@gzed.com