Global IT professional services consultancy and SAP gold partner, Vision33, ranks on the prestigious list of fast-growth private companies. Read more.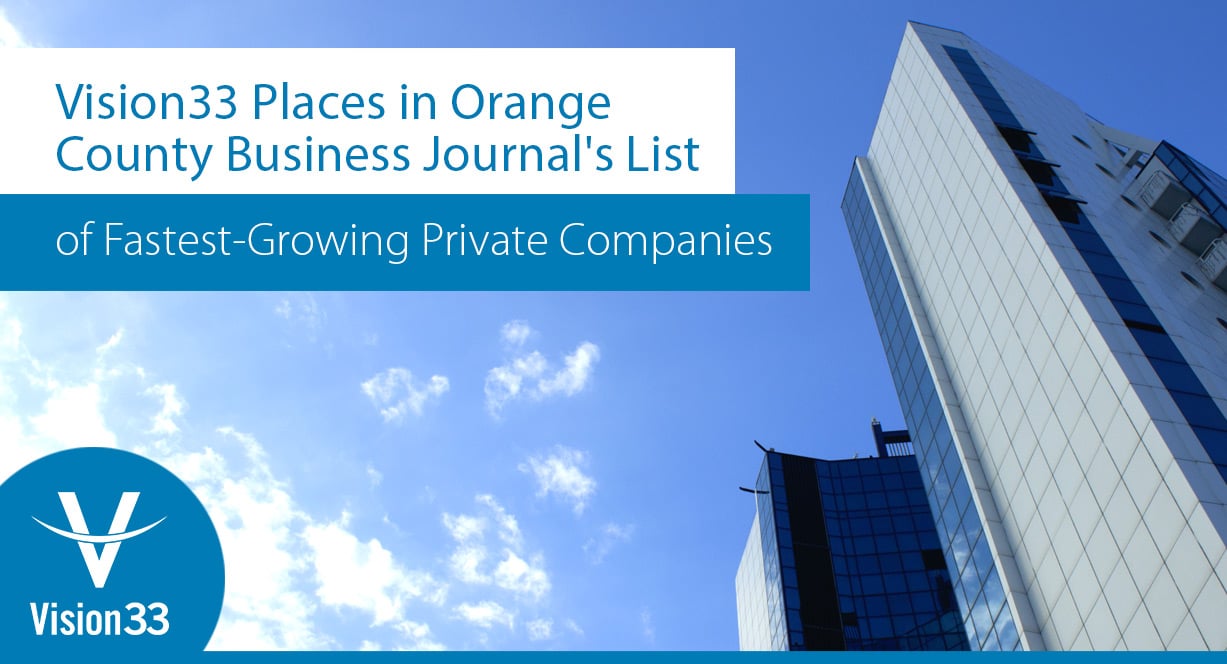 Global IT professional services consultancy and SAP gold partner, Vision33, ranks on the prestigious list of fast-growth private companies.
IRVINE, CA – September 18, 2020 – Vision33, global IT professional services consultancy, today announced that it has placed in the annual Orange County Business Journal's List of Fastest-Growing Private Companies. The list recognizes privately held companies based in Orange County whose annual sales grew between mid-2018 to mid-2020, defying the onset of recession to post another strong year of growth and expansion. To be considered for the list, companies needed to have at least a 15% increase in revenues over two years, be privately owned and be headquartered in Orange County. Vision33 ranked no. 43 on this year's list, following a two-year revenue growth rate of 16.98 percent.
"We're honored to be recognized on this year's list," says Dan Kraus, Vice President, Global Sales and Marketing, Vision33. "Vision33 would like to congratulate other Orange County-based businesses who've achieved their own goals for growth despite the challenges presented by the global pandemic."
Vision33's continued growth signals the strength of its market strategy, providing a single partner to meet business needs for transformative enterprise technologies and professional IT service offerings.
"Despite the challenges businesses face during a global pandemic, Vision33 customers continue to experience how enterprise technologies can enable them to pivot in real-time and successfully navigate doing business in the new normal," adds Kraus. "Vision33's Cloud-based integration platform as a service solution, Saltbox, provides the flexibility businesses need to adapt to new market conditions, deliver products and services to customers despite supply chain fluctuations, and rapidly deploy and integrate new sales channels like eCommerce."
Vision33 was founded in Orange County in 2004 with a clear vision of how technology can transform businesses. Following the introduction of the SAP Business One solution in 2004, Vision33 became one of the first channel partners dedicated to the resale and support of SAP's flagship enterprise resource planning (ERP) solution for small and mid-sized enterprises (SMEs).
Since that time, the company has expanded its product and service offering to include enterprise solutions bases built for the Cloud. As an Amazon Partner Network consulting partner with SAP Competency, Vision33 offers businesses the ability to deploy ERP solutions like SAP Business One on the Amazon Web Services (AWS) Cloud. And now, the Saltbox Platform, Vision33's born in the Cloud iPaas (Integration Platform as a Service) solution, provides enterprise integration, workflow, and collaboration between business applications.
A complete listing of businesses featured in this year's list of Fastest-Growing Private Companies was unveiled earlier this week in the September 14th issue of the Orange County Business Journal Publication.
About Vision33
Vision33 (www.vision33.com) is a global IT professional services consultancy that solves customer business challenges through the promise of technology and the value it delivers. They partner with organizations in both the public and private sectors to understand their vision and help them reach it with the right blend of strategy, consulting, and technology. Vision33's global team of results-driven resources provides a world-class experience through office locations in North America and Europe.
MEDIA CONTACT:
Sarah Coish,
Director of Marketing
Vision33
Sarah.Coish@vision33.com
(709) 722-7213 Ext: 205
###
SAP, SAP Business One, and other SAP products and services mentioned, and their respective logos are trademarks or registered trademarks of SAP SE (or an SAP affiliate company) in Germany and other countries.
See www.sap.com/corporate-en/legal/copyright/index.epx for additional trademark information and notices. All other product and service names mentioned are the trademarks of their respective companies.