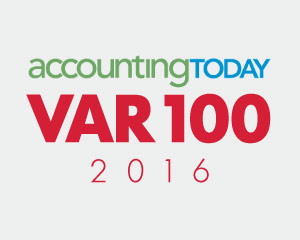 SAP gold partner, Vision33, ranks number 11 on the Accounting Today's 2016 VAR100 list
Irvine, California — August 18, 2016 — Vision33, a top value-added reseller (VAR) for the SAP Business One® application, today announced that it has ranked 11th place in Accounting Today's 2016 VAR100 list. Accounting Today is a leading provider of online business news for the tax and accounting community offering news, in-depth features, insightful editorial analysis, and web-related resources and services. Each year, the publication ranks the top 100 accounting and enterprise resource planning (ERP) solution resellers in America based on sales revenue generated during the previous calendar year.
Vision33 is the only SAP Business One partner to be ranked within the top 20 companies on this year's VAR100 list. "Vision33 is thrilled to once again place in the prestigious VAR100 list, and we thank our many customers with whom we share in this success," says Alex Rooney, Vice President, Vision33 US.
The multiyear ranking of the SAP gold partner follows a successful customer-centric approach to business process implementation and ancillary services related to the resale and support of SAP Business One. Vision33 is committed to helping customers of all sizes grow their businesses, from small and midsized enterprises (SMEs) to large enterprise customers with subsidiary operations abroad.
"We've seen significant growth in the large enterprise market, where companies are leveraging SAP Business One for a two-tier software strategy," explains Vision33's Rooney. "As a rapid-deployment solution for integrating subsidiary operations into corporate systems running SAP ERP, SAP Business One helps large enterprises expand into global markets quickly while balancing the corporate need for standardization and control."
To learn more about Vision33 and SAP Business One visit www.vision33.com.
About Vision33
Vision33 Inc. (www.vision33.com) helps you to challenge your business processes and find efficiencies that help you to attain your business goals and vision for growth and success. Vision33 is a business process implementer and the leading global provider of the SAP Business One application for growing businesses and subsidiaries of large enterprises.
Through its offices located worldwide, Vision33 provides software and consulting services to enable each client to gain immediate benefits in better managing and growing their organization.
Vision33 has been consistently honored for its notable growth and dedication, earning the prestigious 2016 SAP® Pinnacle Award: Customers' Choice – Sell as well as consistent multi-year titles and awards such as the SAP North America Partner Excellence Award: Top Channel Partner – SAP Business One; SAP Business One Partner of the Year; Accounting Today's Top VAR 100 List; and INC500/5000 fastest growing company lists.
Vision33 is a member of the Group zed family of companies. With roots dating to 1992, Group zed (www.gzed.com) is a privately owned and operated corporation, which provides its family of industry-leading companies with the strategic vision and tools to deliver on the promise of technology to customers, setting them apart from other industry peers.
# # #
SAP, SAP Business One and other SAP products and services mentioned herein as well as their respective logos are trademarks or registered trademarks of SAP SE (or an SAP affiliate company) in Germany and other countries. See http://www.sap.com/corporate-en/legal/copyright/index.epx for additional trademark information and notices. All other product and service names mentioned are the trademarks of their respective companies.
Media Contact, press only
Matthew Melay, Content Marketing Specialist