Global IT and ERP professional services consultancy moves up to 12th position on the prestigious Accounting Today Top VAR 100 List.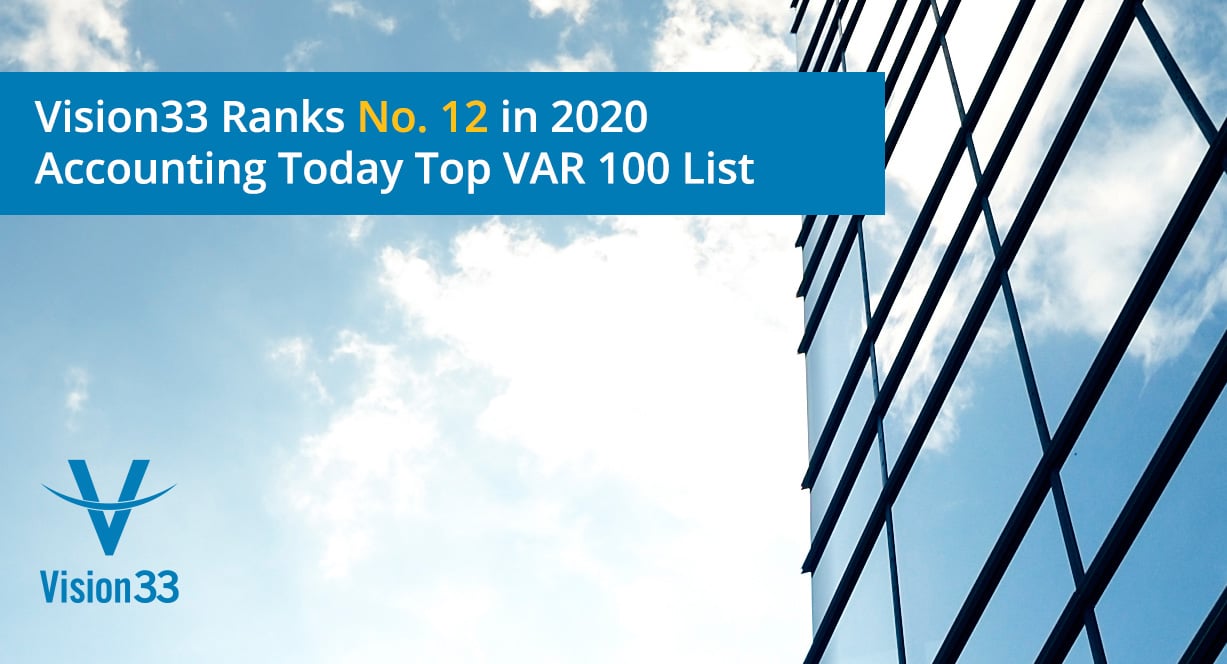 Global IT and ERP professional services consultancy moves up to 12th position on the prestigious Accounting Today Top VAR 100 List.
IRVINE, CA – July 28th , 2020 – Vision33, global IT and ERP professional services consultancy, today announced that it has once again been recognized in the Accounting Today's Top VAR 100 List. Each year, the publication ranks the top 100 accounting and enterprise resource planning (ERP) solution resellers in America based on sales revenue generated during the previous calendar year. These annual rankings have become an industry benchmark for successful value-added resellers (VARs).

"It's an honor to be recognized for the 10th consecutive year on this prestigious list," says Dan Kraus, Vice President, Global Sales and Marketing, Vision33. "Underpinning Vision33's move to the 12th position is the recognition that the needs of today's growing businesses are more complex than ever. The support they need is more than just new technology. They need best-in-class software that enables process automation, integration, and business flexibility to improve both operations and their customer's experience."
The VAR 100 list was published in the July issue of Accounting Today and includes insight into the market, the direction of clients and customers, and technologies that are shaping their future. This year Accounting Today identified trends among recipients of the VAR 100, including an increase in cloud adoption that has been building over the past decade, and companies introducing enterprise technology to assist clients with remote work and business needs in light of the COVID-19 pandemic.
Vision33 , offers enterprises a turnkey enterprise resource planning (ERP) solution, SAP Business One - Vision33 Cloud on Amazon Web Services (AWS), and now Saltbox, a cloud iPaas (Integration Platform as a Service) solution for enterprise integration, workflow, and collaboration between business applications.
"Businesses are on digital transformation journeys," says Kraus. "In addition to offering the best in enterprise software, Vision33's Saltbox integration platform acts as a central connection hub and helps businesses eliminates the complexity of connecting multiple systems as they continue to grow."
To see this year's Accounting Today 2020 VAR 100 list in full, visit www.accountingtoday.com/data/top-value-added-resellers.
About Vision33
Vision33 (www.vision33.com) is a global IT professional services consultancy that solves customer business challenges through the promise of technology and the value it delivers. They partner with organizations in both the public and private sectors to understand their vision and help them reach it with the right blend of strategy, consulting, and technology. Vision33's global team of results-driven resources provides a world-class experience through office locations in North America and Europe.
MEDIA CONTACT:
Sarah Coish,
Director of Marketing
Vision33
Sarah.Coish@vision33.com
(709) 722-7213 Ext: 205
###
SAP, SAP Business One, and other SAP products and services mentioned, and their respective logos are trademarks or registered trademarks of SAP SE (or an SAP affiliate company) in Germany and other countries.

See www.sap.com/corporate-en/legal/copyright/index.epx for additional trademark information and notices. All other product and service names mentioned are the trademarks of their respective companies.