At the premier Govtech event, attendees will enjoy sessions about upgrading to the cloud, extending their current Accela solution, and more. Learn more.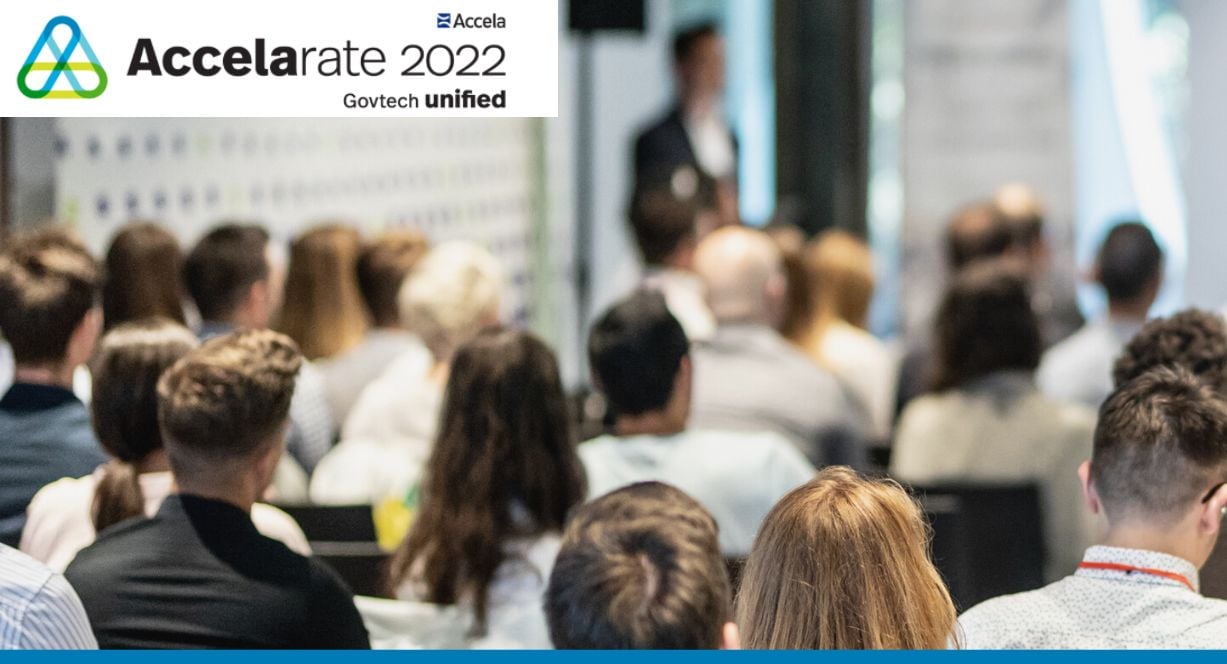 Vision33 is excited to be a silver sponsor, presenter, and exhibitor at Accelarate 2022 at the Grand America Hotel in Salt Lake City, Utah, on October 3-5, 2022.
Accelarate is the govtech industry's most sought-after event, where solution experts, industry thought leaders, and govtech technology and implementation partners will converge for three days of information and networking opportunities.
Attendees will enjoy breakout sessions about upgrading to the cloud, extending their current Accela solution, and everything in between.
Accela Certified Gold Partner Vision33 is on the agenda for these presentations:
Too Late to Integrate? Never! Adding Services as You Go in Accela: Learn how the Town of Westport, CT, and Vision33 partnered to enhance the Accela solution with integrations that improve the back office and Citizen Portal experiences.
Getting the Most Out of Your Bluebeam Investment: Learn how Seattle, WA's Department of Construction and Inspections and Department of Transportation integrated Bluebeam Studio with the Accela Civic Platform. Vision33 and the city will discuss the integration, including where it was automated and where manual intervention is required. You'll also learn about advanced features, including security management and how documents are automatically manipulated by the integration.
City of Hartford: Enterprise Deployment: Learn how the City of Hartford, CT, leveraged multiple Accela Civic Applications to achieve an enterprise-wide solution that provides modern, customer-focused public services. The presentation will also cover the city's implementation approach. Learn the benefits of enterprise deployments and insight into how to plan for and achieve a city-wide implementation.
Accela customers can visit the Vision33 booth in the Partner Pavilion to learn how to maximize their investment with Accela professional services, including:
Discovery sessions and assessments
Upgrades
Back-Office and Citizen Portal development, configuration, and implementation
Historical data conversion
System integrations
Custom automations, reports, and dashboards
Training
System testing
Extended product support
About Accela
The Accela Civic Platform is a powerful, cloud-based solution that accelerates growth, efficiency, and transparency and allows governments to improve citizen services and fulfill the needs of growing communities. From planning and building to managing service requests, Accela levels the playing field so governments of all sizes can leverage "big-city" technology.
Accela includes everything governments need to make it easier for citizens to open and run a business, apply for permits, schedule inspections, and more. With Accela's flexibility and scalability, you're always prepared to address today's needs—and tomorrow's.
About Vision33
Vision33 collaborates with customers and partners to eliminate complexities and transform public sector clients into digitally enabled government agencies. We've been delivering IT consulting and professional services to public sector clients across North America since our inception. Simply stated—we know government.
Vision33 has experience in multiple jurisdictions at the federal, state, provincial, county, and municipal levels. In North America, we have direct experience with public sector agencies, boards, and commissions.
To obtain real value from technology investments, agencies need an experienced, qualified eGovernment implementation partner who maximizes technology's benefits, aligns them with an agency's processes and goals, and minimizes the risk of implementing a sophisticated application that touches every aspect of the organization.
Whether you're considering implementing a specific government service, performing a readiness assessment, or planning to upgrade or expand existing technology, Vision33 can position you for success. Our expertise with government at all levels enables our consultants to carefully assess customer requirements and formulate the perfect solution.
Contact us today to start a conversation!