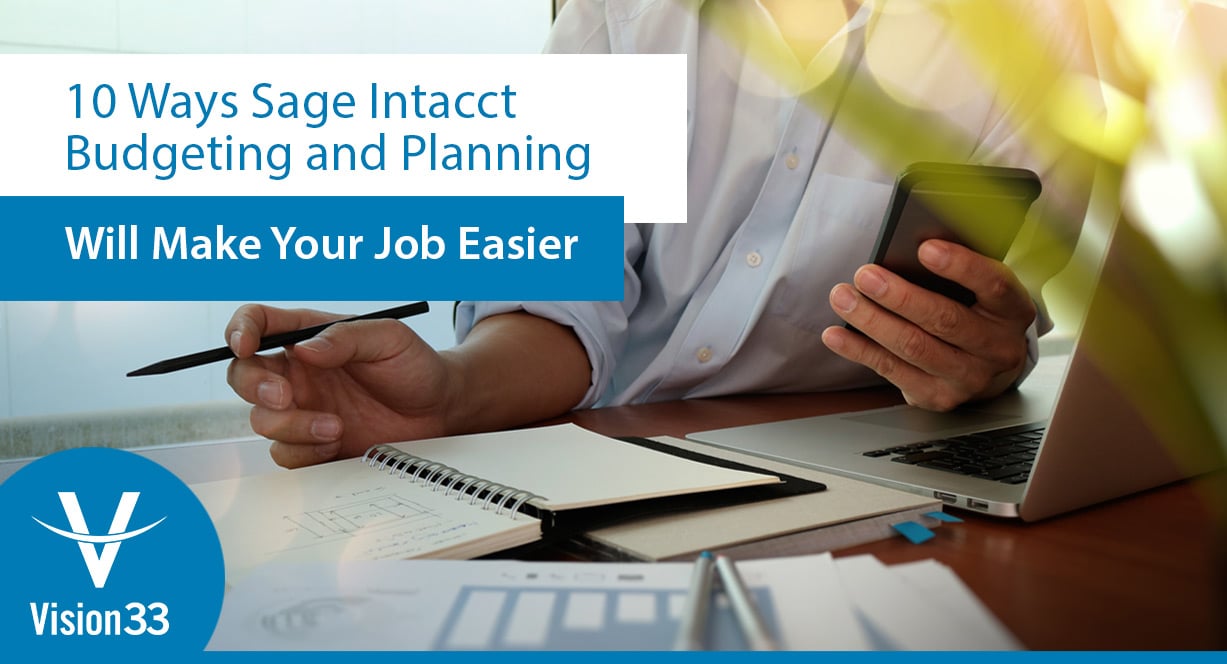 Tightly controlling your organization's budget is critical, as is having the flexibility to quickly adjust plans and share information with your executive team on the fly.
These things are complicated if you copy and paste information between Excel sheets and waste time using other error-prone manual processes. And when you finally present your budget to your team, you can't do so confidently because the information is already outdated.
But there's a way to tackle budgeting and planning that isn't complicated or expensive. Sage Intacct Budgeting and Planning is a simple but powerful cloud solution that may be the ideal tool for your organization. Read on to learn how Sage Intacct Budgeting and Planning can benefit your organization.
10 Ways Sage Intacct Budgeting and Planning Can Make Your Job Easier
Get control over the process – Everyone on your team works with the most updated information, knows who updated the budget and when, and can create scenarios within a single budget.
Collaborate with your team – Invite team members to create or edit their budgets, present plans and budgets to management, build "what if" scenarios, and drill down into the details for in-depth analysis.
Keep your data safe – Take confidential data from spreadsheets and emails and store it in one secure solution. Utilize security tools to restrict access to budgets and payroll information.
Conquer budgeting and planning challenges – Take advantage of built-in templates to easily and accurately model revenue and expenses and create cash plans.
Streamline daily tasks – Enjoy a straightforward interface and easy navigation that helps you budget with best practices and built-in functionality.
Handle "what if" situations – Generate scenarios by changing drivers and analyzing potential effects to your organization.
Compare and model based on actuals – With just a few clicks, get actuals from your financials into your budgets for rapid comparisons.
Manage data like a pro – Automatically update Sage Intacct dashboard reports that reference budget and forecast data. Analyze current performance vs. your plan and dig into reports for budgeting and planning details.
Focus on what matters – Stop using the spreadsheets that drain your time and energy and focus on strategic thinking, risk management, innovation, and growth.
Get up and running quickly – By leveraging your Sage Intacct financial data and best-practices templates, you can have Sage Intacct Budgeting and Planning at your fingertips in mere hours.
Learn More About Sage Intacct Budgeting and Planning
Ditch the spreadsheets for good. Download a product brochure to learn more about Sage Intacct Budgeting and Planning and how it can save you time while making your organization more resilient and flexible.