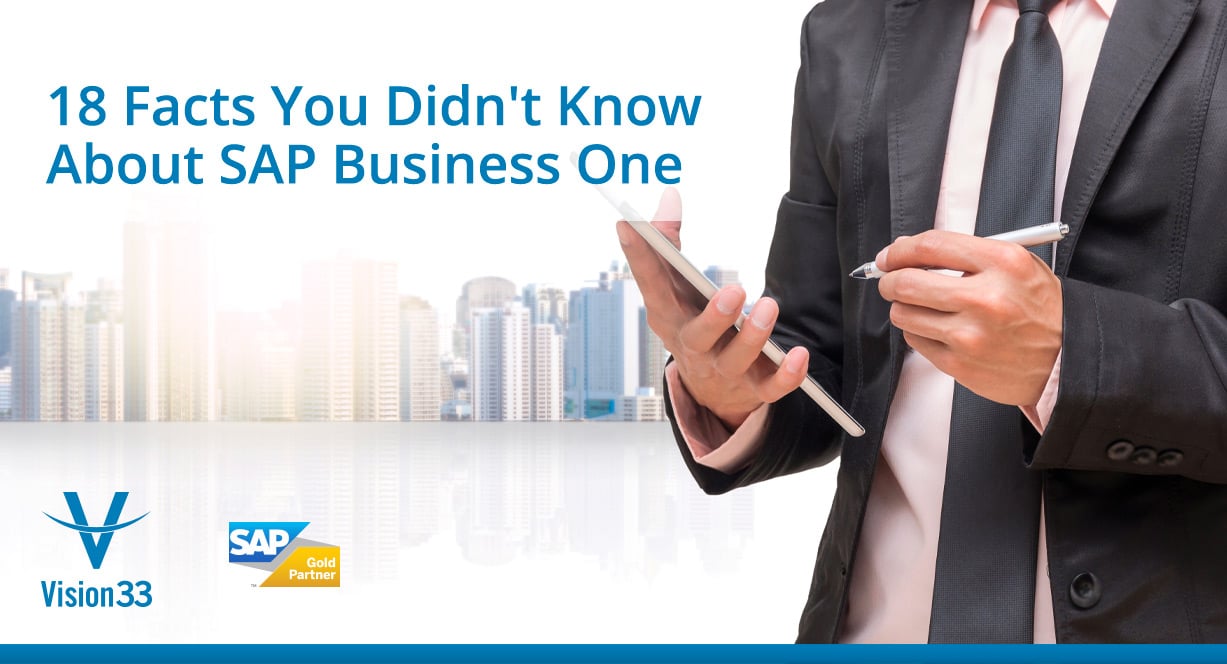 Many people think SAP is just for large enterprises. They may not realize that there is a solution tailored specifically for small to midsized companies and for subsidiaries of large enterprises. You actually receive all the benefits of running SAP software tailored to the exact functionality you need with an affordable price tag to match - you only pay for what you need! SAP Business One is an integrated enterprise resource planning (ERP) system designed to help small businesses gain full data visibility and operational control so they can grow fast, run simple, and drive profit. Here's 18 other less-known facts about SAP Business One...
Did you know?
SAP Business One was designed for small to midsized companies
Contrary to popular misconception, SAP Business One is not a scaled-down version of the larger SAP products. SAP Business One is designed to be affordable and expand to your company needs as you continue to grow.


SAP Business One is certified on the AWS Cloud
SAP Business One is a true cloud solution that is certified on Amazon Web Services, a reliable and scalable cloud platform. The AWS Cloud provides a cheaper total cost of ownership over hosting risk-prone data on-premise. The AWS Cloud also allows your team to work remotely- providing access anytime, anywhere. Go ahead and place that order right from your client meeting!


Over 48,000 customers are running SAP Business One worldwide
Companies in over 150 countries rely on SAP Business One in 27 languages to help their companies grow fast, drive profit, and run simple.


87% of Vision33's SAP Business One customers come from QuickBooks
Basic small business accounting solutions, such as QuickBooks and Simply Accounting, do not give companies enough access or cover enough operational functionality to manage an entire business, especially as it grows.


SAP Business One helps SMEs (Small to Medium Enterprises) grow rapidly in new markets
Whether you have 3 employees or 500, SAP Business One can help you expand into new locations.

Hear what Hasbro has to say.


#1 Most Common Business Pain: Outpacing their current systems
Most companies on the rise will find that they are outgrowing their current accounting systems. They do not hace access to real-time data and a lot of manual and duplicate data entry. This leaves them unsure if data is accurate, making decision-making and revenue growth difficult.


#2 Most Common Business Pain: Limited access to real-time information
Unlike separate systems in different departments, SAP Business One gives employees access to accurate, real-time information in one location that they can trust, allowing them to make faster, more informed decisions.


#3 Most Common Business Pain: Poor Inventory Management
Most growing companies running a small business accounting system have siloed inventory management procedures that make it difficult to track what you really have in stock. SAP Business One has advanced reporting features that allow you to view all your inventory information in a single, integrated system.


#4 Most Common Business Pain: Reporting
SAP Business One holds all department data in one unified system allowing users to create custom, real-time reports and dashboards so that you always know the status of your company.


Under Armor runs on SAP Business One
Large enterprises can also use SAP Business One to support their subsidiary operations or run pilot projects in new markets.


The San Jose Sharks use SAP Business One
SAP Business One helps the San Jose Sharks handle $15,000 transactions nightly.


SAP Business One enables customer satisfaction
Advanced inventory management and real-time data allows companies to have complete visibility into customer orders to understand buyer behaviors, predict their needs and increase customer satisfaction while providing top-quality service.


You can have an industry-specific solution with SAP Business One
The application offers end-to-end support and specific functionality for a number of industries including: retail, engineering services, food & beverage production, aerospace, manufacturing, life sciences, oil & gas and many more.


SAP Business One is constantly innovating
SAP is one of the top ERP application providers and draw feedback from their global customer base to continually improve their features and functions.


SAP Business One can handle your day-to-day operations while you focus on company growth
Rely on the technology to streamline your business operations so you can focus on your company strategy and continue to drive growth without being weighed down by daily tasks.


SAP Business One has over 550 Industry-specific integrations
All industry-specific solutions are prepackaged and fully integrated so that you can automate workflows specific to your company type.


HANA is the primary reporting platform for SAP Business One
It enables companies to access all their critical business data easily and rapidly from a centralized location.


There's an SAP Business One app
You can access all of your business data on the go with SAP Business One app for iPhone and iPad devices.
For more information about how SAP Business One can benefit your company, download our SAP Business One Information Kit.