Couldn't make it to Biz.ONE conference this year? Find out what you missed, and why you should plan to attend next year. Read the article.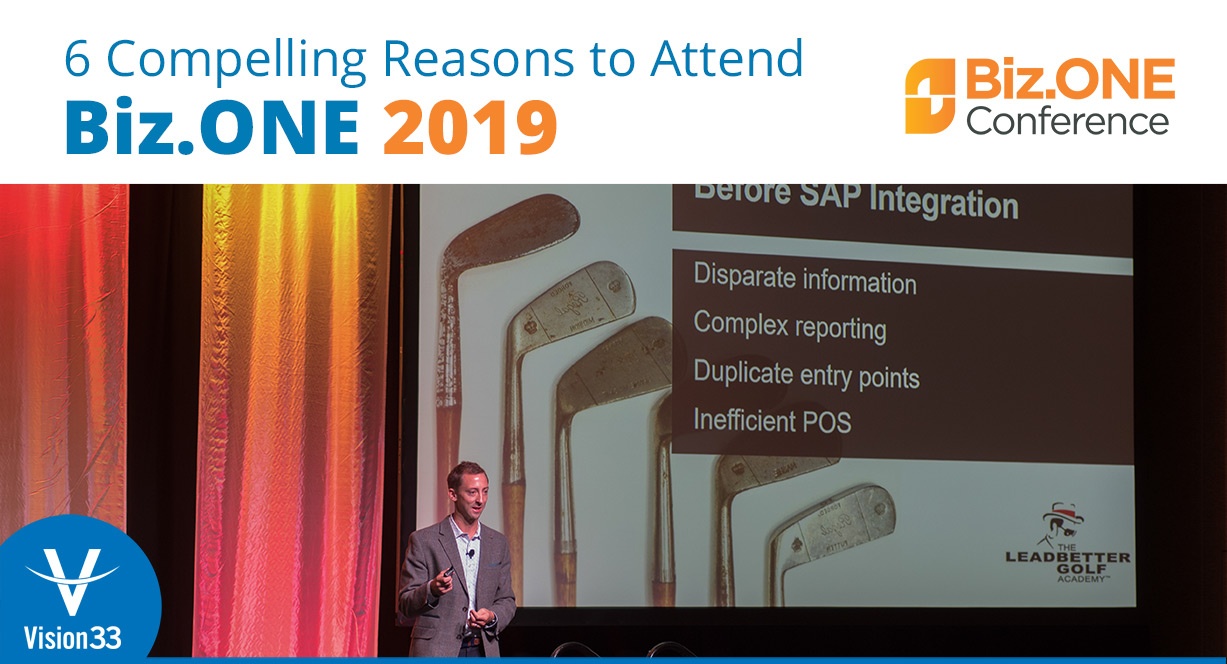 If you were unable to attend this year's Biz.ONE event it's a great opportunity for SAP Business One users to learn and share all things SAP Business One. This year, SAP's annual conference offered plenty of great networking opportunities and chances to meet your SAP Business One partner as well as other users just like you. Now that Biz.ONE 2018 is over, we'd like to take a moment to recap some of the highlights from this year's event and present you with six compelling reasons not to miss it next year.
Interesting Speakers Topics
There were over 70 guest speakers at the event including SAP Business One users, employees from SAP, and customers of Vision33. Our customer Daniel Phelps, Application Architect from HTRI was invited to take part in a round table discussion about solving challenges with SAP Business One. While Tami Beverson, a Controller with CommUSA covered tips and tricks selected from a collaboration of customers, SAP product management, business partners, and consultants.
Useful Workshop Sessions
One of the main draws to the event is SAP Business One's customer workshops, some of which sold out due to popular demand. There were hands-on workshops on everything from SAP Business One version 9.3 features, to Crystal Reports training, and more.
Learning Opportunities from Vision33
Vision33 was present to provide learning opportunities for our customers about Vision33's portal and integration solutions. These powerful add-ons help extend SAP Business One beyond the walls of your business to serve customers globally with secure access to self-service.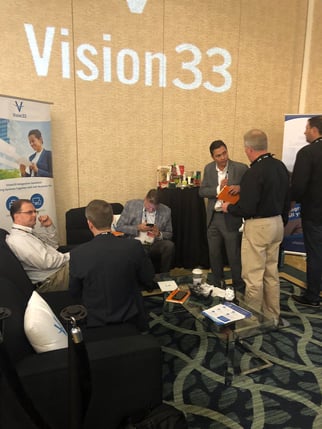 Great Opportunity to Meet with Vision33
Vision33 had the opportunity to speak with many of our customers in attendance. It's always great to hear your success stories and ways you're leveraging the technology to overcome obstacles.
Annual Charity Golf Tournament
On Sunday there was an opportunity for those in attendance to play a round of charity golf in the first annual Biz.ONE charity golf tournament. The tournament was hosted by Vision33's customer, David Leadbetter, a global network of golf academies. Before the tournament, participants were invited to take part in a hands-on swing clinic taught by David Leadbetter himself.
Complimentary Vision33 Visionary Award Luncheon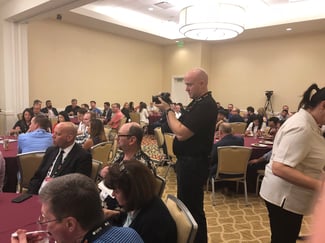 Vision33 also hosted a luncheon during the event to present our Visionary Awards to our valued customers for best use of SAP Business One to achieve business insight and company growth. This year's recipients include Vaxcel International Co., Ltd., Fresh Creative Foods, KRS Global Biotechnology, Hummert International, Emerald Home Furnishings, Six Pints Speciality Beer Company, Orbital Gas Systems, Diamond Productions, and the Companion Group. Congratulations to all.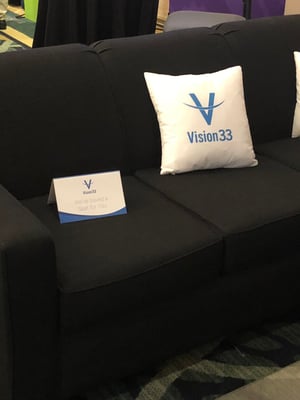 All in all, Biz.One is a great opportunity for any SAP Business One users that wants to learn about further leveraging the application. If you couldn't make it this year, we hope that you'll consider joining us next year; we'll be sure to save you a seat at the Vision33 booth.