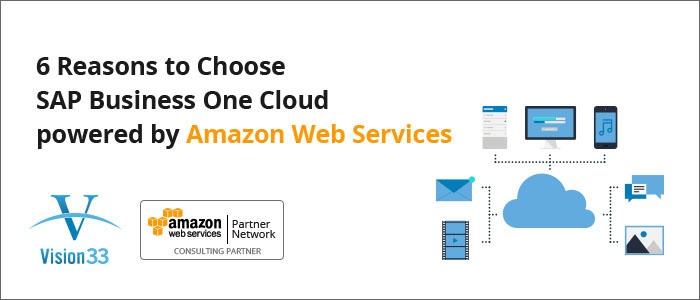 Small businesses can now access all the benefits of the SAP Business One Cloud powered by Amazon Web Services (AWS) , the leading global cloud provider.
By deploying SAP Business One Cloud, all your valuable information is protected in secure, world-class data centers – giving you access to your data anytime, anywhere. This way you can spend less time worrying about IT and more time running your business.
Here are the top 6 reasons why you should host SAP Business One Cloud:
Vision33 holds an AWS SAP Competency, which is designed for APN Partners that help SAP customers implement, migrate, and manage SAP applications on the AWS Cloud. As the only SAP Business One partner worldwide that holds the AWS SAP Competency, Vision33 has the expertise and team to help you - whether you are evaluating deployment options for SAP Business One or want to migrate SAP Business One from on-premise to the cloud.
To speak with someone about bringing your business to the cloud, click the contact us link below.
Related Posts: