As we look forward to establishing a new normal, professional services organizations can implement 7 best practices to overcome common challenges. Automate Your Core Financial Processes with Sage Intacct.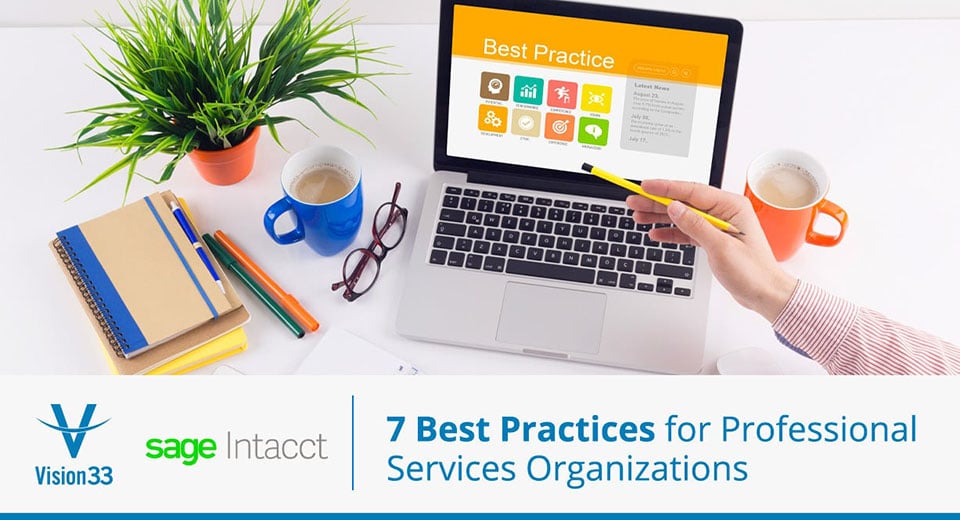 As we navigate an uncertain economy, how can professional services organizations overcome challenges to set themselves up for success?
We can learn from the 2008 financial crisis. After the market crashed, many professional services organizations implemented best practices with positive results, and businesses can apply those best practices today.
Continue reading for seven best practices for professional services organizations and how a financial management solution like Sage Intacct can help your organization become more resilient and adaptable.
Focus on Your People
Your team has likely been working from home, which was a significant adjustment, especially for those with school-age children. It's critical to keep the lines of communication open and let your team – and clients – know you support them. Many are experiencing stress, and your support will improve morale and productivity.
Prepare for Postponed or Cancelled Projects
As client behavior changes, you may need to adjust revenue schedules and recognition. In 2008, many professional services organizations used small business accounting software that couldn't handle quick adjustments. They vastly underestimated the effect of project delays and cancellations and found themselves lagging when final numbers came to light. Luckily, many of today's cloud-based financial management solutions are flexible enough to keep up with changes, allowing professional services organizations to be proactive.
Be Aware of Your Financial Exposure
Keep a sharp eye on accounts receivable (AR) aging and work in progress (WIP) balances. If your vendors invoice you earlier than usual or payments take longer to come in, it could be a sign of a project unraveling. A modern, cloud-based financial management solution with real-time dashboards and reports can help your professional services organization closely monitor these areas and avoid carrying bad debt that will harm your financial health.
Adjust Your Billing Frequency
In 2008, professional services organizations' days sales outstanding (DSO) averaged 48 days – much higher than the goal of 30 days for a stable business – and many dealt with a huge strain on cash flow. To reduce this risk, implement the best practice of adjusting your billing frequency to minimize the effect if disputes or delays occur. Shorten the period between invoices as much as possible and exercise caution when managing retainers and complex financial agreements.
Mandate Daily Time and AP Entry
Requiring your team to enter time daily is the only way to get a clear picture of your projects in real-time. You should also process vendor invoices quickly to ensure your project managers are always aware of their exposure. In 2008, this was a time-draining process due to manual data entry and systems that couldn't talk to each other, but newly automated AP processes save time and money and allow quick, confident business decisions.
Take Project Financial Management Seriously
During challenging times, poor project financial management has catastrophic results for professional services organizations. The economy was strong before the 2008 crash, so managing project financials wasn't a top priority – but in the aftermath, countless businesses experienced revenue shortages. A best practice is instituting weekly team meetings and presenting your executive team with real-time data. Keep track of the estimated percent complete from your project managers and compare it to the total contract to see your progress. Make sure you're delivering value and avoid surprises as a project wraps up.
Understand Effects on Corporate Financial Projections
Pay close attention to changes affecting your corporate budgets and planned expenses. Technology that can run multiple scenarios and easily adjust on the fly is a critical component of your professional services organization's strategy.
Automate Your Core Financial Processes with Sage Intacct
Your professional services organization can easily adopt the aforementioned best practices using Sage Intacct, a flexible, configurable accounting software solution built on a true cloud foundation. Its robust technology infrastructure makes it easy for any organization to share data and integrate with best-of-breed solutions – without breaking the bank.
To learn more, download the Sage Intacct Project Financial Management datasheet below.