Is all your data backed up?
What would happen if an unexpected event affected one of your servers?
Every company has to deal with the possibility of disasters, be they figurative or physical disasters. When companies encounter major interruptions such as a computer virus, network outage, or even a fire or flood, business can be stalled for days, weeks, or months at a time.
Lost data, especially transactions, can easily push companies off track by wreaking havoc on daily business operations. The longer it takes to recover the data, the more key stakeholders suffer – employees, business partners and customers.
Create a disaster recovery plan to minimize downtime when a data loss disaster strikes. Back up your data regularly and make sure you can recover it quickly and reliably. An automated cloud disaster recovery plan allows you to protect your data, no matter what obstacle you may encounter.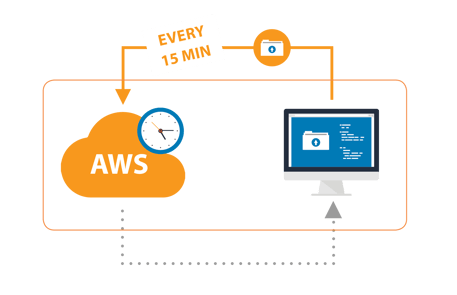 At minimum, your company should have the following infrastructure for a duplicate environment in place:
Facilities to house the infrastructure, including power and cooling.


The disaster recovery environment's location and source of infrastructure should be a significant physical distance apart. This ensures that the disaster recovery environment is isolated from faults that could impact the source site.


Suitable capacity to scale the environment.


Support for repairing, replacing, and refreshing the infrastructure.


Contractual agreements with an Internet service provider (ISP) to provide Internet connectivity that can sustain bandwidth utilization for the environment under a full load.


Network infrastructure such as firewalls, routers, switches, and load balancers.



Enough server capacity to run all mission-critical services, including:
Storage appliances for supporting data.

Servers to run applications and backend services such as user authentication, Domain Name System (DNS), Dynamic Host Configuration Protocol (DHCP), monitoring, and alerting.
Click on the button below to watch a video about how disaster recovery in the Cloud with Amazon Web Services (AWS) can let you sleep rest-assured, keep your company's momentum going and have you back up and running in under 5 hours in the event of a disaster. With the AWS cloud, you can have all this without the added infrastructure expense of a second physical site.


---
Other relevant blog posts: