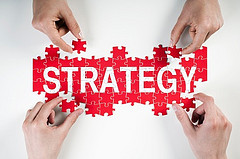 As your company grows, your customers come to expect more – more services, better products, and a higher level of customer service. So, how do you keep up with customer demands while continuing to grow as a company and drive profit?
Build strong relationships with your vendors
It is important to keep your vendors happy to ensure a long and fruitful business relationship. By establishing a long term relationship with your vendors, you can expect faster turnaround times and more support when you're in a pinch. You award loyal customers – so do your vendors.
Keep in contact with existing customers
It's a lot easier to keep your current customers happy and loyal than finding new ones. Distributing a short customer satisfaction survey is a great way to find out what your company is doing right and identifying opportunities to provide even better service to your customers.
Use an effective inventory management system
Never be over or understocked. The right Inventory management system will provide visibility into supplier activity and customer orders to predict trends, behaviors and get higher fulfillment rates.
Leverage advanced reporting
Enable your employees to increase productivity with accurate, real-time reports and make faster, more informed decisions.
Ensure that you have the right business management software to grow
A basic accounting software package like QuickBooks and Simply Accounting will not be able to handle your basic operational needs as order volumes and employee numbers increase.
Streamline your operations
The larger your company is, the less time your employees should be spending on day-to-day administrative tasks. If you can optimize the way you run your business with technology, then you should, whether that means eliminating manual processes, automating workflows, etc. Trust in technology to handle the menial workload so you can concentrate on better running your business.
Eliminate departmental silos
Make sure that your employees are communicating across departments to ensure maximum productivity. Ensure every department is seeing consistent company data. If possible, you want to ensure that you have a fully integrated system to reduce potential errors from manual and duplicate data entry.
Analyze your company data often
The best way to improve is to reevaluate what you have done and look for ways to improve. Give your business an edge with deep analysis and reporting that provides insight into your company performance.
If you would like more information on how to accomplish these 8 tips access Vision33's Beginner's Guide to ERP.
Learn More in the Beginner's Guide to ERP
For fast-growing businesses, the time to shift from small business accounting software (e.g. QuickBooks) to an ERP platform may already be upon you. But how do you know for sure and where do you begin sorting through your options?
These are challenging and often complicated questions to answer, and in most cases, the available resources online don't clarify anything. For that reason, we consolidated all our early stage ERP resources in one place.