End of Year is upon us - are you prepared? For the accountant, closing the books is essential to keep last year from carrying over into the current one and making a mess of things. It's a tall order to with so many things to do in. From creating a realistic plan with a budget, recording all transactions accurately, filing taxes on a periodic basis, and anything and everything in between; yearend involves working late and working hard.
Vision33 makes it easy. Here's a US accounting and tax deadlines checklist for you to keep up-to-date with your accounting. This checklist lays out all the daily, weekly, monthly, quarterly, and annual accounting tasks along with important tax deadlines so you can go home a little earlier.
Download the full-sized accounting checklist.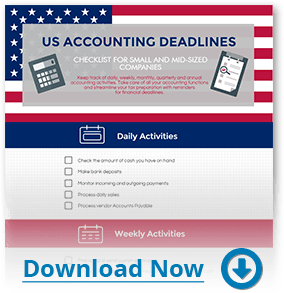 If you are after a Canadian accounting and tax deadlines checklist, you can download it here. You can also download the UK accounting and tax deadlines checklist here.