Vision33 would like to welcome its latest customer, Atosa Catering Equipment. Learn more about Vision33's latest customer and their SAP Business One solution. Read the article.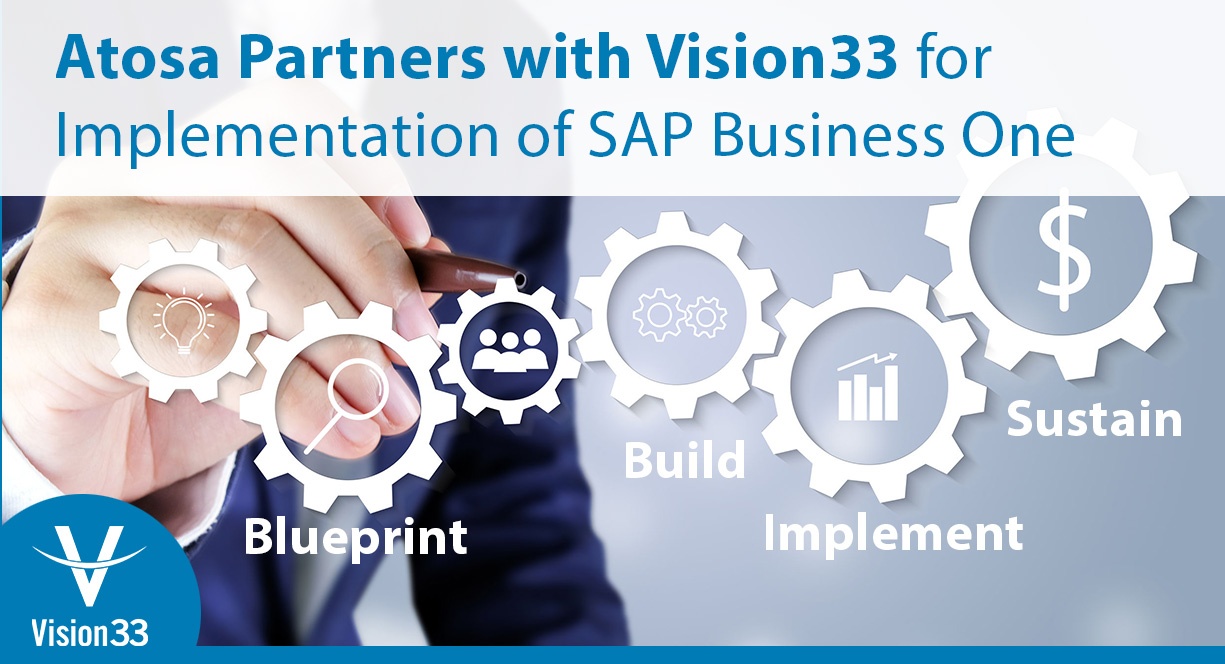 Vision33 would like to welcome its latest customer, Atosa Catering Equipment. Atosa's brand name comes from a word commonly spoken by those who speak Farsi. It means beautiful body which describes the company's refrigeration, gas equipment, and smallwares. But this lineup of commercial kitchen equipment is much more than meets the eye!

Products manufactured by Atosa, come with a promise of exception quality at a reasonable price with the added benefit of a nationwide service team at-the-ready to stand behind the company promise with their warranty service. It's not surprising then, that with Atosa's unique ability to provide customers with same day customer service, they have a competitive advantage leading the company to fast-growth like many of the small to midsized enterprises that partner with Vision33.
The Reason for the Move to ERP
The company's objective was simple, move to a more robust and user-friendly enterprise resource planning (ERP) solution that could provide them with access to features they needed today and tomorrow – without the need for too much customizations. The challenge with their previous system was that it didn't provide real-time data, what's more, the solution didn't possess a strong foundation for the company's continued growth. Core business features and basic reporting seem to come with a caveat that the application could support the functionality – albeit with costly customization. For a streamlined and organized company like Atosa, this came as a surprise. Afterall, they didn't need to reinvent the wheel, they needed to cover the basics, things like financial reporting, a balance sheet, and a profit/loss statement.
SAP Business One, ERP solution of Choice for Fast-Growth SMEs
Atosa chose SAP Business One because it promises to provide support for the key areas of business that a growing company would expect to have without the need for costly mass customization. Out of the box, SAP Business One will provide Atosa with many prebuilt reports as well as the option to build their own from real-time data and display them in various formats and dashboards. Nonetheless, SAP Business One also possesses the flexibility to adapt to Atosa's evolving needs as its business continues to grow.
Partnering with Vision33, the Largest Global Partner for SAP Business One
For the implementation of SAP Business One, Atosa chose Vision33. One of the key considerations for their next business management solution was the ease with which they could train their employees to take advantage of the application to streamline workflows and other business processes. To this partnership with Atosa, Vision33 offers its renowned customer support program, Vision33 TOTAL Care.
Unlike many other enterprise software companies, Vision33 truly believes in the value of empowering customers with the knowledge they need to thrive without being dependent on a software company's helpline for years to come. The Vision33 TOTAL Care program was built to provide dedicated customer support, training, and enablement programs to ensure Atosa's employees learn the application quickly – and take away the stress out of the new software roll-out. With Atosa's Go-live slated for January 1st, 2019 we wish them the best luck and shared success.
Interested in Learning More About SAP Business One?
If you're interested in learning more about what SAP Business One can do for your fast-growth company, access Vision33's SAP Business One information kit. Inside you'll find a curated selection of resources that are of benefit for any business considering moving to an integrated business management solution.