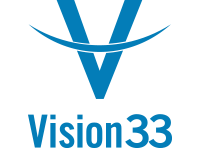 Vision33 Enables Young, Successful Organization to Accelerate Growth
CALGARY, Alberta — September 30th, 2015 — Vision33, a leading reseller of the SAP Business One® application, today announced that Baby Gourmet Foods, Canada's branded leader in pouched organic baby food, has chosen Vision33 to transition its business processes onto one integrated platform with SAP Business One.
Due to the rapid growth of the company, Baby Gourmet selected SAP Business One, a unified enterprise resource planning (ERP) solution, to automate their operational processes, streamline workflow, and manage inventory across multiple distribution centers in Canada and US. This involved searching for a local partner that understood their opportunities and challenges and that shares the company's core values.
"Our primary goals are to input once and analyze often. We need a system that like us, values simplicity and speed, without sacrificing quality. With the help of SAP Business One and Vision33, we will be more prepared to meet our retailers' needs by having full visibility into our inventory and production information," says Gaylene Johnson, director of sales operations at Baby Gourmet. "This will make it easier for busy families across North America to have access to high-quality, organic foods and snacks for their children."
It is expected that once the project is complete, Baby Gourmet will accelerate their growth through operational efficiencies and increased visibility. This will allow them to focus on their core competency of providing health-conscious parents with high-quality organic foods for their children, whilst staying ahead of competition with new innovation, which will expand their market share in US and Canada.
"We are excited to provide Baby Gourmet with a complete software solution that will continue to grow as they grow," says Terry Nette, Vision33's general manager for Alberta. "We are confident that with the help of SAP Business One, Baby Gourmet will not only meet, but exceed their growth agenda now and in the future."
About Vision33
Vision33, Inc. (www.vision33.com), four-time recipient of the SAP® North America Partner Excellence Award for SAP Business One, is a leading enterprise resource management (ERP) solutions provider, focused on providing the SAP Business One application for growing businesses and subsidiaries of large enterprises. Through offices located across North America, Vision33 provides the right balance of software, world-class consulting and support services to help customers better manage and grow their business.
Vision33 is a member of the Group zed family of companies. With roots dating to 1992, Group zed (www.gzed.com) is a privately owned and operated corporation, which provides its family of industry leading companies with the strategic vision and tools to deliver on the promise of technology to customers, setting them apart from other industry peers.
About Baby Gourmet
Headquartered in Calgary, Baby Gourmet® is the leading branded organic baby food company in Canada. Challenged with finding food that was both wholesome and flavourful, sisters Jennifer Carlson and Jill Vos founded the company 10 years ago. Since then, every Baby Gourmet product starts in their own kitchens before moving to production, ensuring that the same high quality ingredients and rigorous standards remain the foundation of all of our products. Baby Gourmet currently represents 25% of the branded pureed baby food market in Canada and has recently moved into the US market with an organic snack focused on school aged children under the Slammer's brand.
For more information, Press Only:
###
SAP, SAP Business One, and other SAP products and services mentioned herein as well as their respective logos are trademarks or registered trademarks of SAP SE (or an SAP affiliate company) in Germany and other countries. See http://www.sap.com/corporate-en/legal/copyright/index.epx for additional trademark information and notices. All other product and service names mentioned are the trademarks of their respective companies.