Vision33 accepts the SAP Business One Partner of the Year, U.S. At SAP North America Field Kick-Off Meeting 2012.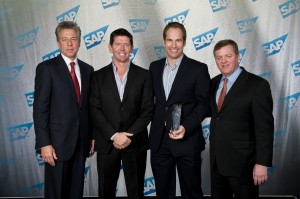 Vision33 today announced it has been named the SAP
®
Business One Partner of the Year, U.S. Awards were presented by
SAP Americas
(NYSE: SAP) during the SAP North America Field Kick-Off Meeting (FKOM) 2012, held Jan. 17-19 in New Orleans, La., to the top-performing SAP channel partners and SAP services partners in North America for outstanding contributions that impact overall SAP sales and pipeline-generation goals.
"Receipt of this award can be attributed to our integral partnership with SAP and Vision33's extensive experience with the SAP Business One application," said Alex Rooney, vice president of Vision33. "Through both, we have not only been able to make a real difference for our 400+ customers – we have opened doors to new growth potential with SAP Business ByDesign™ by adding more than 10 new customers since being authorized to sell the on-demand solution. We look forward to another promising year in partnership with SAP."
Selected from SAP's wide-ranging North American partner base, nominations for the SAP Partner Impact awards were based on internal SAP sales data. A steering committee composed of regional and global SAP representatives determined winning partners in each category according to numerous criteria such as sales achievement and performance. As the recipient of a 2012 Partner Impact award as the SAP Business One Partner of the Year, U.S., Vision33 has been honored for its superior performance, revenue growth and fundamental commitment to the SAP partnership. Winners will receive strong recognition from the SAP field fortheir accomplishments.
Vision33 received the award during the
SAP North America FKOM 2012
, an annual gathering of SAP executives, SAP field employees and partners to learn about SAP's strategy, sales methodology, best practices, business growth opportunities and product innovations. The theme of this year's meeting, "Run Better Win Bigger," prominently featured SAP's innovation story focusing on its core pillars – analytics, applications, cloud, mobility and in-memory computing – as well as solutions for industries and lines of business on a consistent core. A focus of the event was on helping SAP's strong partner ecosystem succeed in 2012 by providing visibility into SAP's company direction, education on products, networking opportunities, and exposure to SAP leaders. SAP and its partners help customers adopt innovation easily, gain results rapidly, grow sustainably and ultimately run better with SAP solutions. This year's North America FKOM hosted more than 4,000 attendees from the U.S. and Canada.
"Our partners' regional, industry and solution expertise play a crucial role in driving game-changing co-innovation and expanding our market reach and customer touch points," said John Graham, head of Volume Markets and Ecosystem & Channels, SAP America, Inc. "As a recipient of a 2012 SAP Partner Impact award, we recognize Vision33's commitment and efforts in developing and growing its partnership with SAP and driving customer success."
Since joining the
SAP PartnerEdge™
program in 2003, Vision33 has become a widely respected and well-known SAP gold channel partner throughout North America.
"As a top-producing partner in the United States, we are helping more small businesses, the driving force of our economy, to run more efficiently using SAP solutions," stated Vision33's Rooney. "By collaborating with SAP and other partners in the channel, we have expanded our portfolio and are continuously pushing forward to make sure that our customers have the necessary capabilities in place to grow and advance forward."