Manage your financials and budget and plan with ease. Start with a modern, born-in-the-cloud solution built for finance by finance.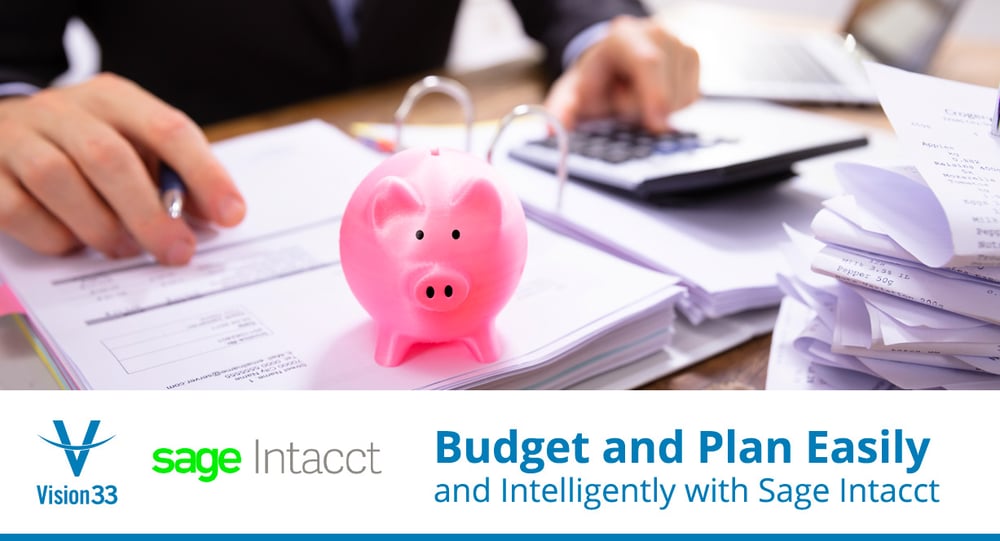 It's more important than ever for your business to carefully budget and plan so you can execute your strategy and be successful.
You can do so only with the proper budgeting and planning tools. Your executive team expects you to communicate your goals, your plan to achieve them, and the metrics you'll use to track progress. This is excessively complicated if you use manual processes.
The Challenge
Say you have only a few days to gather your data and present it to your executive team. If you're using a small business accounting application, you're already losing time.
You're likely pulling data from multiple sources and pasting it into spreadsheets. This tedious, error-prone process leads to difficulty making sense of the data. And because you're not working with real-time information, whatever you present might be outdated and inaccurate.
Sage Intacct: A Modern, Born-in-the-Cloud Solution
There's a better way to manage your financials and budget and plan with ease. It starts with a modern, born-in-the-cloud solution built for finance by finance. Sage Intacct is a flexible, configurable accounting software solution with a robust technology infrastructure that integrates with other applications and makes it easy to share data - all at an affordable price.
With Sage Intacct, you can ditch spreadsheets and manual processes. The system handles data compilation and validation for you, eliminating mistakes and saving time. That means you can focus more on strategic thinking and identifying and correcting issues. You'll also have real-time information you can confidently present to your executive team on demand.
Best of all, Sage Intacct Budgeting and Planning is integrated with Sage Intacct core financials, allowing you to create budgets using Sage Intacct account and dimension structures and actuals data. That budget data effortlessly flows back to Sage Intacct core financials for even more forecasting and variance analysis.
Learn More
Sage Intacct will automate your core financial processes, save time, and enable quick, vital decisions about your business's future.
Don't just take our word for it, though. Grab a cup of coffee, put your feet up and see Sage Intacct in action in the demo below!