SAP Business One version for SAP HANA gives advanced ATP functionality to determine if you have the necessary products to fulfill your customers' orders.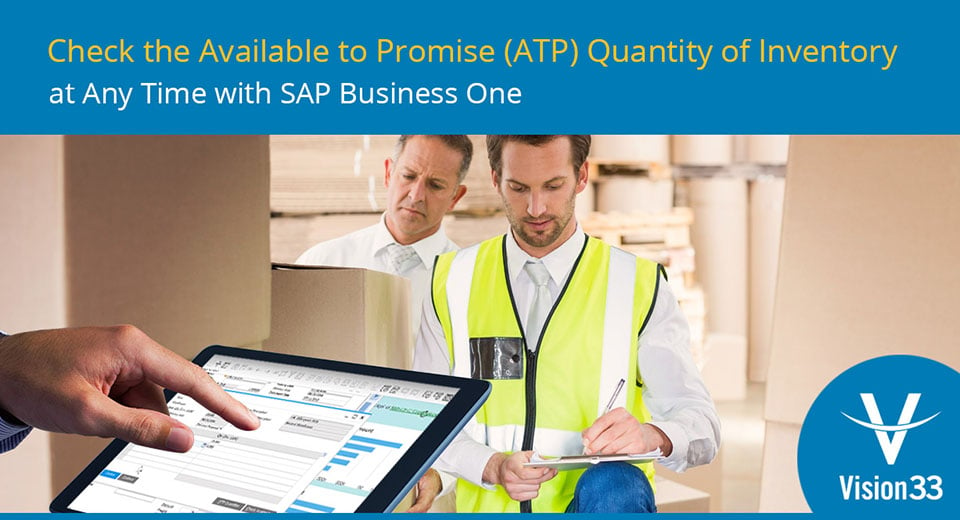 With the 2019 calendar year already in full swing, people are already tracking progress against the ambitious growth goals at the outset of the new year. While many of us will chose New Year's Resolutions like exercising more, getting 8-hours of sleep each night, or eating a balanced diet, let's face it – these are difficult promises to keep. And not for a lack of trying, we easily recognize the things we'd like to improve in our lives – in our businesses too – but the trouble is that it's not always obvious what is needed to achieve these goals.
If you're like the many small to midsized enterprises (SMEs) that partner with Vision33, you may be promising to work hard on your omnichannel retailing by improving accuracy on inventory availability to fulfill customers' orders. Luckily for retailers this is one of those instances where there's a clear solution to help you keep your promise and achieve great customer service in 2019.
How to Keep Your Promise to the Customer
Enter SAP Business One version for SAP HANA. SAP's enterprise resource planning (ERP) solution gives you the advanced available to promise (ATP) functionality you need to determine, at a moment's notice, if you have the necessary products to fulfill your customers' orders. Let's look at an example to demonstrate how this simple, but effective, feature can keep your customers happy.
As a sales person, you receive a sales order for 1000 products. You want to ensure that there is enough quantity to deliver by a certain date. SAP Business One version for SAP HANA makes it very easy you to ensure there is adequate inventory in-stock before you promise it to a customer. From the application's toolbar, there's an icon called the 'Available to Promise Check'. Clicking it will prompt the ATP Check window. From here you can choose the item your customer wishes to place an order for and enter the item code. You can then see for the delivery date how many units are available.
From the 'Available to Promise' screen, users will see information about all the orders including purchase orders and sales orders. You'll also see the amount of each inventory item that was purchased under the 'Ordered' section and orders with committed quantities. If there are enough items on the specified date, then you can create the sales order and deliver the items to the customer without issue. If your business has a lot of inventory there's also a 'Multiple Warehouses' button that will display quantities by locations. It's possible to include or exclude by a warehouse as well.
Learn More About the Available to Promise (ATP)
To learn more about the ATP Check function, watch the demonstration of the setup and feature explanation that will enable your business to keep your promise to your customer in 2019.