Digital transformation isn't just for large organizations. Get Dan Kraus's insights on digital transformation for small and midsize businesses (SMBs).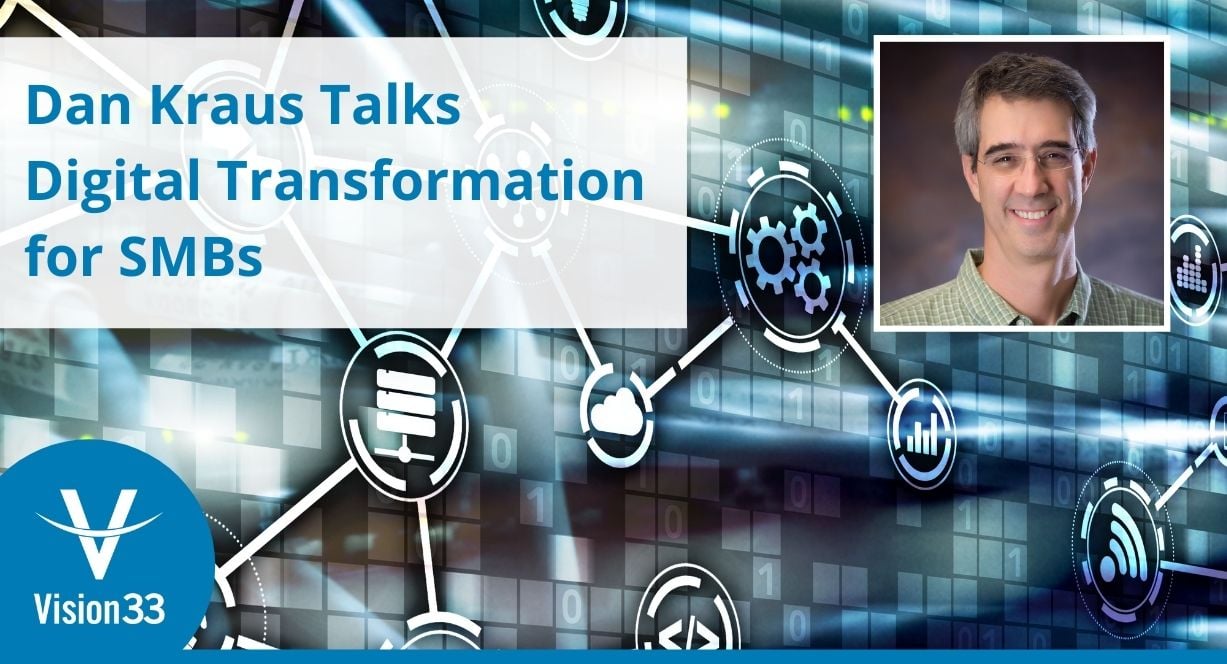 Curiosity fuels Dan Kraus. He needs to understand the motivation that leads small and midsize businesses (SMBs) to seek new solutions to their problems. He also loves helping people.
As Vice President of Global Sales and Marketing for Vision33, Dan helps customers solve business challenges with technology. He has dedicated 30 years to helping businesses grow through accelerated sales, marketing, and customer service.
Dan was a recent guest on the Sage Thought Leadership Podcast, where he offered insights about digital transformation for SMBs. Digital transformation is a buzzword that sounds overwhelming, but it's merely adopting new – or modifying existing – technology to make your business run better.
Here are some key points from Dan's discussion.
How SMBs Are Embracing Digital Transformation
Smaller businesses without a large IT staff often take digital transformation one small step at a time. They identify their biggest pain point, find technology to relieve it, and move on to the next pain point.
Many SMBs begin their digital transformation journeys with integration and automation. Connecting critical business systems, streamlining processes, and increasing efficiencies allow organizations to grow without hiring more people. Being digital also saves time that can be refocused on innovation and initiatives that bring value and revenue to the business.
Examples of Customer-Centric Digital Transformation Initiatives
Digital transformation doesn't just make things easier for businesses – it simplifies and optimizes the customer experience. Dan cites eCommerce as an example. COVID-19 forced many companies to shift to online selling. Today, it's easier than ever for businesses to sell their products simultaneously in retail stores, on websites, through Amazon, and via partner sites, giving customers multiple choices.
Automating paper-based processes is another way to improve the customer experience. Take, for example, the old way of capturing sales orders: Your sales team manually processed orders into your ERP system, which inevitably led to mistakes like pricing errors and incorrect deliveries. With automation, emailed orders are captured and processed with no manual data entry, so you never miss or lose an order. Populated documents are easy to create, orders move quickly, and you have more time to dedicate to stellar customer service.
Learn More
For more insights about digital transformation from Dan – and to contact him – listen to the podcast.