EDI Electronic data interchange technology is the silver bullet that enables growing companies to level the playing field. Here's why.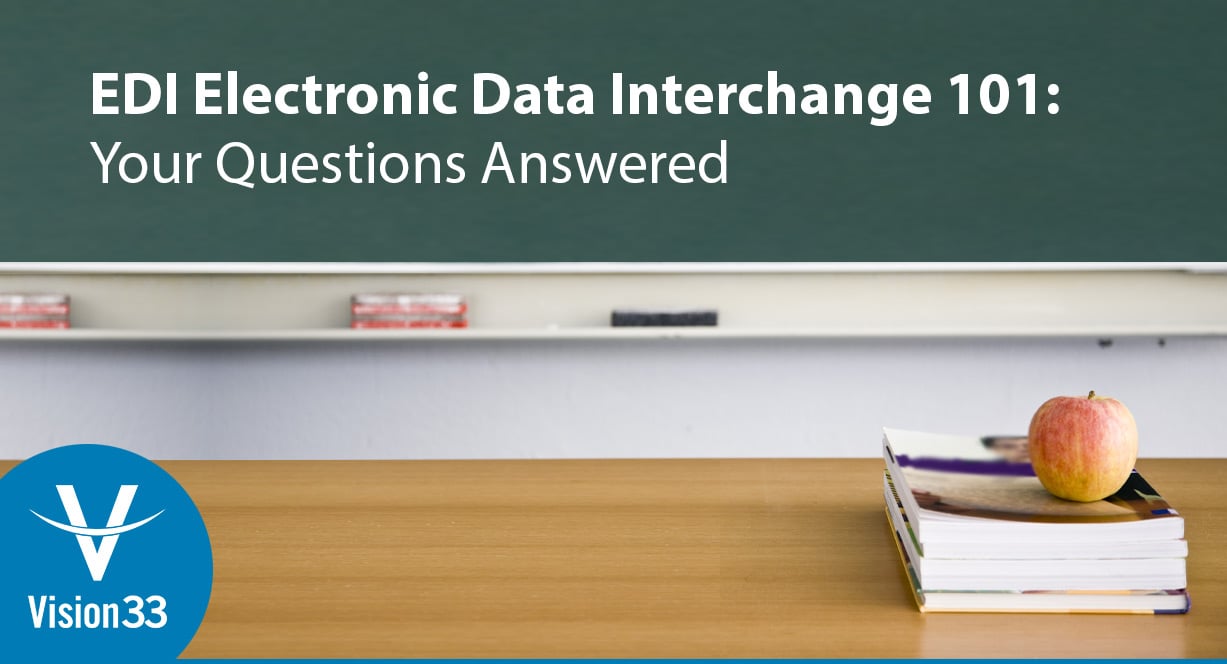 Building stronger trading partner relationships is critical in the Amazon Age and should be a focus for wholesale distributors seeking profitable growth and expansion. Electronic data interchange (EDI) technology is the silver bullet that enables up-and-coming companies to level the playing field with larger competitors by cutting through the complexity and cost of doing business with supply chain giants like Amazon.
What Is EDI?
EDI allows you to exchange digital information and transactions with other businesses for greater accuracy and faster communication. For example, you can digitally transmit purchase orders, invoices, advanced ship notices, and other documents via EDI.
EDI replaces order processes, transactions, and communications that used to require paper and faxes, and is a necessary component for business process automation. Due to its importance, Vision33 partnered with EDI vendor SPS Commerce so our enterprise resource planning (ERP) customers can automate processes and spend less time managing systems and connecting the dots between vendors in their supply chain.
What Are the Benefits of EDI for Businesses?
Adopting EDI technology speeds up sales cycles by speeding up transactions, and automating manual processes with EDI leads to cost savings and other benefits, including:
Efficient communication with trading partners – Produce standardized documents that widen your business market to over 55,000 trading partners using SPS Universal Network exclusively.
A faster business cycle – Increase cash flow by reducing your invoicing and payment processing time.
Saved time and resources – Eliminate the need to build individual point-to-point connections with each trading partner.
Automated business transactions – Effortlessly send and receive real-time catalog, inventory, order, and shipping information from SAP Business One.
SPS Commerce Cloud EDI for SAP Business One
Vision33's EDI solution, built specifically for SAP Business One, is SPS Commerce Cloud EDI. The solution supports any business document and any trading partner. Through our network of over 80,000 customers, you're connected to retailers, manufacturers, suppliers, and third-party logistics (3PLs).
SPS Commerce Cloud EDI also supports transactions that rely on EDI documents. For example, EDI 832 is a document used in price/sales catalog transactions between a supplier and a retailer. It's used to obtain supplier item information and load it to their item master file to provide updates on items or to provide a discontinued product notification. EDI also supports order cycle documents, finance documents, transportation and logistics management documents, warehouse fulfillment documents, manufacturing and material handling documents, and more.
Save Time and Resources with the SPS Commerce Cloud EDI Connector Order to Cash Process
To learn more about EDI connector solutions, watch Vision33's recent webinar. We walk you through the SPS Commerce Cloud EDI integration to SAP Business One and demonstrate the order to cash process. Learn:
How SPS Commerce is a full-service solution that provides everything you need to connect your trading partners and manage your electronic orders in SAP Business One.
How integration helps you save time and resources, build stronger trading partnerships, gain efficiencies, and automate transactions.
The key features of SPS Commerce Cloud EDI.