The 2017 Visionary Awards award winners have been announced. Find out who best demonstrated innovative ways to leverage SAP Business One.Read the press release.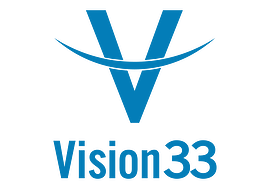 Largest global value-added reseller for SAP Business One presents customers with awards for exemplary use of software to achieve goals of growth and success.
Irvine, CA – October 24, 2017 – Vision33, a global partner for SAP Business One today announced the recipients of the Visionary Awards 2017. Each year, Vision33 presents the awards to its customers that demonstrate innovative ways to leverage SAP Business One to grow their business. SAP Business One is an enterprise resource planning (ERP) solution from the world leader in financial systems, SAP, that provides small to midsized enterprises an affordable way to manage their entire business.
"The Visionary Awards are important to Vision33 because it demonstrates how our leading customers believe in the promise of technology and what it can do for their business – the same way we do. It's why we come to work every day," states Alex Rooney, Vice President – US, Vision33.
Selected from over 800 customers worldwide, this year's Visionary Award recipients highlight fast-growing companies committed to delivering the best experience possible to their customers. Each recipient knows that technology is a crucial ingredient to enable them to do so.
In recognizing the Canadian-based award recipients, Ryan Steil, Vice President – Canada, Vision33 adds "Whether companies are trying to produce, market, or get their product to market, leveraging technology is what will help them flourish. These companies show that to successfully accomplish that doesn't require you to be a tech company – you just need to be willing to embrace what technology can do for your business. I think it's important to celebrate that in these growing businesses."
This year, Vision33 is excited to recognize customers in North America as well as the United Kingdom (UK). Neil Feingold, Vice President – European Union (EU), Vision33 comments "The Visionary awards are important because they allow us to publicly recognize our customers that not only believe in what technology can do for their business, but execute on it as well."
Vision33 award recipients will be recognized at this year's Biz.One Conference (from October 23-25) in Orange County, California during a private reception. Formerly the ASUG SAP Business One Conference, Biz.One is an annual conference for the SAP Business One community to develop, train and hear from senior SAP executives about the future roadmap for SAP Business One.
This year the complete list of Vision33's Visionary award recipients includes:
Comprehensive Care Services, Inc. – Livonia, Michigan, USA
SITKA® Gear - Bozeman, Montana, USA
HTRI – Navasota, Texas, USA
Steuber Companies – Long Beach, California, USA
VIETRI, Inc. – Hillsborough, North Carolina, USA
Fine Science Tools – North Vancouver, British Columbia, CAN
The Winning Combination, Inc. – Winnipeg, Manitoba, CAN
Grober Inc. – Cambridge, Ontario, CAN
Basebone – London, England
Comprehensive Care Services, Inc. (www.ccsperfusion.com) – Comprehensive Care Services provides superior perfusion and autotransfusion services. The company provides highly skilled board certified or board eligible perfusionists in addition to providing informatics, data and quality management, point of care testing, blood conservation programs, hardware and inventory management solutions to its client medical centers throughout North America. Comprehensive Care Services is focused on superior patient care and outcomes for services including, but not limited to Open Heart Surgery, Autotransfusion, Point-of-Care Testing, Platelet Rich Plasma Therapy Services, Therapeutic Apheresis, CRRT, Ventricular Assist & ECMO, Interventional Cardiology, and Perfusion Consulting and Operations Assessment/Review.
SITKA® Gear (www.sitkagear.com) – Sitka Gear, based in Bozeman, Montana, created and continues to lead the technical hunting apparel category. The company is recognized for its commitment to continually improving the hunting experience and supporting wildlife conservation. Sitka Gear products work together in systems, and each piece is designed and tested by the company's core hunters, athletes, and ambassadors. Sitka Gear is owned by W. L. Gore & Associates, an advanced materials company well known for GORE-TEX® fabrics and many other industry-leading innovations that provide durable comfort and protection to outdoor enthusiast.
HTRI (www.htri.net) – HTRI is a leading source of process heat transfer technology, research, software, and services. Their world headquarters is located on 27 acres in Navasota, TX, USA, where it conducts research and proprietary testing at its multimillion-dollar testing facility. Nearly 850 companies and 600 of its subsidiaries license the technology to design, operate, and maintain heat exchangers, fired heaters, and other equipment. Analysis of data from HTRI's industrially scaled rigs is augmented using computational fluid dynamics (CFD) and quantitative flow visualization, including high-speed video and particle image velocimetry (PIV). HTRI's customers include the world's leading processing companies, engineering contractors, and equipment manufacturers.
Steuber Companies (www.altaservice.com) – Alta Foodcraft and Associated Services, owned by the Steuber family, are leaders in the office refreshment industry. The two companies provide snacks, beverages, and break-room supplies to over 10,000 businesses throughout Northern and Southern California. Alta and Associated have built their business by adapting their offering and services to meet the changing preferences of their customers while maintaining an unrelenting focus on customer service. Customers depend on Alta and Associated to help them energize and motivate employees by keeping their office breakroom stocked with supplies and equipped with commercial coffee and water machines.
VIETRI, Inc. (www.vietri.com) – VIETRI is the largest importer of handcrafted Italian tableware and home decor products, working with family owned and operated factories throughout Italy. A leader in design, craftsmanship, and customer service, VIETRI, both complements the American lifestyle and celebrates all that is irresistibly Italian: a love of life, people, nature, and good living. The company's mission today remains the same as it was over 30 years ago: to inspire the celebration of life with family and friends through the joy of handcrafted Italian designs for the table, home, and garden.
Fine Science Tools (www.finescience.com) – Founded in 1974, Fine Science Tools is a leading worldwide distributor of European surgical and microsurgical instruments used in medical research. They are globally reaching customers through offices in San Francisco, California; Vancouver, Canada; and Heidelberg, Germany; along with a network of distributors scattered throughout the world. The company's mission is to continuously innovate ahead of market demand, providing a vast selection of the highest quality surgical instruments and laboratory supplies to the research community for their success and advancement of science.
The Winning Combination, Inc. (www.winning-combination.com) – Founded in 1999, The Winning Combination is one of Canada's largest manufacturers of natural health products and nutrition supplements, primarily known for their Kaizen Naturals and Bodylogix brands. Fully compliant with all Canadian and international quality control standards, The Winning Combination manufactures all its products in accordance with GMP guidelines. Manufacturing and selling products in both Domestic and Global markets, The Winning Combination is active in virtually all health-related business channels leading to a better lifestyle improving the lives of people.
Grober Inc. (www.grober.com) – Grober Nutrition is a proud Canadian and family-owned business. From modest beginnings in the early 1970′s, Grober has grown from a single animal nutrition company to a dynamic agribusiness. The company's high-quality standards and investment in continuous research have cemented Grober Nutrition as an international supplier of excellent feeds. Grober adds value to the dairy industry, from animal nutrition, farming, meat production, and more recently sports nutrition.
Basebone (www.basebone.com) – Basebone Group is a mobile technology company with an entrepreneurial spirit and 10 years of expertise in mobile entertainment, digital marketing, and carrier billing. The group is organized into 4 lines of business; entertainment, aggregation, apps, and publishing. With a commercial presence in Africa, Europe, and the UK, seven office locations and a team of over 100 people, the group is focused on fast–growing digital businesses in emerging markets to drive development within the mobile industry. Their mission is to build and invest into leading digital brands by establishing talented management teams and working in partnership with key market players.
About Vision33
Vision33 Inc. (www.vision33.com), is a leading global reseller of SAP Business One and is focused on providing the SAP Business One application for growing businesses and subsidiaries of large enterprises. With offices located worldwide, Vision33 delivers value by bringing the right balance of software, world-class consulting and support services to help customers better manage and grow their business.
Vision33 is a member of the Group zed family of companies. With roots dating to 1992, Group zed (www.gzed.com) is a privately owned and operated corporation, which provides its family of industry-leading companies with the strategic vision and tools to deliver on the promise of technology to customers, setting them apart from other industry peers.
CONTACT
Sarah Coish, Director of Global Marketing, Vision33
sarah.coish@gzed.com
+1 (709) 722-7213

###

SAP, SAP Business One and other SAP products and services mentioned herein as well as their respective logos are trademarks or registered trademarks of SAP SE (or an SAP affiliate company) in Germany and other countries. See www.sap.com/corporate-en/legal/copyright/index.epx for additional trademark information and notices. All other product and service names mentioned are the trademarks of their respective companies.