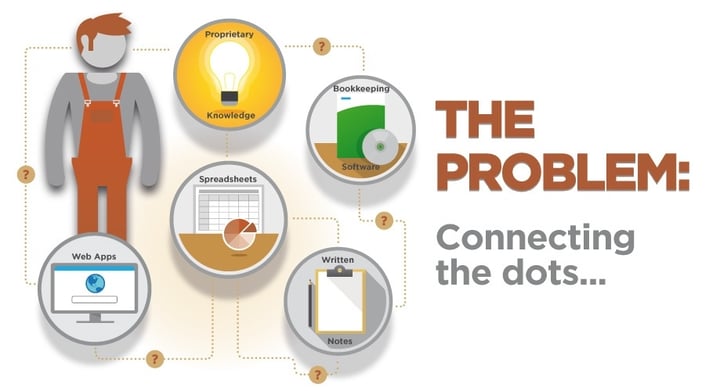 We have worked with breweries across Canada. We know how hard running a brewery is. The business side of the brewery can often become a tangled mess of various tools, spreadsheets and bookkeeping software.
As your brewery becomes more and more successful, having multiple systems can slow your business down to a point where it is difficult to keep your beer on the shelves. OrchestratedBEER can help your Canadian brewery run more efficiently by housing all the elements of brewery and business management.
So what parts of your business management system can OrchestratedBEER eliminate?
Endless Web Applications
Google Docs, various web-based applications, online databases to manage sales, inventory and recipes and other various brewery software tools are cheap and easy like duct tape. As universal as duct tape can be, you wouldn't want it holding your business together.
Pros: Cheap, open source, universal, customizable
Cons: Cheap, open source, outsourced support, not brewery specific, limited functionality, manual data entry into multiple applications
Secret Spreadsheets
Breweries often refer to the legendary batch tracking methods known as "secret spreadsheets". You can do a lot with spreadsheets, and some of them are complex, intertwined systems of linked cells and tabs that keep your brewery intact with all the information you need. It works, and it'll keep working for the meantime, or until the Excel mastermind who built it moves on, you accidentally delete a row or formula, or you simply outgrow its capabilities. The inevitable limitations and limited shelf life of spreadsheets are no secret.
Pros: Free, universal tool, ease of use, flexible, customizable, linkable
Cons: Lack of traceability, prone to data corruption/broken formulas, customization limitations, "secret spreadsheets" syndrome
Limited Proprietary Knowledge
Decisions about what to brew and when is often a gut feeling. However, brewing on a whim can make it hard to plan and sell if there's not exactly a demand for it. Proprietary knowledge can also refer to the secret recipes, information and special formulas that only your brewer or brew master has access to in his or her head. What would happen to your brewery if they suddenly got really sick, left the company, or worse?
Pros: Priceless, creativity, flexible, "secret recipes"
Cons: No paper trail or records, not easily accessible, unstructured, unpredictable, unreliable
Hand-written Notes
You have an idea and just need to write it down. Unfortunately, if there is nowhere to track those notes, only the people you give those notes to will have access to your great ideas. Your ideas are lost as soon as you loose whatever Post-it notes, legal pads and even bar napkins you had on hand at the time.
Pros: Free, available anytime, anywhere, portable
Cons: Lack of traceability, durability, readability, not easily transferable, easily lost
Bookkeeping Software
The daunting task for breweries in need of a better solution than QuickBooks is finding a good balance between price and reputation. Software companies promise a cheap and "seamless integration" with QuickBooks along with everything else you need but often fail to deliver. A QuickBooks based solution can be a temporary fix for some of your immediate problems, but is not a scaleable solution. Eventually you will need something else. The fact is that most breweries settle for the QuickBooks Band-Aid without realizing how many problems, both immediate and future, QuickBooks will cause. Any brewery solution that integrates with QuickBooks is simply sweeping the problems under the rug.
Pros: low cost, universal tool, ease of use, flexible, easily delete records
Cons: no batch traceability, prone to data corruption, not brewery specific, not GAAP compliant, less desirable for investors
The Solution
OrchestratedBEER is an all-in-one business management software solution that solves the common challenges breweries across Canada face as a result of using convoluted spreadsheets, limited bookkeeping software, white boards, pen and paper and other makeshift "brewery software" tools. By eliminating the operational challenges of running a brewery, you can focus on what really matters - making the best brew for your customers.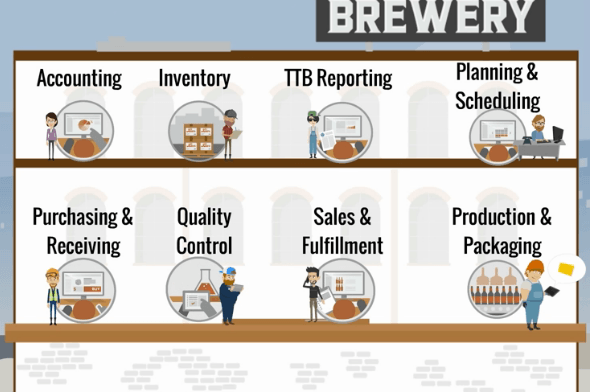 All-in-one Benefits:
Consolidates and centralizes information
Reduces unnecessary work
Eliminates dual entry
Increases transparency
Streamlines processes
OrchestratedBEER provides real-time Key Performance Indicators (KPIs), accurate future inventory projections, flexible production planning and insightful business reporting that allows breweries to grow fast, run simple, and drive profit.
To see how we can help your Brewery steamline processes & grow fast, email us: contact@vision33.com for a free personalized demo, download our SAP Business One information kit below.