Find out why VIETRI chose SAP Business One Cloud on AWS. Read the article.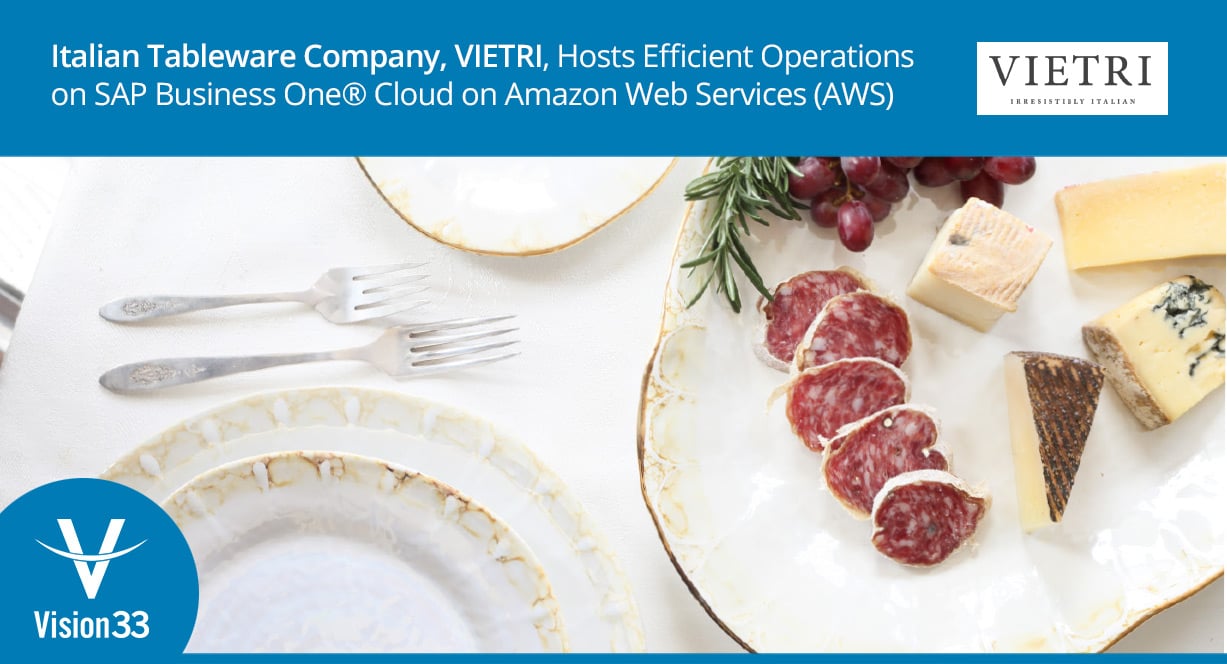 Vision33 customer VIETRI is the largest importer of handcrafted Italian tableware and home decor products in North America, working with family-owned and operated factories throughout Italy. A leader in design, craftsmanship, and customer service, VIETRI complements the American lifestyle and celebrates all that is Italian: a love of life, people, nature, and good living. Their mission remains as it was over 30 years ago: to inspire the celebration of life with family and friends through the joy of handcrafted Italian designs for the table, home, and garden.
VIETRI also looks to the future. Partnering with global professional IT services consultancy, Vision33, VIETRI modernized its business management solution by moving to SAP Business One Cloud on Amazon Web Services (AWS).
VIETRI realized meeting their business needs would require a flexible business management system. They chose SAP Business One Cloud on AWS because of its ability to adapt to their mature business processes while allowing for greater insight into their operations.
SAP Business One Cloud on AWS
VIETRI leveraged SAP Business One Cloud on AWS for its transparent inventory control and distribution functionality that streamlines business processes. Operations became more efficient, allowing VIETRI to provide shorter shipping times – a significant win for customer satisfaction.
Vision33, the only SAP Business One partner with the AWS SAP Competency, helped VIETRI maximize their investment and take advantage of the software's features.
"SAP Business One Cloud on Amazon Web Services has streamlined our processes and helped us become one of the fastest shippers in the industry," says Jody Davis, customer service and IT manager at VIETRI. "Whereas the competition can take several weeks to deliver an order, VIETRI can do it within 2 to 3 business days, on average."
To learn more about how VIETRI used SAP Business One Cloud on AWS to achieve its goals for growth and success, read the VIETRI customer success story.