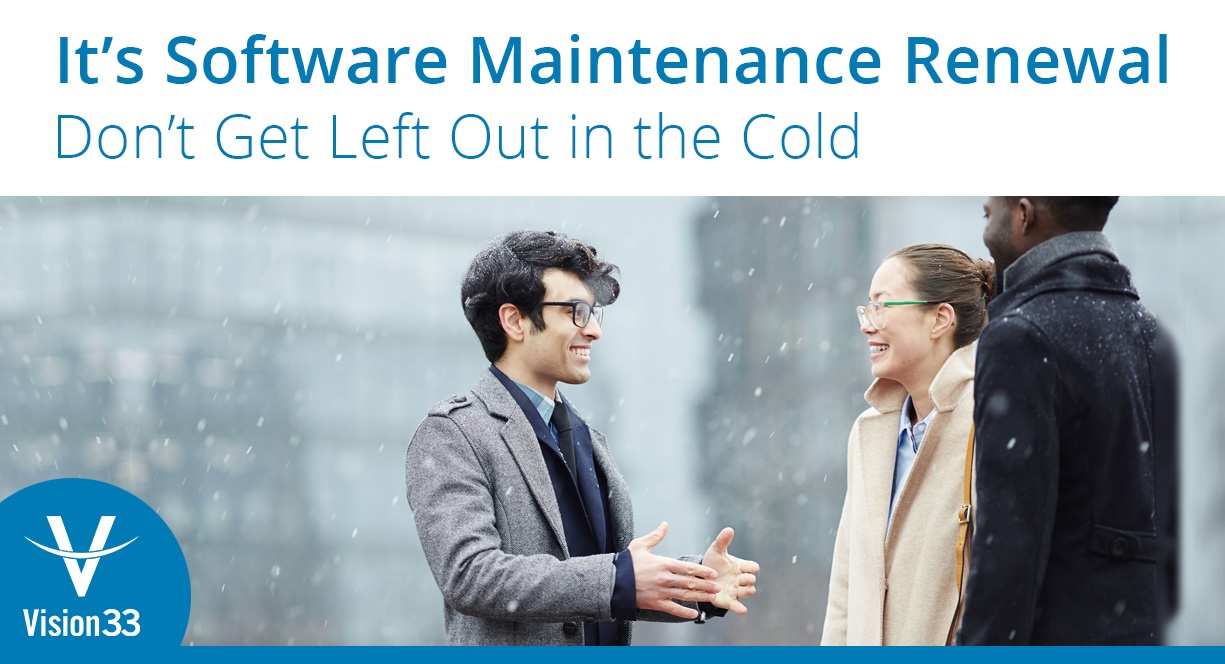 So, your company has been using SAP Business One enterprise resource planning (ERP) solution for some time now, and things are running smoother and more efficiently than ever before. The accounting department is getting invoices out on time and processing payments even quicker; you're saving money on inventory because your visibility extends across multiple warehouses; and prompt customer service is at an all-time high. Today's needs have been met - but what about tomorrow's?
SAP Business One reporting enables you to make solid business decisions based on accurate real-time data, but as the year ends, there's another important decision to make – should you renew your annual SAP Business One maintenance contract with your ERP partner, Vision33? To help make the decision an easy one for our valued customers, we've highlighted some of the key benefits of leveraging Vision33's software maintenance services into the 2019 calendar year and beyond.
Stay Ahead of Changes to Industry Regulations
Industry standards change over time. By staying current with your software maintenance, you can access compliant features and functionality developed by SAP while you maintain focus on what your business does best. Take for example the GDPR (General Data Protection Regulation) which was put into full force earlier this year. SAP was one step ahead, developing compliant functionality to help customers towards GDPR compliance. Vision33 was there for our customers to update SAP Business One with software patches to ensure they have access to this functionality, which brings us to the next point.
Software Bugs Get Fixed Through Hotfixes and Updates
When current with your software maintenance, Vision33's certified consultants will take care of the minor updates to SAP Business One that are released throughout the year to fix software bugs and future-proof your system. This can add security to your business management system by removing exploits, add support for new hardware and software needs, or fix a favorite feature that stopped working properly.
Access to the Latest Additions of SAP Business One Features
If SAP Business One version 9.3 is any indication, SAP is committed to the development of the products' future road map. Version 9.3 contained the most feature updates of any SAP Business One major release over the past several years. Things like Return Materials Authorization (RMA) and a simplified CRM process are features requested by SAP Business One users just like you, who play an important role in the development of the software's latest features.
Focus on What Your Business Does Best
Renewing software maintenance with Vision33 means that you can free up internal IT staff and allocate them to more profitable areas. Supported by hundreds of developers, project managers, and software engineers, Vision33's SAP Solutions Consultants bring decades of experience to help you leverage your SAP Business One solution.
Renew your SAP Business One Maintenance Today
By keeping SAP Business One software maintenance up to date, your business joins over 40,000 SAP Business One customers that have taken an active role in the continual development of the application. Contact your local Vision33 office today to renew your SAP Business One software maintenance and continue taking advantage of these great benefits.