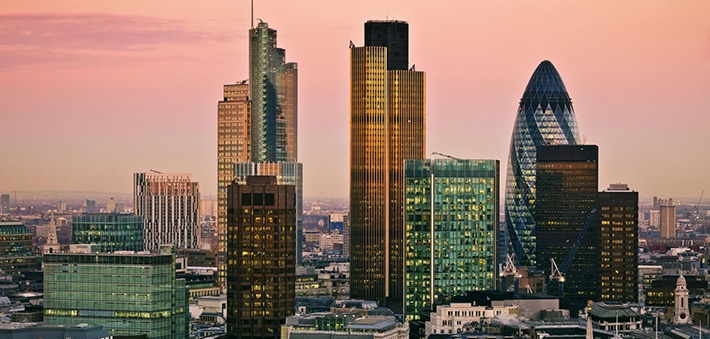 With 76% of small to midsized UK based businesses expected to experience substantial growth through 2020, SAP's ERP solution for growing businesses, SAP Business One, also just marked 50,000 SAP Business One customers worldwide. Experiencing continued double-digit growth, leading SAP Business One provider, Vision33 expands its presence into the UK through the acquisition of Alphagen.
London, England — December 1, 2015 — Vision33, Inc. (www.vision33.com) a global leader in sales, consulting, implementation and support for the SAP Business One solution for growing businesses, today announced a definitive agreement to acquire Alphagen Holdings Limited (www.alphagen.co.uk), a long-term provider of SAP Business One in the UK with offices in London and Manchester.
This acquisition comes at a time when enterprise resource planning (ERP) solution, SAP Business One has been experiencing double digit growth rates consistently every quarter in the global marketplace. Having just added its 50,000th customer this November, the solution is a long-term player in the ever-changing business software market for small to mid-sized companies. Running on the SAP HANA platform, SAP Business One is being used in over 150 countries and can be deployed on premise, in the cloud or in a hybrid environment.
A subsidiary of Canadian parent corporation, Group zed (www.gzed.com), Vision33 has experienced consistent double-digit growth with offices spanning across both Canada and the United States. This acquisition combines the unique strengths of Vision33 and Alphagen, who have both built their successful businesses through focusing on the SAP Business One solution. By leveraging Vision33 and Alphagen's expertise, customers will benefit from an unparalleled experience in seeing how the right technology can allow them to focus on their business strategy and growth.
As part of the acquisition, all Alphagen's employees will join and be part of the Vision33 brand. Alphagen Managing Director, Neil Feingold will join the Group zed executive team as Managing Director, Europe.
The expanded Vision33 will now be able to service all current and new customers as one global team – regardless of customer location. Customers will experience a world-class brand with local experts. Delivering on SAP Business One projects in the UK in partnership with Alphagen is not new territory for Vision33. They work jointly on a number of global SAP Business One implementations, as well as deploying SAP Business One on the Amazon Web Services (AWS) cloud.
Canadian parent company, Group zed is a privately owned and operated company that holds a firm belief and commitment in the promise of technology and the difference it can bring to businesses. Its world-class business portfolio includes Vision33. Tony Whalen, CEO of Group zed stated, "This acquisition is not simply about growth and further expanding Vision33's global footprint. It's about bringing together the right talent, local insights and inspired action to do what we do best - transform businesses and ensure they experience value from having the right technology".
"Vision33 has always been focused on delivering solutions that solve customer problems across the small to midsized business market. As a long time SAP partner, we have watched Alphagen share that same mission. We have a great deal of respect for the organisation. Our customer-centric focus and technology-driven business strategy complement the consulting strengths the Alphagen team will bring to Vision33", concluded Whalen.
"We are equally excited about this acquisition for our employees, customers and stakeholders as we join with Vision33", Alphagen Managing Director, Neil Feingold says. "We have always worked closely with our customers, making sure they are getting real value from SAP Business One, while experiencing the personal touch of a local partner. There is a strong cultural fit between Alphagen and Vision33. Together, our customers will still receive all the same benefits, but we can add even more expertise and an expanded scope of services, including Vision33's TOTAL Care support programme".
Commenting on Vision33's growth into the UK market, Will Newton, SAP Head of Business One in Northern Europe said, "The acquisition of long-standing UK SAP Partner, Alphagen by Vision33 demonstrates both companies' long term commitment to help SMEs in the UK and around the globe to unlock their potential through SAP Business One. Vision33 has had enormous success in the North American market through the continued innovation and services they bring to their customers – leveraging HANA, cloud and mobile solutions for SAP Business One. We are excited for them to bring this approach to the UK market".
This latest acquisition also leverages the industry experience both companies and their people are able to offer to customers. There are currently 600 micro-vertical industry solutions built on top of SAP Business One that make the product so competitive. Both companies are noted for their knowledge across numerous industries including retail, distribution, life sciences, manufacturing and food. More than just software implementers, Vision33 has an unrivalled reputation as being process implementers. This industry expertise allows Vision33 to transform SAP Business One to fit unique business process requirements.
"Together as Vision33, we look forward to delivering even greater value to our customers in the UK, attracting premium talent and helping even more growing businesses build their capabilities on a global scale through the right technology – SAP Business One", concluded Feingold.
MEDIA CONTACT: Sarah Coish, sarah.coish@vision33.com
About Vision33
Vision33 Inc. (vision33.com) is a leading business management software solutions provider, focused on reselling and supporting the SAP® Business One application. Through its offices located throughout North America, Vision33 provides software and consulting services to enable small to midsized businesses and large enterprises with subsidiary operations to gain immediate benefits in better managing and growing their organisation.
As an SAP gold channel partner, Vision33 has more than 600 customers throughout North America. Vision33 has been consistently honoured for its notable growth and dedication, earning consistent multi-year titles and awards such as the SAP North America Partner Excellence Award: Top Channel Partner – SAP Business One; SAP Business One Partner of the Year, Accounting Today's Top VAR 100 List; and INC500/5000 fastest growing company lists.
# # #
SAP, PartnerEdge and all SAP logos are trademarks or registered trademarks of SAP AG in Germany and in several other countries all over the world. All other product and service names mentioned are the trademarks of their respective companies.