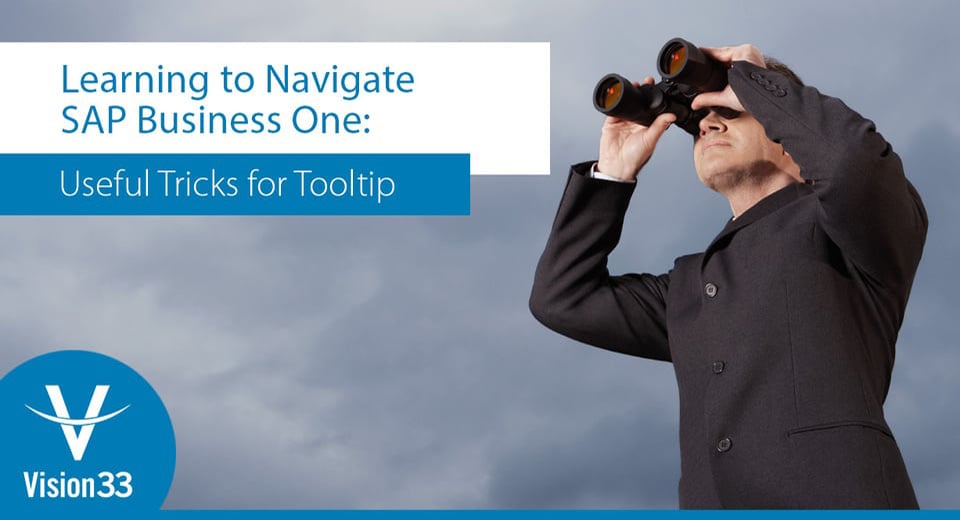 The last few months have solidified the importance of streamlining decision-making in small to midsized enterprises. Successful businesses are doing so with new insights to strengthen effective strategies, rethink ineffective strategies, and restructure their customer service approach in the next normal.
But where are they getting these new insights? From the enterprise resource planning (ERP) solution, SAP Business One.
Because it takes time to navigate SAP Business One's robust feature set and menu structures proficiently, we're offering a quick look at the Tooltip feature. Please note: SAP Business One's menus will look different on Microsoft SQL vs. SAP Business One HANA.
SAP Business One's Tooltips
When creating a document, generating a report, or looking at a sales order in SAP Business One, users can quickly navigate and drill down into customer records to obtain more information. Sometimes, however, you'll want additional information without the need to drill down further. That's where SAP Business One's Tooltips come in handy.
The Tooltip Preview displays only the data you want so you can avoid drilling down further, keep your dashboard less cluttered, and access information more quickly.
Configuring the Tooltip Preview
You'll find the Tooltip Preview under the Administration module. You can enable it globally; then, for specifics like item master data, you can select which properties are visible. Once configured, you can mouse over the arrow next to the customer field in any sales order to see the enable parameters of the Tooltip Preview at a glance.
Users can customize an almost endless number of properties, including BP code, name, type, currency, and email. Missing something? Display too crowded? Simply return to the Tooltip Preview setup to make changes.
Improving how you navigate SAP Business One (including using Tooltips) allows you to find information faster and complete higher-quality work. It also positions your business to overcome today's challenges by empowering decision-making and helping you take advantage of new opportunities.
Take the Fast Track to Knowledge
Take your SAP Business One knowledge to the next level with free access to Vision33's extensive library of SAP Business One training materials. In addition to a full-length demo video of the SAP Business One Tooltip Preview, you'll find more tips and tricks, video demonstrations, product brochures, and many more enterprise technology resources. Select from ERP functional areas to expand your knowledge of specific solutions like SAP Business One as you grow your business.