Join Vision33 at this year's Biz.ONE event, the premier SAP Business One conference. Find out what to expect at this year's event.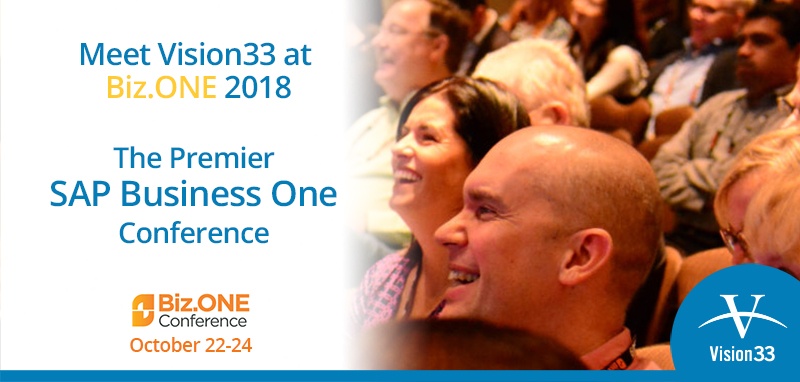 "If you're running SAP Business One, you're in the right place." That's one of the taglines for this year's Biz.ONE event, the premier SAP Business One conference. If you're looking for an opportunity to get more out of SAP Business One, then look no further. The conference offers SAP Business One users a chance to further leverage their investment in technology through optimization, improved business processes, and training.
What is Biz.ONE?
Biz.ONE is the premier conference to learn and share about all things SAP Business One. This conference is dedicated to the SAP Business One user and is a great opportunity to network with others in the industry about solutions to your business challenges. As SAP describes it, it is a place where communication between users, partners, and SAP is open and meaningful.
Who is this Conference For?
Biz.ONE is the conference for the SAP Business One super user, the administrator, the key holder, or the person who handles the execution of strategy with SAP Business One initiatives. This is for the person who uses SAP Business One, relies on it and leverages it to achieve operational success. If SAP Business One is in any way part of how you work, you will walk away from Biz.ONE with new approaches, connections, and ready to help your organization move forward.
No matter what position you hold – from CFO to database manager – this is the place to learn from the people who are succeeding using SAP Business One today. With SAP as our Diamond Sponsor of Biz.ONE, we are ready to help and support you as you develop your plan for today and tomorrow.
When and Where Is Biz.ONE?
The Biz.ONE Conference will take place from October 22nd to the 24th at the Omni Orlando Resort at ChampionsGate 1500 Masters Blvd, ChampionsGate, Florida. The venue is a spectacular resort destination for families, business travelers, and vacations alike and is nearby local attractions like Walt Disney World, Universal Studios, and Sea World.
What to Expect
There will be guest speaker talks, networking opportunities, an exhibition hall, panels, training opportunities, and more. Like previous years, Vision33 will have a booth where you can drop by to meet our executive team in person. We'll also be presenting our annual Vision33 Visionary Awards during a luncheon for our customers too so stay tuned for more details on that as we approach the Biz.One event in late October.
In the meantime, if you'd like to learn more reasons why you should join Vision33 at this year's Biz.One check out our event page to learn more about how you can meet Vision33, and what events will be taking place this year.