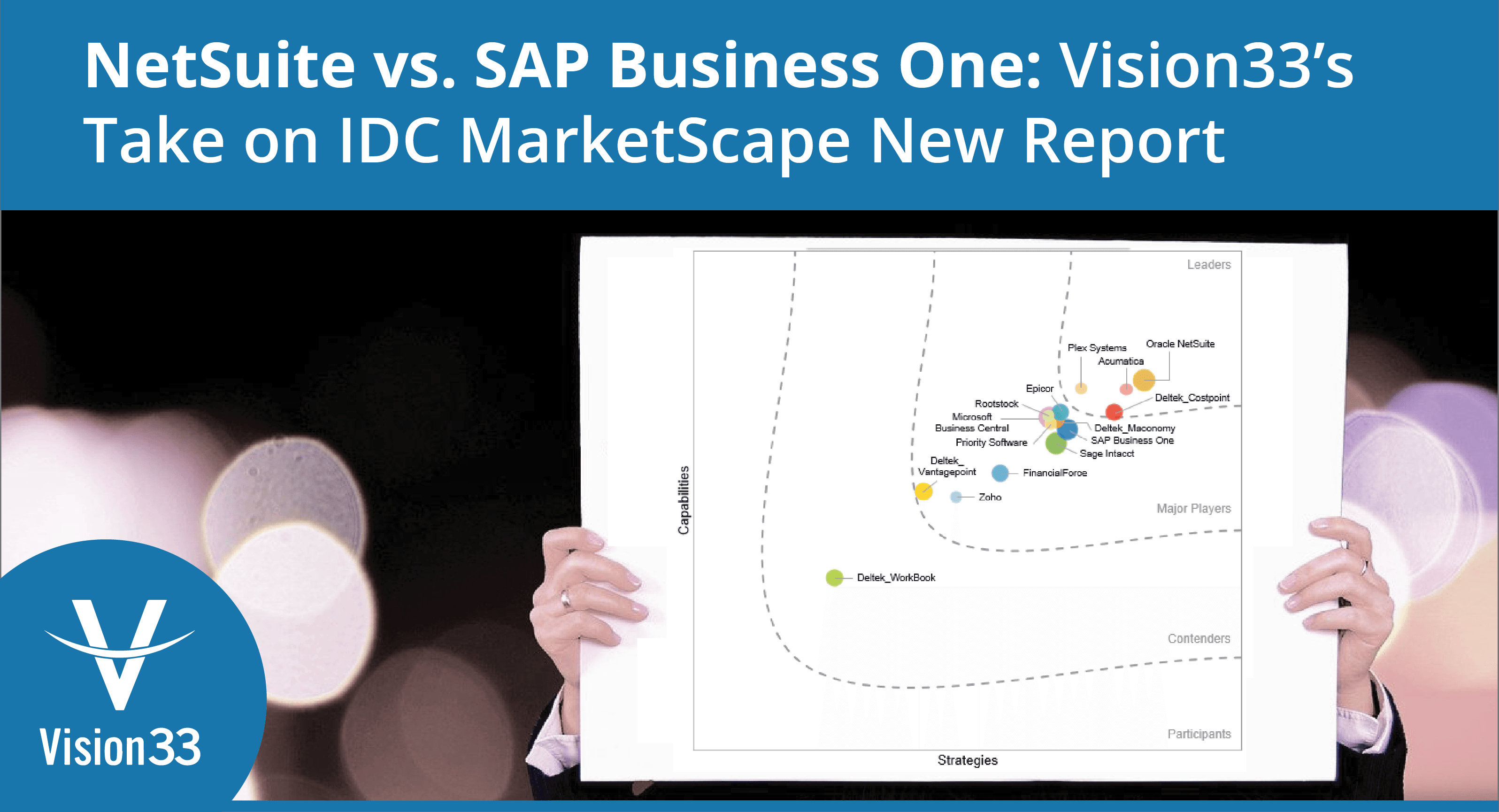 Assessing small-to-midsized enterprise (SME)-specific vendors is challenging for analysts like the International Data Corporation (IDC). In IDC's latest study, Worldwide SaaS and Cloud-Enabled Medium-Sized/Midmarket Business ERP Applications 2020 Vendor Assessment, they evaluated cloud-deployed enterprise resource planning (ERP) solutions for the midmarket. However, despite their good intentions and methodical evaluation, there's more to the story.
This blog provides more context for businesses facing the NetSuite vs. SAP Business One question when assessing cloud-based ERP solutions.
IDC plotted various cloud ERP vendors, like SAP, against two criteria: capabilities and brand positioning strategies. IDC then broke down the cloud ERP vendors by their market position, defining entrants as 'participants,' 'contenders,' 'major players,' and 'industry leaders.'
IDC placed NetSuite in the industry leader category and SAP Business One in the major players category. But unlike your college marketing strategy class taught you, such a brand positioning chart hides the complex realities of cloud ERP. That's why we feel this assessment is worth another look.
How Do You Define Cloud ERP?
Cloud and ERP solutions are too complex to evaluate vendors on two criteria alone. Why? Because IDC evaluated only vendors whose solutions qualified as SaaS (software as a service) or cloud-enabled. This hides an essential distinction between SAP's midmarket offering, SAP Business One, and Oracle's NetSuite.
NetSuite began as a public cloud-based business management system, and so it remains. NetSuite doesn't offer businesses the flexibility to pursue other cloud deployment or on-premise options for more complex control of their data. SAP Business One offers that flexibility with private cloud, public cloud, or on-premise deployment options.
While SAP Business One began as an on-premise solution, it's now certified and supported by SAP for production on Amazon Web Services (AWS), the world's most comprehensive and widely adopted cloud platform. Businesses running SAP Business One get access to the convenience of the cloud – not so for NetSuite users.
SAP Business One covers all your core business functions out of the box, from financials and accounting to inventory and customer relationship management (CRM). Conversely, NetSuite's "Suite Success" program offers only pre-configured editions for specific industries. Any other essential business features you'd expect as standard in a cloud ERP solution are sold separately. And those costs add up quickly for unaware businesses that choose NetSuite.
How cloud ERP is defined is critical when you consider that "SAP Business One" is synonymous with "an affordable way to manage your entire business." SAP Business One integrates your key operations for clear visibility across every department and process.
What About the Other Guys?
As the chart above shows, Microsoft and Epicor rank at the bottom of the major players category. This should give businesses pause when seeking a software backbone that will lead to success.
Tried-and-True ERP Leader SAP
While IDC's assessment labels NetSuite an industry leader and SAP Business One a major player, there's more at play when selecting a business management solution. Only SAP is the tried-and-true ERP leader, serving 400,000+ customers in all industries and business lines for over 40 years. No other company offers such a broad portfolio to enable an intelligent enterprise.
At Vision33, we deliver a user experience for the digital age. We've written frequently about how digital transformation will enable businesses to effectively navigate the 'next normal.' And the cloud is an essential member of the group of technology trends – along with automation, AI, and machine learning – that will power next-generation businesses.
However, no cloud ERP solution will get you there as cost-effectively and straightforwardly you as SAP Business One deployed in the cloud.
Want More Differences Between SAP Business One and NetSuite?
The disparities don't end there. For more comparisons to help you choose an ERP, we encourage you to read our NetSuite vs. SAP Business One guide. It outlines the significant differences you shouldn't overlook when adopting a cloud ERP solution.