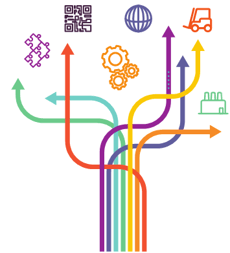 Discovering where today's consumers are and what they are buying can seem like a challenge only worthy for Indiana Jones, but in reality, overcoming data analytic complexities is easily possible by building inventory intelligence from trading partner data.
Unlocking consumer data provides a huge advantage to any retailer, supplier or other trading partner that utilizes it. Drastic increase in sales, boosted profits and better consumer relationships are just a few of the many advantages to being omniscient when it comes to consumer data. The only problem with obtaining this data is that it is literally scattered across the entire supply chain.
For example, one retailer may know the target audience of their consumers but have no idea where they are, which one of their trading partners may have the answer to. Ideally, the best way to benefit the entire trading partner community is by sharing inventory intelligence – no fedora or bullwhip required.
Sharing information across the supply chain offers a plethora of untapped insights into sales velocity and inventory trends that can help all parties get to know exactly where the consumer is and what they are buying.
Data analytics are just a small fraction of the arsenal of tools offered for omnichannel success. To make the biggest impact in the retail industry, investigate some of the omnichannel solutions from SPS Commerce.