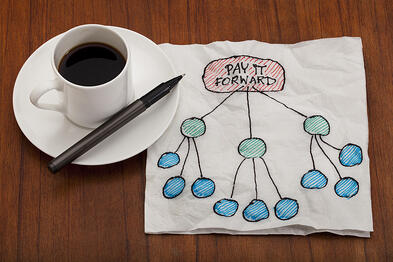 Most people have heard the phrase 'pay it forward', as it turned into somewhat of a social movement in the year 2000. In its most basic explanation, it is about doing something good for others in response to something good received. Some of us have been fortunate enough to be in a busy drive thru on a Monday morning only to arrive at the window to hear the pleasant surprise that our coffee has been paid for by the person ahead. It's about doing something that will help benefit others. But in the world of fast growing business and commerce transactions – this movement can still apply.
With customer demands constantly changing, small to midsized businesses have their hands full. Customers expect nothing less than the product, service and quality that they would receive from a larger competitor. Their expectations don't lower. Demands never concede just because a business is smaller or in high growth mode right now. You won't often hear stories of customers saying they don't mind waiting longer for products because it's a smaller company. The truth is plain and simple – the customer can and will just take their business elsewhere.
With that in mind, we have seen companies invest in SAP Business One for different reasons. Many start out hoping to make things more efficient for themselves – to stop the headaches of accounting software or spreadsheets or to get a clear picture of what's going on across the business. It can start out as a 'me' conversation as to what triggered them to look for an ERP solution. But what I've found in so many customer conversations – is that once they began using SAP Business One, there started to be those 'a-ha' moments of what they could then do for their customers through using SAP Business One. Vision33 customers such as manufacturer Envelopments, have shared initial benefit statements such as "we now have support for processes and detailed reports we didn't have before". But those statements have then continued on to say, "Because of this, now when an order is made through our web site, in many cases we have achieved turnaround with the order processed and waiting for shipping in about 14 minutes - that's real value we can deliver for our customers."
These types of customer benefit statements have been mirrored by so many of our customers. Take Vision33 customer humangear, a Northern California company focused on innovative outdoor, travel and personal care accessories. The fast growth customer-focused business is running SAP Business One on the Amazon Web Services (AWS) cloud. "SAP Business One has enabled us to keep less inventory in stock. It's easier to set inventory aside for a customer that you know is going to order and promise delivery dates with greater accuracy". They are leveraging SAP Business One to run their business, but also to proactively address their customers' needs.
Today, the customer is king. Businesses need to create engaging, customer-centered experiences supported by the right tools and processes. Embracing this is what will help so many growing companies continue to thrive and have a very loyal customer base. Business owners considering new technology investments such as ERP need to definitely think about what it can do for you and your employees, but make sure to consider how you can 'pay it forward' to your customers and meet their needs and demands. Maybe even anticipate demands the customer doesn't even know they have yet – creating that 'wow' experience all customer centric organizations strive for. In doing so – you can really start to see and appreciate the full value SAP Business One brings to an organization.