Vision33's Saltbox enterprise integration platform is now available on the Sage Intacct Marketplace. Read the article about our iPaas solution.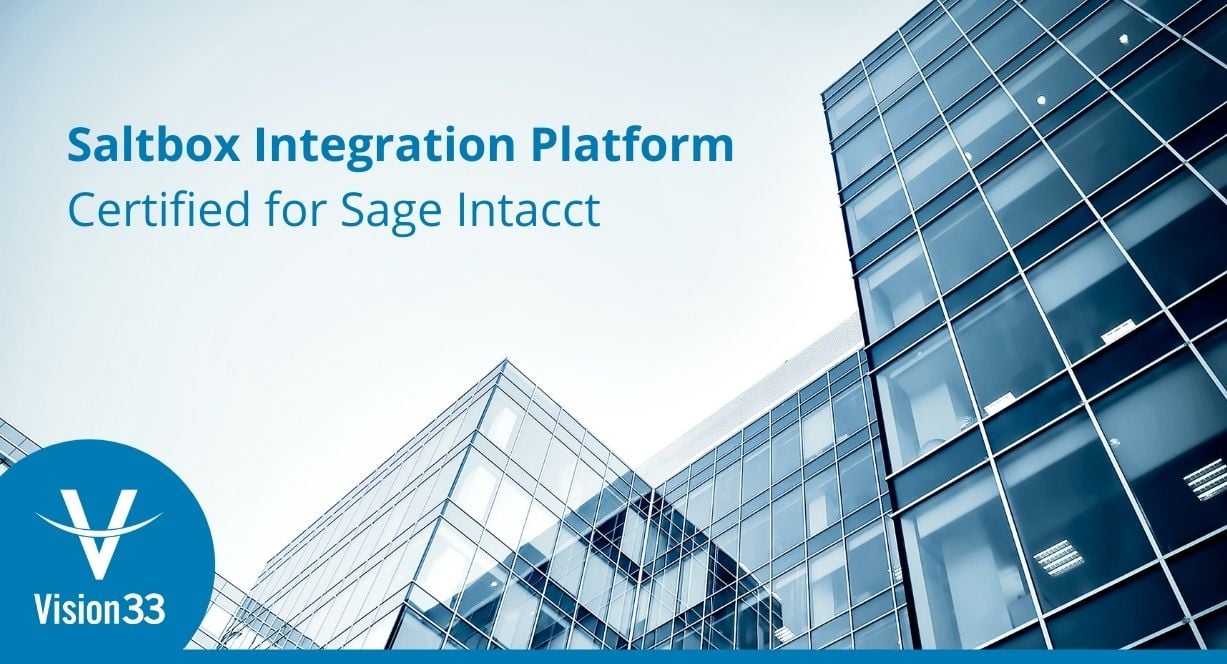 Irvine, CA – April 23, 2021 – Vision33 today announced that the Saltbox Platform, its born-in-the-cloud iPaaS solution, has been certified for Sage Intacct, a financial management platform. Businesses can access Saltbox information from the Sage Intacct Marketplace. Pairing the Saltbox Platform with Sage Intacct allows organizations to eliminate the burden of maintaining integration between multiple enterprise applications.
Getting certified for Sage Intacct involves a comprehensive review process that tests submitted applications rigorously for compatibility with Sage Intacct before approving its listing on the Sage Intacct Marketplace. Saltbox's availability on the Sage Intacct Marketplace signals that Vision33 offers a best-in-class application for Intacct users to extend their success in the cloud.
"This is a milestone for Vision33 and businesses that run on Sage Intacct," says Dan Kraus, Vice President, Global Sales and Marketing, Vision33. "Professional services, technology providers, financial services, and nonprofits are seeking greater visibility and efficiencies throughout their organizations. With Sage Intacct certification, we can extend the benefits of our successful Saltbox platform to more businesses."
The Saltbox Platform is Vision33's born-in-the-cloud iPaaS (integration platform as a service) solution for enterprise integration, workflow, and collaboration between business applications. Vision33 developed this cloud-centric tool specifically to connect transactional data between critical business systems. Saltbox's integration and workflow construction allow intelligent human intervention in input, approvals, and exception handling for point-to-point integrations between a business system of record and other applications and application-to-application integrations.
"The Sage Intacct financial management platform is a powerful foundation for business growth and success," adds Kraus. "Vision33's Saltbox certification for Sage Intacct opens new growth possibilities via seamless enterprise integration of mission-critical applications with Saltbox's automated point-to-point connections – often in real-time."
When connected to an organization's other mission-critical applications through Saltbox, Sage Intacct delivers an enterprise resource planning application with the flexibility to add more functionality as a business grows.
For more information about Saltbox and its connectors, visit www.saltbox.io or the Sage Intacct Marketplace to learn more.
About Vision33
Vision33 (www.vision33.com, www.vision33.ca, and www.vision33.co.uk) helps growing companies deliver on the promise of technology through enterprise resource planning (ERP) solutions like SAP Business One and Sage Intacct, automation, and integration. Vision33 has the people, processes, and technology to help businesses solve everyday challenges and seize new opportunities for growth and transformation. With proprietary solutions such as iDocuments and Saltbox, Vision33 helps businesses leverage the right transformative technology for their digital transformation journeys.
# # #
For more information, Press Only:
Sarah Coish,
Director, Global Sales, and Marketing
Vision33
Sarah.Coish@vision33.com
(709) 722-7213