Vision33's comprehensive ERP solution, SAP Business One, includes powerful traceability features. Learn more.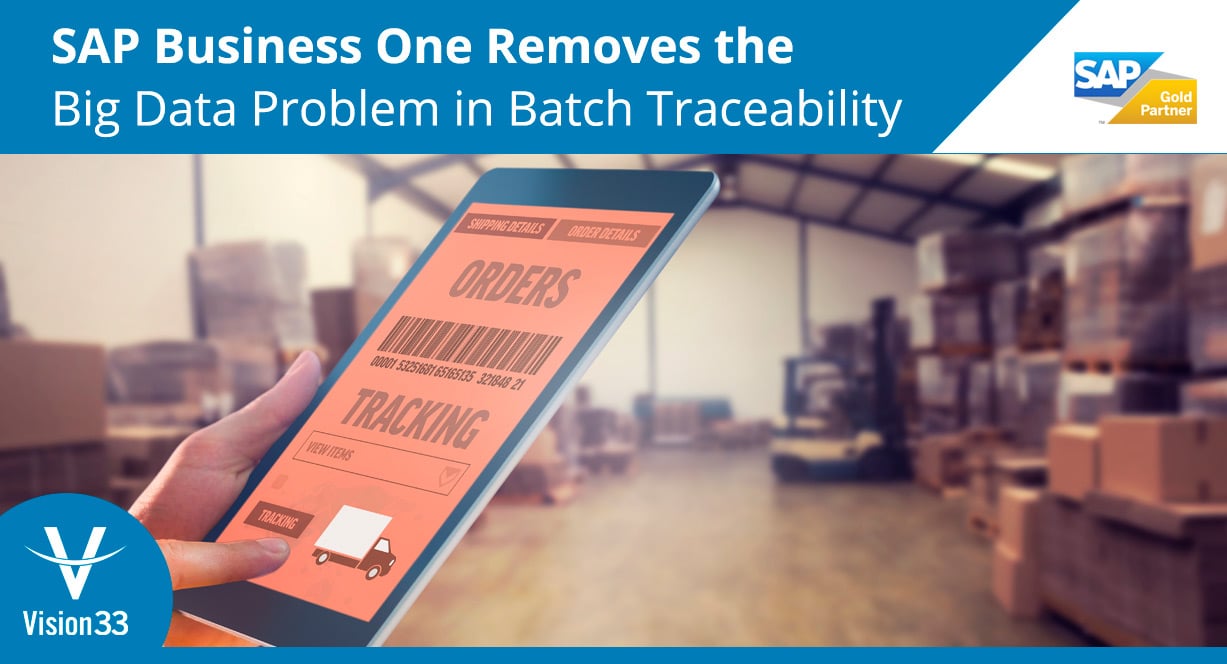 We've all heard about 'big data' and the challenges of analyzing large volumes of business information. There are problems with data capture, storage, search, analysis, and visualization (to name a few). And, depending on how regulated your industry is, challenges are highly specific to you and your business.
For small to midsized manufacturers that compete in regulated industries like pharmaceuticals or food and beverage, batch traceability is paramount. You might think batch traceability is an obvious inclusion in any modern business management solution, but it isn't always a standard feature. Batch traceability is a complex, multi-dimensional industry challenge that affects many parts of the business. This is probably why some enterprise resource planning (ERP) solutions exclude the functionality and rely on third-party software integrations to fill the feature gap. When looking through your batch record, big data is like looking for a needle in a haystack.
Dealing with the Inevitable Product Recall
Vision33's comprehensive ERP solution, SAP Business One, includes powerful traceability features. Those features ensure you can sift through your data for increased visibility while minimizing the cost and time of analysis to make timely and educated decisions.
By choosing SAP Business One, you're placing a heightened focus on the freshness, quality, and transparency of your products. If you're a pharmaceutical company, SAP Business One can handle that, too. Its included serial number traceability tracks your products accurately through all stages and manages Unique Device Identifications (UDIs). It also guarantees traceability and empowers you to correctly and efficiently manage a recall.
SAP Business One, a Complete Business Management Solution
SAP Business One is a complete ERP solution that integrates the traceability technology with all your core business functions: financials, sales, customer relationship management, inventory, operations, and more. It streamlines and optimizes production, packaging, inventory and warehouse management, and allows you to meet demanding requirements for batch management, quality control, shelf-life, and traceability from supplier to customer.
Vision33's in-depth experience with companies in the food and beverage and pharmaceutical industries means you get world-class expertise working for you. We've created two guides about traceability to help your business build a case for ERP with integrated traceability functionality. Click the links below to access them: