Watch the Advance Adapters testimonial part of Vision33's SAP Business One success stories series. Learn how ERP can help your growing business shift into a high gear of success.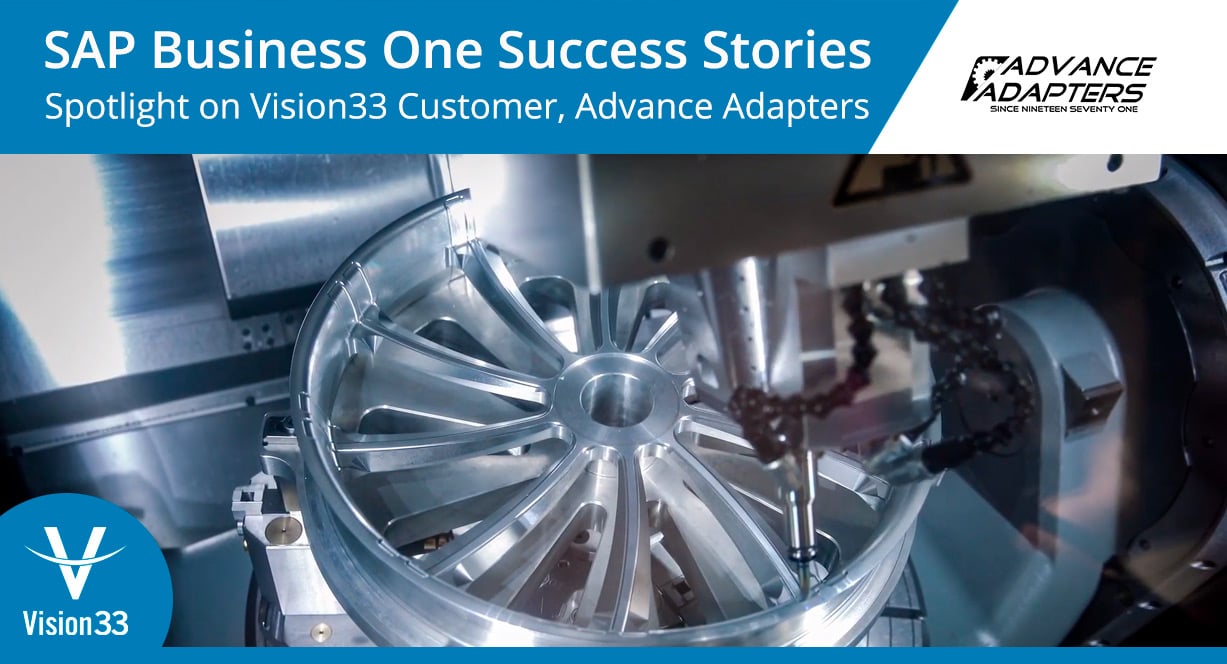 Advance Adapters likes to take things to the extreme. The company has designed, engineered, and manufactured transmission conversion adapters, transfer case conversion adapters, and engine mounts for vehicles since 1971. Thanks to their love of drive train components, 4-wheel-drive enthusiasts can really rev up their off-road adventures. SAP Business One success stories like that of Advanced Adapters demonstrate how a robust enterprise resource planning solution can put you in the driver seat with real-time reporting that provides visability into fast growth.
Gaining Momentum
Advance Adapters has come a long way from their humble beginnings. Their momentum led them to a 44,000 square foot facility in Paso Robles, California, where all production, manufacturing and administration happens. Such growth made it obvious that Advance Adapters needed a new business management system with the horsepower to adapt to ever-changing industry trends and customer expectations.
Advance Adapters' clunky, Unix-based system wasn't user-friendly and didn't provide easy access to meaningful, real-time information. In addition, business processes needed to pick up speed, and customer service needed a tune-up. To find the right solution, Advance Adapters partnered with Vision33, an IT professional services company with a local presence, and implemented SAP Business One.
SAP Business One: Built for Speed
Since implementing SAP Business One Manufacturing, Advance Adapters has simplified doing business. The system can add limitless SKUs, and customer information is always at their fingertips. Vision33 continues to help Advance Adapters maximize its investment with add-ons that ensure SAP Business One is always the right size at the right time.
How Does Advance Adapters Feel About SAP Business One?
Buckle up and check out Advance Adapters' short video, which is just one of many SAP Business One success stories. Hear what the company's president and vice president of information technology say about SAP Business One. You'll see how they've tripled their growth and understand how SAP Business One can help your growing business shift into a high gear of success.
Sign Up For an SAP Business One Demo Today
Interested in learning more about SAP Business One? See for yourself why over one million businesses in dozens of industries trust SAP Business One to drive profitable growth for their businesses. Sign up for a free demo today.