SAP Business One success stories: Watch how The Fruit Company achieved traceability, improved inventory management and maintained shipping accuracy .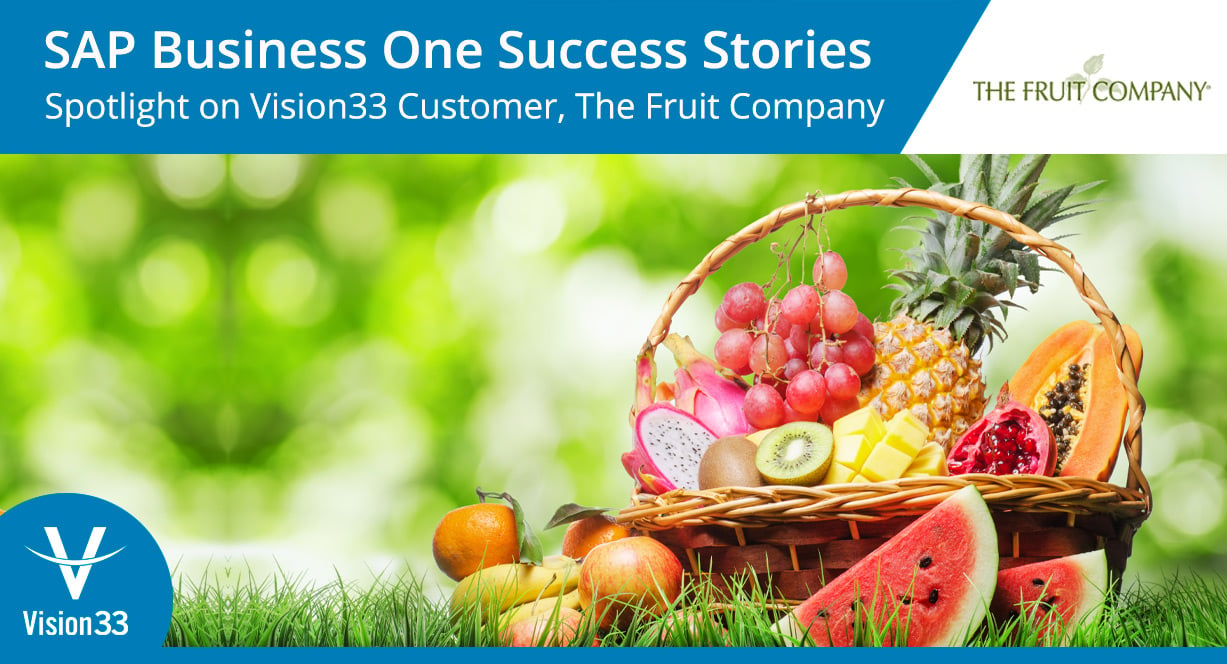 Vibrant, succulent, mouth-watering – these are just a few of the words that come to mind when you feast your eyes on a gift basket from The Fruit Company. Sink your teeth into a luscious apple or pear, and you'll know you're enjoying the finest candy nature has to offer. Since 1999, The Fruit Company has created bountiful baskets and boxes from the premium fruit grown in their fertile, family-owned Oregon orchards. These scrumptious creations make their way to delighted customers all over the United States. Read The Fruit Company's SAP Business One success story to see how they got the sweet taste of success with the right technology.
The Fruit Company's dedication to their craft has paid off. They continue to purchase additional land to grow their blueberries, cherries, oranges, and other fruits, and they were featured in Oprah Magazine. Exciting growth like this calls for powerful technology, like SAP Business One, with the flexibility and customization to support The Fruit Company into the future.
Food and Beverage Industry Challenges
Every industry has unique challenges, but there's zero room for error when selling and shipping ripe, premium fruit. Inventory must be tightly managed, and traceability functions are necessary if a recall occurs.
The Fruit Company was challenged by rotting software that required a lot of manual data entry. This wasted time and energy and increased the potential for expensive mistakes. A lack of inventory management and traceability tools meant The Fruit Company didn't have the visibility they needed, and without the ability to customize their software, it was difficult to find innovative ways to cater to their customers. They needed a fresh, robust system to manage their promising growth.
SAP Business One: Rooted in Success
The Fruit Company teamed with Vision33, an IT professional services company, on their quest to find technology that would make their taste buds tingle with possibilities. The Fruit Company chose a SAP food and beverage solution built on SAP Business One.
SAP Business One is an enterprise resource planning solution that enables food and beverage companies like The Fruit Company to ensure food safety, comply with strict industry standards, and simplify recall processes. Built-in inventory controls, warehouse management, and recall features help companies grow fast, run simple, and drive profit. With every department in the company using SAP Business One, The Fruit Company is on track for unprecedented growth.
How Does The Fruit Company Feel About SAP Business One?
Watch The Fruit Company's success story video to hear what the CEO, director of sales and merchandising, and lead programmer say about SAP Business One. You'll see firsthand how The Fruit Company is growing fast, running simple, and driving profit with this easy-to-use technology. And regardless of which industry you operate in, you'll understand how SAP Business One can help you take a big bite out of success.
Sign Up For an SAP Business One Demo Today
Interested in learning more about SAP Business One? See for yourself why over one million businesses in dozens of industries trust SAP Business One to drive profitable growth for their businesses. Sign up for a free demo today.