Watch Virtual Graffiti's SAP Business One success story video to learn how makes financials, inventory management, and excellent customer service a breeze.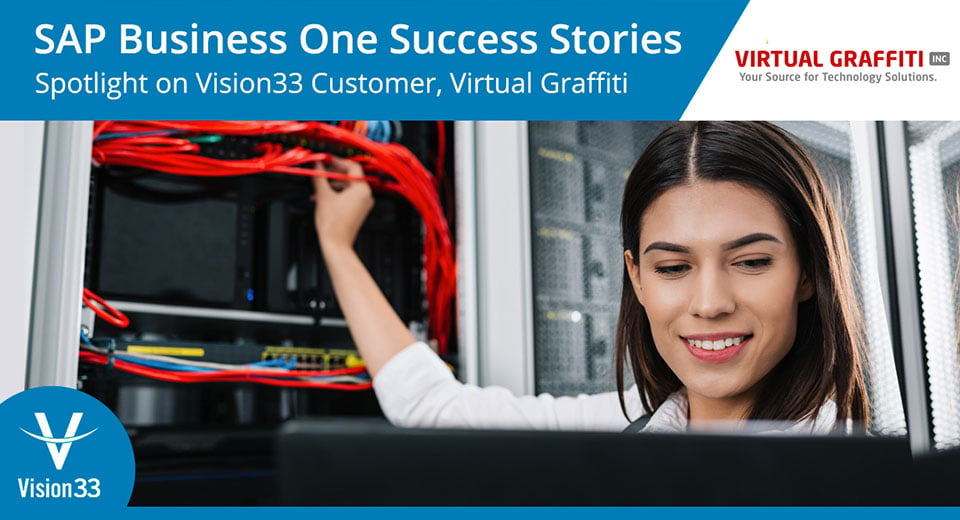 When it comes to keeping data safe, California-based Virtual Graffiti is at the top of its game. This IT solutions provider offers technology to protect networks and data for businesses, governments, and educational institutions. Virtual Graffiti's stellar customer service helps clients from the earliest stages of decision-making through post-sales support. That, and its commitment to security, has landed Virtual Graffiti in prestigious publications like The Wall Street Journal, Inc. 5000, PC World, Accounting Today, and CNN Money. Here's their SAP Business One success Story.
Virtual Graffiti is one of the fastest-growing businesses in the industry. Growth like that doesn't come easily, though. Virtual Graffiti's operation is highly transactional – it resells over 180 brands, and every day it wrangles hundreds of orders and suppliers and tens of thousands of customers.
Such complexity calls for powerful technology with the flexibility and customization to take a business like Virtual Graffiti to the next level.
Data Overload
Virtual Graffiti was using three disconnected systems to run its operations. QuickBooks handled the company's accounting, but it couldn't handle the volume of orders as the business grew. Multiple product lines with hundreds of thousands of possible part numbers couldn't be stored in such basic software. Virtual Graffiti's methods had crashed, and they knew it was time for SAP ERP software.
SAP Business One: Designed for Growing Businesses
As an IT solutions provider, Virtual Graffiti was familiar with ERP and SAP solutions, and they understood that the right technology partner is as important as the technology itself. For that partner, Virtual Graffiti contacted Vision33, and the rest is history.
Like Virtual Graffiti, Vision33 partners with customers from the initial need through post-implementation support and ongoing training. Vision33 collaborated with Virtual Graffiti to find SAP Business One – the perfect solution for its unique needs.
SAP Business One gives Virtual Graffiti full visibility into every aspect of the business. Robust, real-time reporting capabilities allow Virtual Graffiti to make solid business decisions based on what's working and what isn't. Financials and inventory management are a breeze, and eliminating manual data entry means Virtual Graffiti can focus on the awesome customer service its known for.
Since implementing SAP Business One, Virtual Graffiti has grown threefold.
How Does Virtual Graffiti Feel About SAP Business One?
We'll let Hillel Sackstein, Virtual Graffiti's president and founder, and Ken Prock, senior software engineer, tell you their SAP Business One story. Watch their short success story video to understand how SAP Business One has the power to transform the way you do business.