SAP Business One success stories: Watch Zoedale's short video to learn how your distribution business can run simple and grow fast with SAP Business One.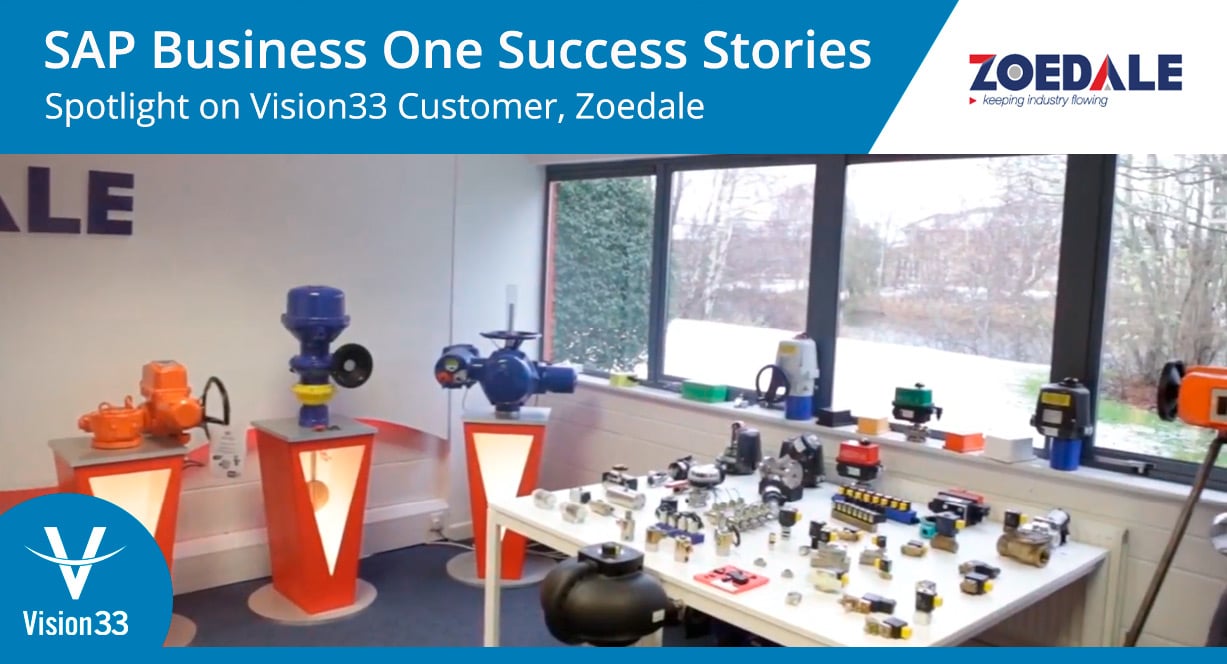 Established in 1976 in Bedfordshire, UK, Zoedale distributes pipes and valves to control the flow of liquids and gases for everyone, from at-home gardeners to multinational oil and gas companies. Brewing and beer metering, food production, and medical device companies rely on Zoedale for next day delivery and value-added services like installation, service, and maintenance. And although Zoedale offers over 20,000 stock items, it's a small company that considers its team a family. SAP Business One success stories like that of Zoedale demonstrate how flexible, customizable enterprise resource planning (ERP) technology can keep operations flowing.
Flow, Interrupted
As Zoedale's inventory and client list grew, their software couldn't go with the flow. Data from the company's two old, disconnected systems – one for accounting and one for customer relationship management – needed to be merged at the end of every day, which ate up valuable time. This tedious process also involved printing numerous documents, which was unacceptable to a company involved in environmentally sustainable projects. Zoedale added going paperless to their list of required features for their new business management system.
Zoedale needed technology to manage inventory, provide visibility into its warehouse, and make finding critical information fast and easy so it could continue providing superior customer service. Finding the right technology required a true partner, which Zoedale found in Vision33.
SAP Business One: Made for Distribution
Vision33 is an IT professional services company that solves customer business challenges through the promise of technology and the value it delivers. Like Zoedale, Vision33 is all about customer service, innovation, and thinking outside the box. Vision33 worked closely with Zoedale to implement SAP Business One, a robust ERP solution.
With SAP Business One, Zoedale's operations flow better than ever. Everyone in the company uses the system to easily find information they need, and the real-time data can be accessed anywhere, anytime for fast, smart business decisions.
With purchasing and sales now tied to accounting, Zoedale's transactions are more efficient, and cash flow is obvious. Zoedale uses SAP Business One's powerful reporting tools to see gross profit margin, number of orders, and the average value of orders. Because of SAP Business One's simplicity and flexibility, adding new product lines and managing inventory are effortless for Zoedale.
How Does Zoedale Feel About SAP Business One?
Zoedale's managing director and technical sales advisor are happy to tell you their SAP Business One story. Watch their short video to see how the company's possibilities for growth are endless with SAP Business One. You'll also understand how SAP distribution software can help your distribution company run simple, grow fast, and drive profit.
Sign Up For an SAP Business One Demo Today
Interested in learning more about SAP Business One? See for yourself why over one million businesses in dozens of industries trust SAP Business One to drive profitable growth for their businesses. Sign up for a free demo today.