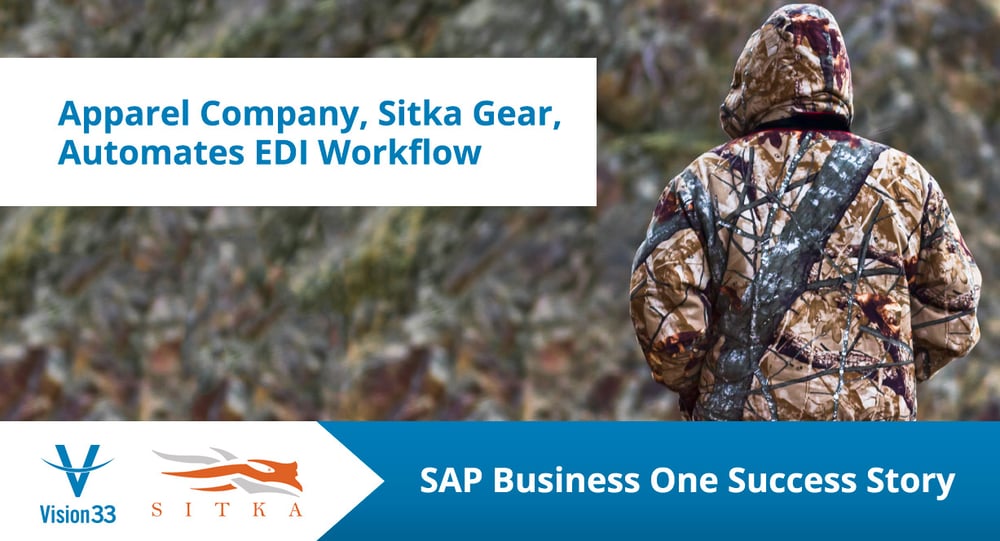 Each year, Vision33 presents the Visionary Awards to its customers that demonstrate innovative ways to leverage SAP Business One to grow their business. Selected from over 800 customers worldwide, our Visionary Award recipients highlight fast-growing companies committed to delivering the best experience possible to their customers through transformative business technology. In this article, we will focus on one of our award recipients, Sitka Gear, and their SAP Business One success story.
About Sitka Gear, Visionary Award Recipient
Based in Bozeman, Montana, Sitka Gear created and continues to lead the technical hunting apparel category. The company is recognized for its commitment to continually improving the hunting experience and supporting wildlife conservation. Sitka Gear products work together in systems, and each piece is designed and tested by the company's core hunters, athletes, and ambassadors.
Sitka Gear is owned by W. L. Gore & Associates, an advanced materials company well known for GORE-TEX® fabrics and many other industry-leading innovations that provide durable comfort and protection to outdoor enthusiasts.
Partnership with Vision33
A long-term client of Vision33, Sitka Gear recently met with our consultants to discuss their new strategy and operational structure to accelerate the company's speed of execution in a dynamic competitive environment. In understanding what is needed to achieve their new goal, Vision33 reviewed Sitka Gear's existing business processes to identify opportunities for improvement.
During the review process, Sitka Gear recognized the need to improve and automate their current EDI workflow. They wanted to achieve compliance with all trading partners, decrease manual entry, while increasing accuracy at the same time.
SAP Business One Success Story
This led Vision33 consultants to implement SPS Commerce's EDI Connector Solution and migrate to a single VAN for Sitka Gear. During the process, Vision33 demonstrated a few SAP Business One functionalities that they didn't know about previously which further validated the quality of our service to support their business growth.
Since the implementation, Sitka Gear has further optimized and streamlined their existing operations, and simultaneously maximized their use of SAP Business One functionalities.
Once again, we congratulate Sitka Gear on their Visionary Award win and their SAP Business One success story.
Find out more about our other Visionary Award win stories, Vietri and HTRI, as they demonstrate innovative ways in leveraging SAP Business One to grow their business.