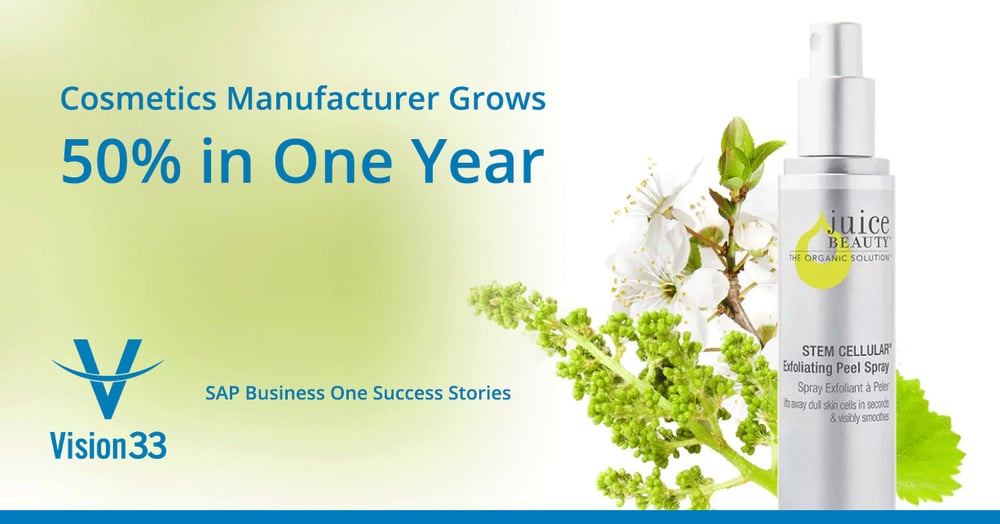 Cosmetics manufacturers face ever-changing fashions and trends from influencers around the world. With little headroom to occupy, cosmetics manufacturers look to enterprise technology to successfully manage and grow their business in a competitive industry. Vision33 customer, Juice Beauty, cleaned up the beauty space in 2005 by introducing vegan, cruelty free, sustainable, and certified organic ingredients in its line beauty products. Beneath the surface of the organic skincare and beauty products manufacturer, Juice Beauty is driven to challenge the status quo – it's in their makeup. When it came time to upgrade their business management solution, they turned to an enterprise resource planning (ERP) solution from Vision33. Here is their SAP Business One success story.
About Vision33 Customer, Juice Beauty
Masterminded by a California team passionate about healthy lifestyles and whose organic products are backed by powerful science. It all started when Karen Behnke, a serial wellness entrepreneur, who built one of the first corporate wellness companies in the country, developed a keen interest in personal care products with her first pregnancy at age 40.
Experiencing hormonal changes and the beginning of lines in her skin, Karen set out to find healthy skincare solutions that delivered visible results. She was astounded to learn that, although the skin can absorb what is placed on it, there were very few available healthy personal care products that worked well. She wanted to create meaningful change in the beauty industry. Years after her second child was born, Karen subsequently bought the name "Juice Beauty" and launched the company from scratch in 2005. Karen then did the impossible: to create luxurious organic formulations that perform better than conventional beauty products.
Challenges Facing the Cosmetic and Beauty Companies
Growing cosmetic manufacturing companies need more than a basic accounting system such as QuickBooks to outperform the competition and reach customers globally. They need the right technology that fully integrates all areas of the business from eCommerce and sales to accounting and inventory management.
Juice Beauty wanted to address several key challenges with their ERP solution, including:
Manage complex product development cycles.
Manage expiration dates and batch control of USDA-certified ingredients.
Provide greater transparency about product distribution throughout their global supply chain.
"SAP Business One has enabled Juice Beauty to compete in a big playing field. With greater efficiency, we are now able to expand our distribution in Asia and the EU."

Karen Behnke

Founder, Juice Beauty
Watch Juice Beauty's SAP Business One Success Story
With the help of Vision33, Juice Beauty chose SAP Business One, an ERP solution for cosmetics and beauty manufacturers. Watch the following highlight video to learn more about how skin and cosmetics manufacturers like Juice Beauty are succeeding with transformative enterprise technologies :
Expanded their distribution to achieve 50% growth year over year
Overcame product development challenges and easily met strict USDA regulations
Grew their global presence through eCommerce integration