A recent Vision33 webinar provided SAP Business one tips and tricks to help users navigate alerts and approval procedures. Learn more.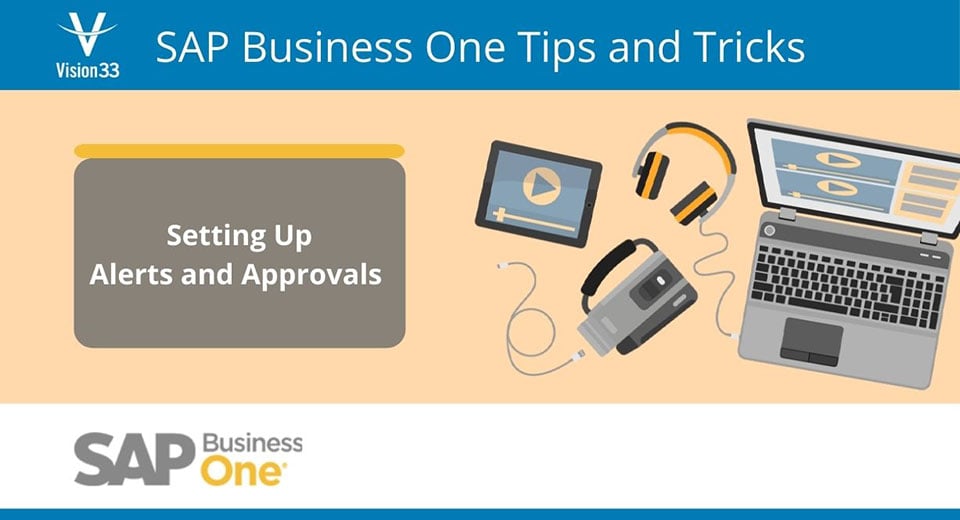 During a recent webinar, Vision33's Yves Beaucage provided tips and tricks to help SAP Business One users navigate alerts and approval procedures.
Start With a Query
Queries are the foundation of alerts and advanced approval procedures. In the query generator window, you can specify which table to pull your data from, and after your query is built, you can refine and store it, so you don't have to keep recreating it.
Set Up Alerts
The next step is building an alert, which you connect to your saved query. You can send alerts to anyone at any frequency via email, a dashboard, SMS, and fax.
Alerts are a smart way to build a working list of things like 'orders on hold' or 'items returned by a customer but not yet returned to the supplier.' Within the alerts, you'll see the familiar golden arrows that let you drill down into the information.
Create Approval Procedures
SAP Business One comes with a built-in series of pre-defined approval triggers, but you can also customize your own by navigating to Approval Stages in the Administration tab.
Under Approval Templates, you'll find a comprehensive list of documents related to sales inventory, blanket agreements, purchasing, and payment. You can have multiple levels of authorization – from simple to complex – to get a viable transaction.
The approver receives an alert with golden arrows to access pertinent information and can reject or approve the request.
An Approval Status Report identifies the initiator and approver and time stamps the decisions. You can generate this report any time for full traceability of who, what, when, where, and why.
Learn More
To learn more about alerts and approvals and see Yves' step-by-step instructions, access the on-demand webinar below.