SAP Business One version 10 is now available. New additions to administration are available for the users looking to upgrade their ERP solution.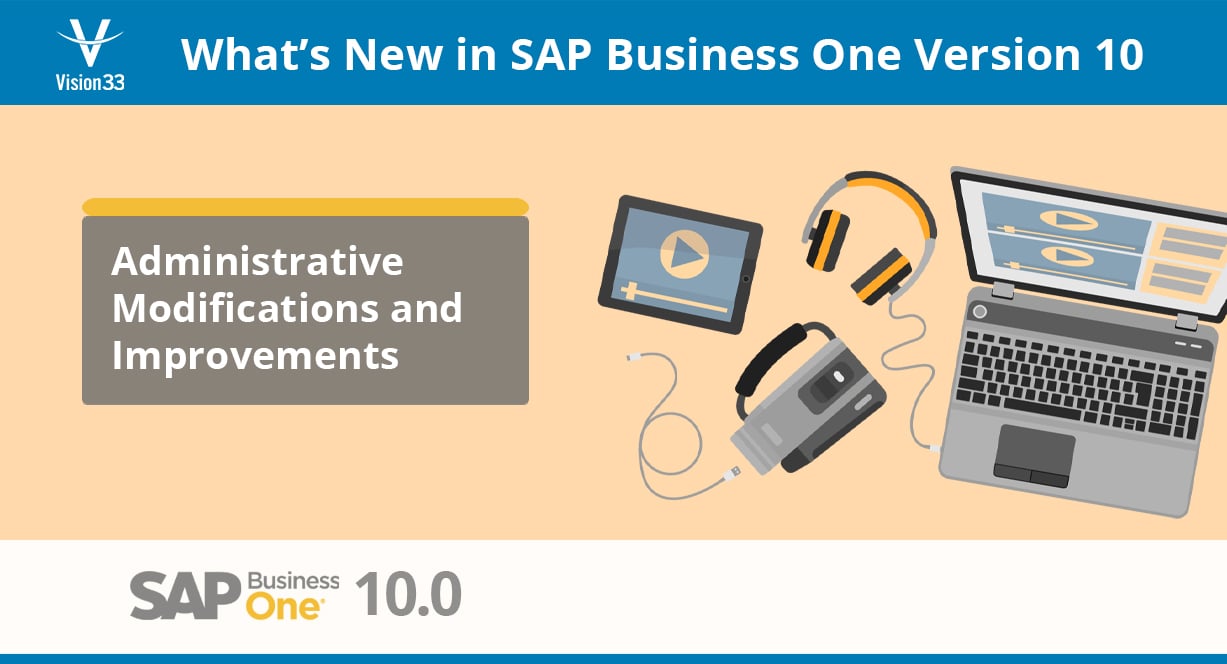 Leading up to the release of SAP Business One version 10, users were impressed by how SAP enhanced usability and enriched the application's digital core by streamlining business functionality. With version 10 available for users who want to upgrade their enterprise resource planning (ERP) solution, we're covering the updates for our customers.
The latest improvements affect Administration. Keep reading for highlights from a Vision33 Wednesday Web Chat that discussed those improvements in-depth, or watch the recording (link below).
New Version, New Look
A welcome addition in SAP Business One version 10 is a new user interface (UI) skin SAP calls "Belize Deep," available to SAP HANA users. If you're familiar with SAP HANA's "Fiori" design or the web client, you'll know what to expect here. More than just an attempt to align the SAP Business One desktop application's look and feel with the web client's, the UI also provides a seamless user experience.
Enhanced User Interface
User interface enhancements in SAP Business One version 10 extend beyond looks. Under the hood, version 10 includes new customization options, including new features in the view menu that enable users to hide the toolbar to enlarge their work area for reporting. Users can also switch between company databases and users with a single click.
A Bigger Window Into Your Data With SAP Business One Version 10
SAP Business One users have long wished to resize non-standard system forms – and they can in version 10. SAP also added form behavior alignment across multiple applications, including company details, general settings, posting periods, print preferences, checks for payment, the Document Generation Wizard, and more. In forms that contain multiple fields users must scroll to see, this feature provides a more comprehensive view of data and greater consistency throughout the application.
Support Expiration Date
Technological innovation moves fast, and sometimes SAP Business One users don't realize their version is approaching the end of its service life. The 'support expiration date' is a new addition to the "About SAP Business One" window that simplifies support by offering pertinent information on one screen.
Want More Highlights From SAP Business One Version 10?
If you're considering upgrading your ERP solution to SAP Business One version 10, there are even more improvements to enhance your experience and make the application even more valuable. To hear from small to midsize enterprise expert Carl Lewis and see a demonstration of version 10's Administration enhancements, watch the Wednesday Web Chat.


This resource is hosted in our Vision33 Resource Library. Gain free access to this resource by signing up. You will also have access to Vision33's extensive enterprise technology library of training materials for SAP Business One. Inside you'll find ERP tips and tricks, video demonstrations, product brochures, and many more enterprise technology resources. Select from ERP functional areas to expand your knowledge of specific solutions like SAP Business One as you grow your business. Signup today.