To learn how to simplify and streamline your tax and accounting processes, check out our on-demand webinar. Ditch paper, automate tax compliance, and more.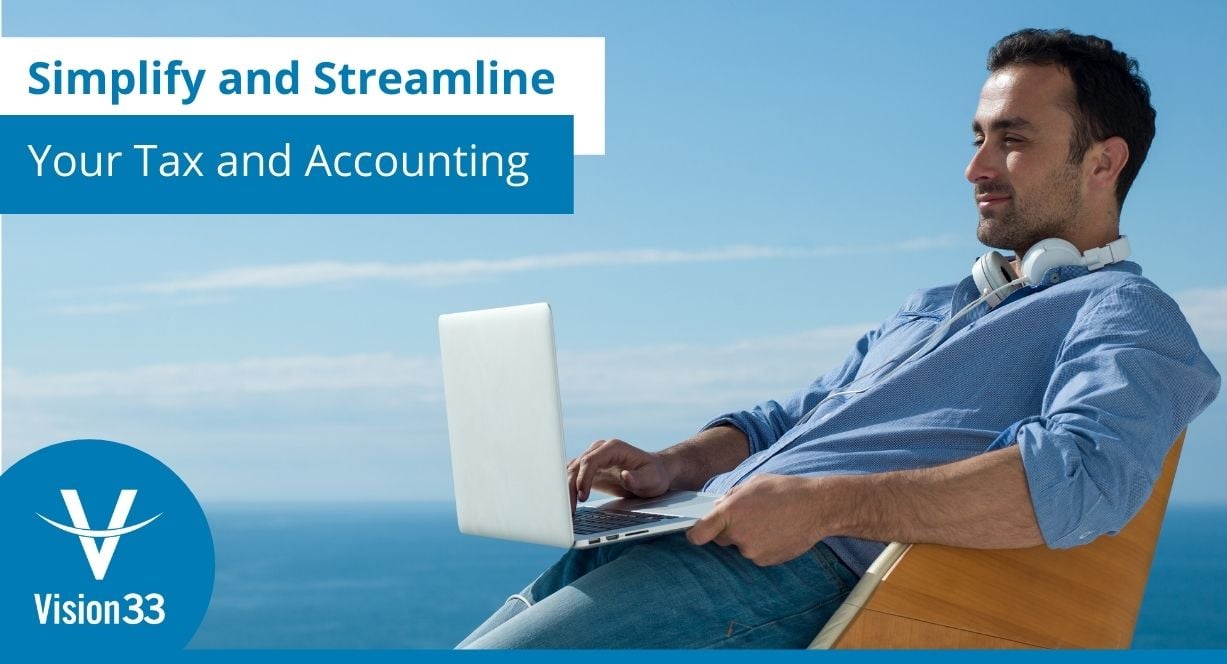 As your small business grows, it seems there aren't enough hours in the day to handle your accounting and finance tasks. This is particularly true if you use a small business accounting application like QuickBooks. Manual data entry, moving information between spreadsheets, and being unable to customize reports consume your time, cause mistakes, and impede decision-making.
If this sounds familiar, Vision33 invites you to tune in to our on-demand webinar about simplifying and streamlining your tax and accounting.
Here's what we discussed.
It May Be Time for ERP
A small business accounting application was the ideal choice to get your business started, but it can't scale and grow with you. As your business becomes more complex, you'll encounter bottlenecks that require workarounds. Because your data lives in different applications and must be constantly re-entered, employee productivity is nonexistent.
An ERP solution brings every aspect of your business together under one easy-to-use platform, saving you time and energy. With customizable, meaningful reports and access to real-time data from anywhere at any time, you'll be able to make sound decisions about your business's future.
There's Relief for Tax Compliance Headaches
Taxes aren't easy. When most people consider tax compliance, they focus on calculating tax and using the correct rate – but that's just the tip of the iceberg. There's also nexus, product taxability, jurisdiction assignment, exemption certificates, state and local tax preparation and filing, and audit readiness to consider.
Vision33 recommends Avalara, software that automates tax compliance. Avalara takes the tax burden off your team, reduces risk, eliminates the guesswork of juggling multiple tax jurisdictions, and allows you to grow into international markets without extra tax pains. Avalara also seamlessly integrates with ERP solutions.
You Can Ditch the Paper
Do your purchasing, expense management, AP invoice, and sales order processes involve a forest's worth of paper? iDocuments is a browser-based solution that simplifies, streamlines, and automates these processes – without the paper. Best of all, iDocuments is intuitive and easy to use, requiring little, if any, training.
With iDocuments, your team can leave their keyboards and get out of data processing to focus on tasks that bring value and revenue to your business. And because iDocuments easily integrates with ERP solutions, you'll save even more time.
Learn More
While change can seem overwhelming, maintaining the status quo with your legacy system is costing you more money than you realize.
To learn more about ERP solutions, tax compliance software, and iDocuments – and to see examples from real Vision33 customers – access the on-demand webinar below.